Every fall, the young and old from near and far take to the vast expanses of public land in the Roaring Fork Valley to hunt. The big-ticket attraction—and the one with the largest economic impact—is elk. While Colorado boasts the largest elk population in the world, hunters will tell you that elk are at once everywhere (with more than 280,000 statewide, according to state data) and nowhere (good luck actually finding them).
For local hunters, an "elk tag" comes at a modest price (less than 50 bucks) compared to out-of-staters ($660 for a bull, or male, permit in 2019). The proceeds of every hunting tag and fishing license sold in the state goes toward wildlife conservation programs—a unique conservation model that does not rely on general tax dollars. The program is bolstered by a federal excise tax on hunting and fishing equipment, firearms and ammo, which supports game and non-game species and allows the wildlife agency to, in specific instances, limit hunting even as it may directly affect the agency's revenues.
In Colorado, the 230,498 elk tags sold in 2018 generated more than $50 million, helping to fund the state's conservation efforts. Elk hunting specifically in 2018 accounted for about 40 percent of the state's overall license sales, which raked in $125 million, according to data from Colorado Parks & Wildlife.
The spectrum of who these hunters are and what motivates them individually runs the gamut, says Kurtis Tesch, an Aspen-area wildlife officer for Colorado Parks & Wildlife who sees a wide range of hunters out in the woods.
"There's folks hunting the same areas for 50 years—and their dad and grandpa hunted that area, too," he says. "And there's also the guy or girl on their first time out, and it's something they've wanted to try." The unifying thread, says Tesch, is the utilitarian goal of it all. "For most of the folks out there, they're using it as a food source. A lot of families live on the animals they're harvesting each year. They solely live off of that. The majority of folks are doing it for that reason."
Locally, there is a serious and emerging concern over declines in the elk population in Eagle County, between
Aspen and Vail, and Colorado Parks & Wildlife has begun taking steps to curtail hunting in affected game-management units as a result. "We count every winter and get an estimate of what the population is looking like out there," says Tesch. "And it's been on a downward trend for the last decade, so that's why we've knocked the cow tags back—to give the population a chance to grow back up."
With fewer hunting permits available to the north of Aspen, hunters can always venture south into some of the most astonishingly rugged zones of the state in the heart of the Elk Mountains.
As local hikers, backcountry skiers and climbers can attest, the Elks feature plenty of trails that thread unlikely passages over and through craggy cruxes. But as soon as you get off those trails, away from the sneaky old-timer passageways, you're on a choose-your-own-adventure of your own captaincy—and, yes, precisely in realms normally left to wildlife. Within Colorado's 23 million acres of public land, the Elk Mountains are in a league of their own.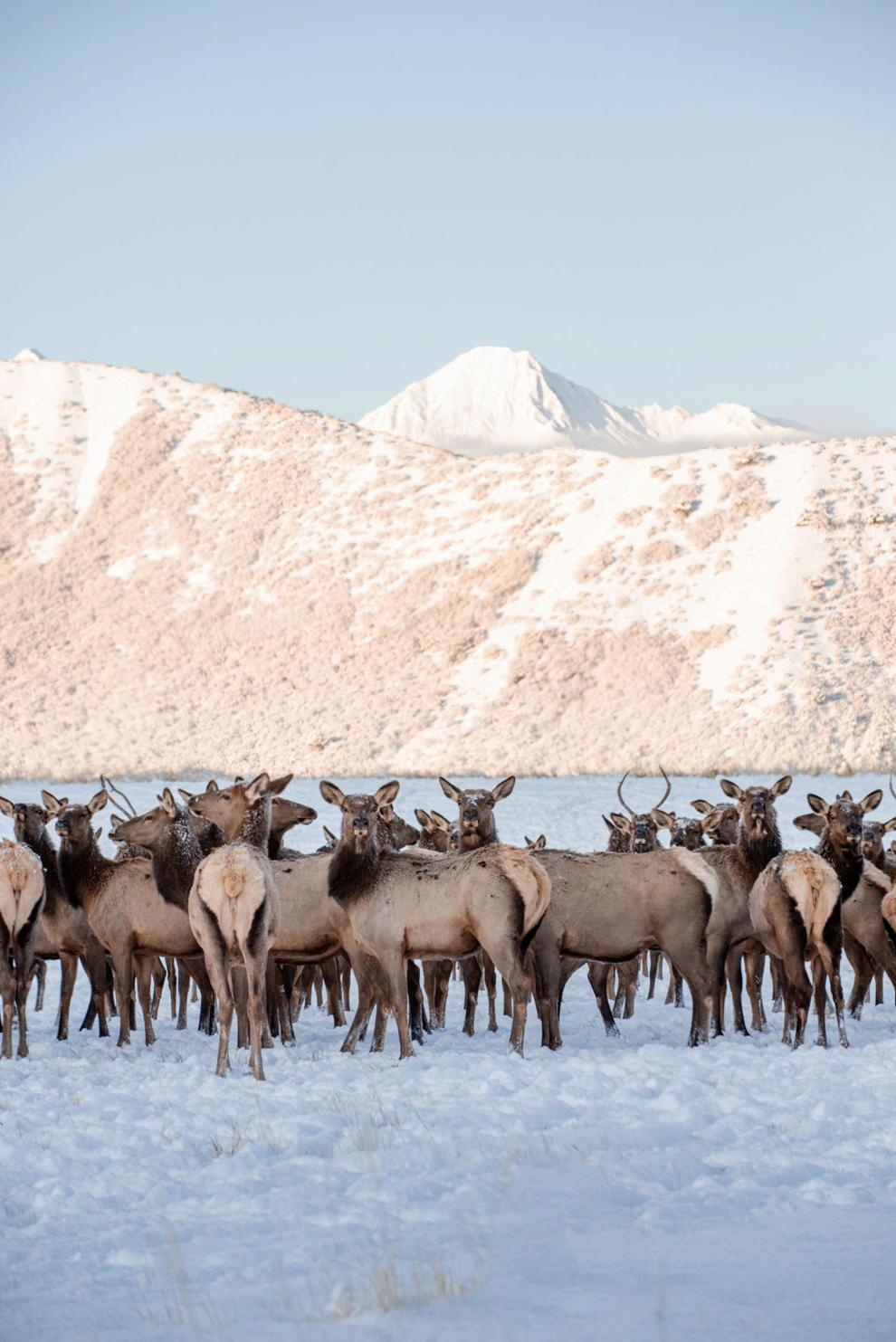 Combine soaring relief, difficult-to-impossible foot travel on the ground, and thousands of feet separating creeks like Maroon and Castle from their corresponding ridgelines, and hunters here will tell you it's not unusual to start the day at the creek, have lunch near a peak, then repeat before dinner. And sometimes—hell, usually—still no luck. Some of the best hunting stories, in fact, involve a successful hunt in a desperately difficult spot to extract the meat, which can exceed 200 pounds and may require multiple loads, friends or even horses. "Those older hunters will tell you—don't hunt in those super tough spots," says Clint Coerdt, a passionate hunter from Aspen. "Good Lord, I once spent 40 hours hiking out a bull: a day and a night and a day. The young make dumb mistakes."
Coerdt grew up in Ohio, where he'd done some bird hunting. A decade ago, an Aspen friend served him some fresh elk steak from the local backcountry. Coerdt was "immediately hooked." He recalls, "It was just like backpacking with a purpose. I got so into it." He now hunts archery and rifle, with the goal being to respectfully provision his freezer with wild-raised protein. "We're not really in a trophy-animal zone, and most everybody I know hunts for meat," says Coerdt. "I'm a first-available guy, and most everybody I hunt with is, too. I mean, I shot a monster this season, on the last afternoon of the last day of archery season, but I would've shot a cow if it had walked by. That's just how it goes. You don't pass on anything anymore. Sooner or later, you will get something big. But that's not the goal. The goal is being out. Then, ideally, you knock something down and share it with your friends." He adds, "That pride definitely comes through when you cook it and eat it yourself, or share it with friends. You had to put blood, sweat and tears in to get it on the plate."
There are rifle, muzzleloading and archery hunters. While each group may have the same quarry in mind, some chosen styles strip away certain advantages. Doing so diminishes one's chances for success, state wildlife statistics show, but bowhunters will attest that minimalism actually sharpens the experience. "There's an intimacy you get with the animals when bowhunting—you can see their eyelashes. You're literally right there," says Doug Lyons, an avid hunter from Redstone. Lyons owns the only archery pro shop in the Roaring Fork and Crystal River Valleys, Dark Horse Archery, and helps set up archers for hunting and shooting. "Archery is my passion," he says. He moved to the area about 20 years ago from Vermont. "I fell in love with the high country," he says. While he has hunted across North America, he acknowledges a particular fondness for the Crystal area and its various tributaries, including Avalanche Creek, one of the largest drainages of the Maroon Bells-Snowmass Wilderness. "There's a saying, I'd rather be lucky than good, and for sure it's true," says Lyons. "Anybody can be good. You practice. You have the right gear. You put in the time scouting. People can do that part. But you do need that little bit of luck to make it happen. Everything's gotta be perfect. There's so much to it. So I'll take luck any day."
He continues, "I've been [hunting] a long time, and it just seems to be getting harder. I've never had an 'easy' elk. They say with hunting—especially bowhunting—the highs are the ultimate highs, and the lows are so low. And all that can happen in seconds."
Hunters are frequently white and male and, according to state data, aging out. Efforts are underway to attract younger men and women to the sport, but if you ask local hunters about their vanishing ranks, they'll often brush it off as some kind of joke, arguing there are hunters all over the woods. (Pro tip: except perhaps during the month-long early archery season.)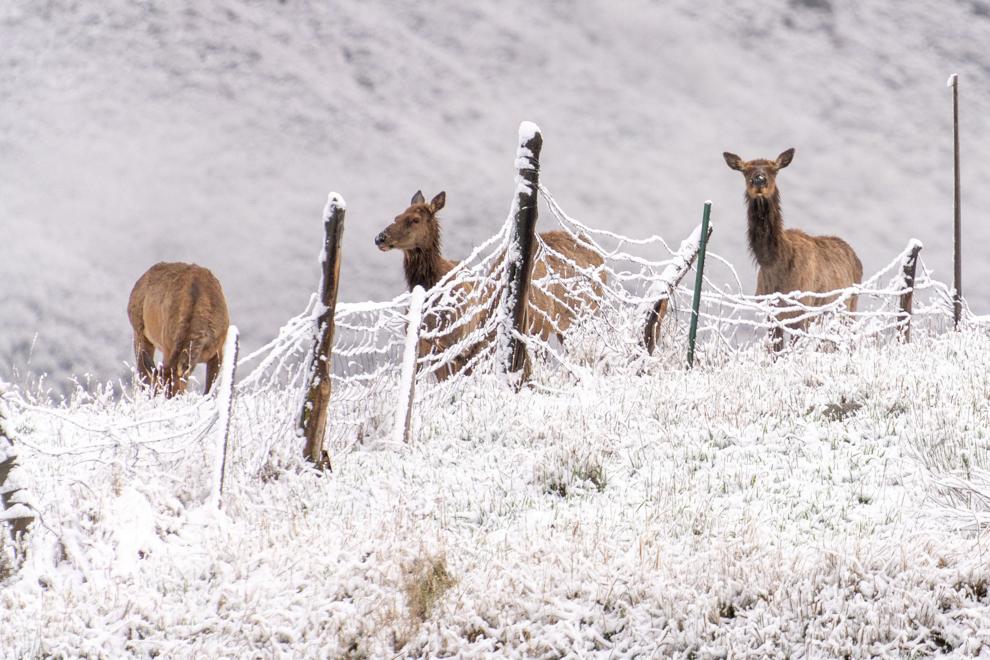 But most hunters seem to agree that there are indeed very few women out there. Among this rare breed is Geneviève Joëlle Villamizar of Carbondale, a landscape architect, writer and mom. Villamizar decided to become a hunter long before she moved to Colorado, some 25 years ago. "I've grown up as a woman of the dirt, of the land," she says. "As a horticulturist in Washington, D.C., studying landscape architecture and design, I felt so disconnected from the landscape. I decided, I'm going to learn to hunt. It's a way of connecting even more deeply than I already am."
Villamizar wrote a thoughtful first-person essay about hunting this fall in the Roaring Fork Weekly Journal and says she's recently made contact with the only other female elk hunter she knows in the area—after reading about her in an article in the Glenwood Springs Post Independent. "I immediately reached out to her because I'm yearning to meet other women who hunt," says Villamizar. "I've been hunting since 2001, but I've always hunted with men. The people who I do know are so honorable—they're just all men, of course."
As for her purpose—the reason she goes out there—Villamizar takes a philosophical view.
"There's so much more to it than just the animals," she says. "I mean, how often do you get to disappear from everything—and I mean everything—for 10 days in the woods? So if you're only focused on bringing home an animal, you're really missing out."
She continues, "If your eyes are open, you're having a wealth of experiences, and there's this constant story that's unfolding. If you're lucky, it'll turn into an animal. But it's always unfolding, and you're right there in it. Where in the real world do we get to express this primal part of us? That's part of what makes us the unique humans we are. It's all connected to the flora and fauna around us, and generally it's just so dang suppressed."