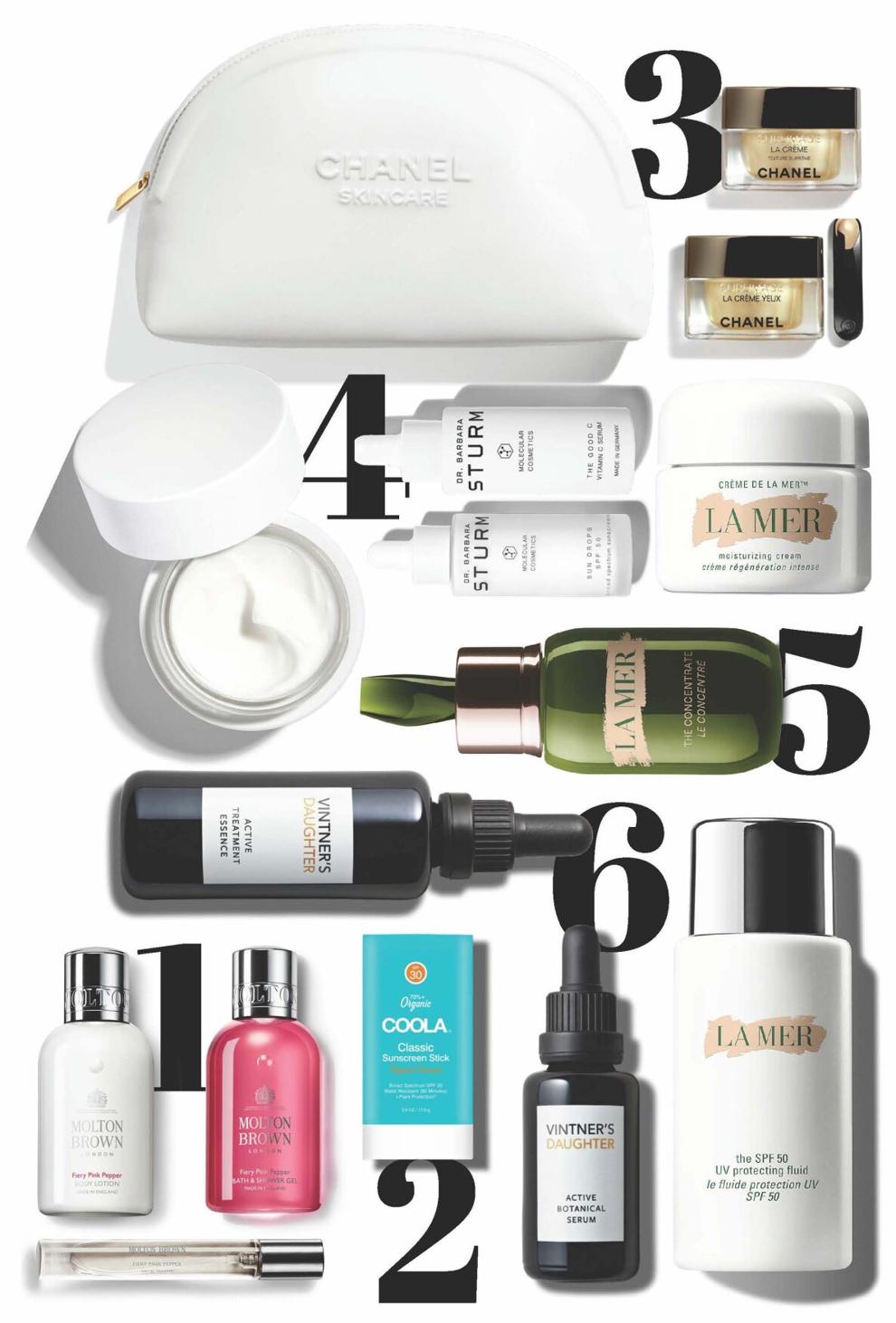 After more than a year of being grounded thanks to a global pandemic, it is now officially time to get back on the road and in the air again. The travel-obsessed among us (you know who you are) have been daydreaming about this moment for months, if not since the day the shutdown began. So as you pack your bag and go on your way, make sure your makeup bag and dopp kit are stocked with travel-friendly products to keep you looking fresh, moisturized and ready to take on the world again. We rounded up some of the best (and appropriately sized) products on the market to ensure your return to travel looks as good as it feels.
_________
1. Molton Brown - Assembling your beauty bag is always easier when things come in a set. This body lotion, shower gel and eau de toilette combo make packing a breeze. Fiery Pink Pepper Fragrance Gift Set, $45, Molton Brown, Available at Cos Bar, 309 S. Galena St., moltonbrown.com.
2. Coola - This portable organic sunscreen stick is water resistant and makes sure you always have UVA/UVB protection on hand for summer excursions. Sunscreen Stick SPF 30, $20, Coola, Available at Carl's Pharmacy, 306 E. Main St., coola.com.
3. Chanel - Just because you're on the go doesn't mean you should give up your anti-aging routine. With this Chanel Sublimage kit, you don't have to. The La Crème Yeux comes with a massage tool to contour along the eyes. Follow that up with La Crème, and you're good to go. Sublimage Exquisite Essentials, $370, Chanel, chanel.com.
4. Dr. Barbara Sturm - A favorite in the mountains, Dr. Barbara Sturm's line is all about taking care of your skin, so combining her face cream with her vitamin C serum and the SPF drops means your travels won't show on your face. Super Anti-Aging Face Cream, $360; The Good C Vitamin C Serum, $145; Sun Drops SPF50, $145, Dr. Barbara Sturm, Available at Cos Bar, 309 S. Galena St., drsturm.com.
5. La Mer - No matter where your adventures take you—the tropics or the desert—it's crucial to protect your skin from the sun, keep it hydrated, and use a serum for good measure. All of these La Mer options are sold in travel-ready sizes so you look your best on vacay. Crème de la Mer (2 oz.), $345; The Concentrate (1 oz), $390; The Broad Spectrum SPF 50 UV Protecting Fluid (1.7 oz.), $95, La Mer, Available at Cos Bar, 309 S. Galena St., cremedelamer.com.
6. Vintner's Daughter - An (almost) complete skin-care routine (hydration, exfoliation, moisturizing, strengthening) in two steps. Add sunscreen to the Active Botanical Serum and Active Treatment Essence, and you're good to go. Active Botanical Serum (30 ml), $185; Active Treatment Essence (50 ml), $225, Vintner's Daughter, Available at Cos Bar, 309 S. Galena St., vintnersdaughter.com.