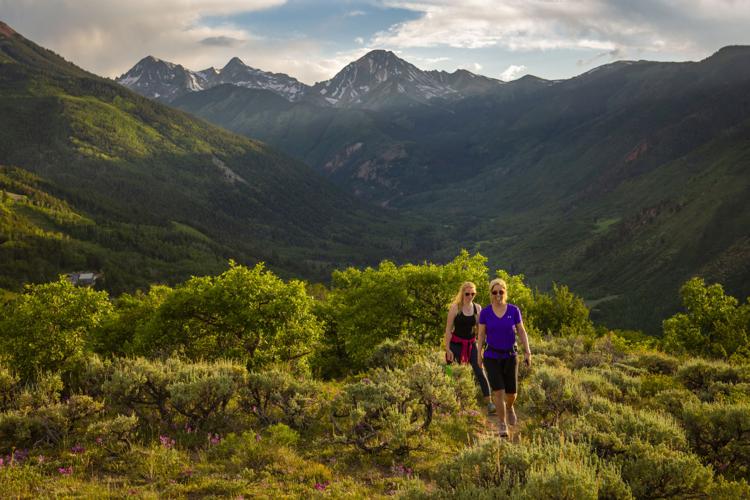 City neighborhoods give people some sense of identity. While Aspen doesn't have a lot of neighborhoods with year-round residents, where one chooses to hike offers some insight as to who they are. We've compiled some personalities by dirt path so you know what to expect before embarking on your next adventure by foot.
Smuggler Mountain Trail 
What: This dirt road is the most accessible, low-risk, efficient workout around. Given that it's just a maintained county road, it has enough room for small groups and certainly makes social distancing easier, though wary walkers will still glare and jump off the trail at maskless hikers.
Who: You know who hikes Smuggler? Everyone. Even uberfit athletes who scoff at the 800 feet climbed in 1.2 miles will backpack their kids up it or run for Strava glory. The most commonly spotted species on this trail, however, is the woman-in-designer-leggings-and-a-crop-top, often shielded by an oversized visor and buggy sunglasses. She prefers both solo and group hikes, a proper cadence and a selfie somewhere along the way. Hey, Smuggler didn't earn the nickname "Housewife Hill" aka "Botox Way" for nothing.
Cathedral Lake Trail or American Lake Trail
What: Up the Castle Creek Valley, the hikes to Cathedral and American lakes—two different trails with similar distances and vertical—get people into the high country quickly with scenic rewards. Both ascend around 3 miles and 2,000 vertical feet over switchbacks and mostly moderate terrain. It's the fastest way to get that "backcountry" feeling and still return to town in time for a boozy lunch.
Who: That said, don't expect a lot of locals lapping this midweek. Instead, these hikes are teeming with second homeowners and extended-stay visitors, who have the time (and a car or shuttle) to set out on a multi-hour jaunt. Texas drawls are standard, often followed with exclamations about scenery, pacing or altitude. The most daring from any zip code will jump in the lake for the ultimate equalizer: snow-melt water temps.
Ute / Aspen Mountain 
What: The Ute is a glute-busting, heart-rate-inducing slog up the east flank of Aspen Mountain. It's ideal for solo hikes because you can't catch your breath enough to have a conversation anyway. But for those who do make it past the Ute Trail, 1,100 feet and 1 mile up, you'll continue along the boundary of Aspen Mountain, traversing above ski runs like Jackpot and past the Gent's Ridge chairlift. (There's a water reservoir here for thirsty dogs.) Yes, the hike is steep the entire way. After hiking 3,200 feet in just under 3 miles, however, you're rewarded with a free gondola ride down—as long as you plan between the hours of 10 a.m. and 4:30 p.m. when it's running. 
Who: Many a relationship have been tested on it: Boy invites girl on a hike, girl says yes to impress him, 27 switchbacks later they both question each other's sanity and whether they ever want to hang out again. At some point, she hunches over and puts her hands on her hips, clutches the sides of her T-shirt while gasping for air and mutters, "How much farther do we have to f—ing go?! You said this would be fun." Suggested equipment: Water and earphones.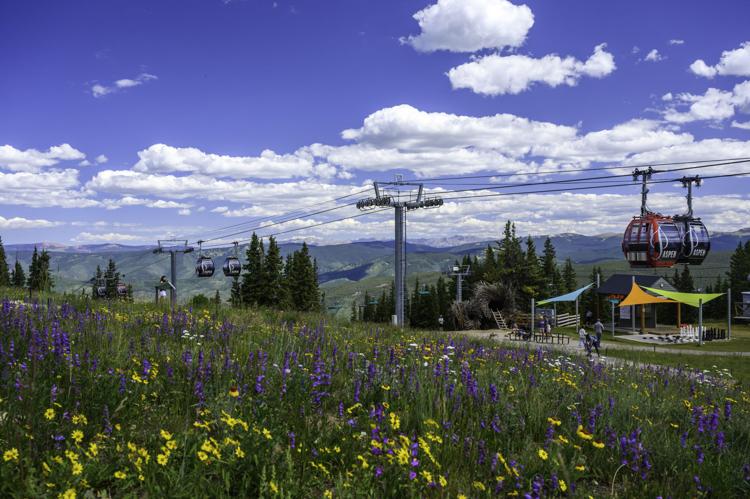 Rim Trail 
What: The Rim Trail is for people who desire a more mellow upper valley hike with open views that don't involve battling crowds (on the trail) or cars (in the parking lot). The 1.5 miles to Spiral Point in Snowmass Village smoothly cruises up the ridge. It's a hot spot for mountain bikers, who connect with the entire Rim Trail loop, traversing a several mile ridge that eventually drops into the Rodeo Lot. Strong, well-prepared hikers could also do the same thing.
Who: Families hike the Rim Trail. Six-year-olds who want to break in their CamelBak will feel confident on the gradual-ish incline that weaves through pinon and scrub oak before peeking out into sagebrush. A handstand or jumping-in-the-air photo is requisite atop the embedded yin-yang sculpture with 360-degree views of the Valley and Mount Daly.
Rio Grande Trail
What: This trail, which is named after the railroad that used to chug into town during Aspen's mining days, is actually a paved path. But the slight incline and points of interest—from Aspen, 8 miles to Woody Creek, 20 miles to Basalt and 42 to Glenwood Springs—make it a very popular place for walking outdoors. Which is, technically, a hike. Put your nose in the air for the smell of the Roaring Fork River, follow it, and you'll parallel the largest body of water in the Valley all the way until it meets the Colorado River. (Of course, stop and turn around at any point, too.)
Who: In a pandemic-free summer, the Rio Grande is peppered with illuminati from the Aspen Institute who will have their greatest thoughts during breakout sessions walking this path in the outdoors, we're told. Those people, and everyone else who needs to reach 10,000 steps by end of day, can be seen here. Consider this the Central Park of Aspen, and yes, that means rollerbladers, e-bikes and ferrets, oh my.