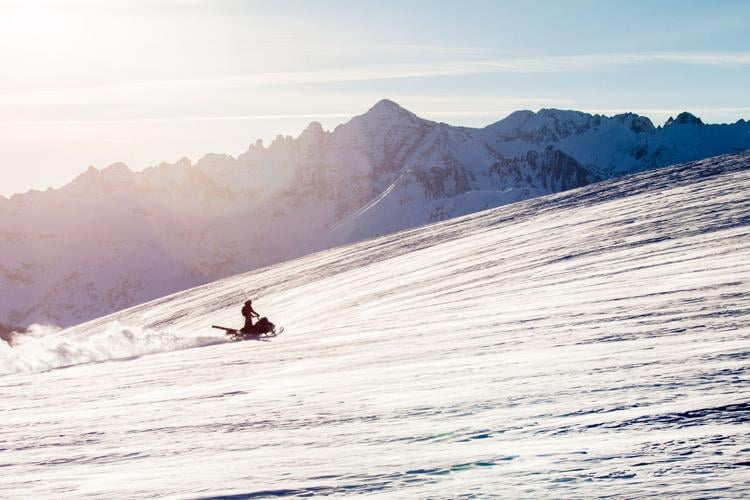 For many, March 14, 2020, felt like the day the stoke died. It was that Saturday Aspen Skiing Company announced Governor Jared Polis had officially given the order to close all Colorado ski resorts in response to the Covid-19 pandemic that was ravaging the state. "Never would I have believed a global pandemic would force the temporary closure of our world-class ski resorts," said Polis in a statement. "For those of us who treasure living our lives outdoors, sacrificing our fun is the easier part; but for those who depend on employment in our Colorado high country, the uncertainty of how long they will be out of a job is terrifying. It is with a profound sense of pain and grim responsibility that I take the agonizing action that this moment demands."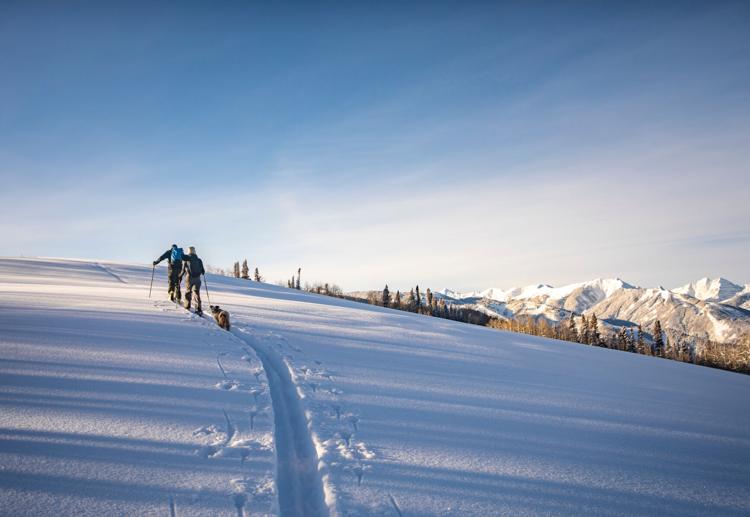 But Coloradans wouldn't be kept down—literally. Although sales of staple accessories such as helmets and goggles plummeted by 50 percent in March alone, the otherwise less-sought-after gear necessary for backcountry explorations—skins, shovels and probe poles—increased by 53 percent, according to data from the market-research company NPD Group, reported in The Colorado Sun.
Four Mountain Sports' Ron Morehead says he and his colleagues have seen the industry trends from March continue into this winter. "There are definitely more people interested in doing uphill for exercise, in case the mountains shut down," he says. "People are excited about exploring a different aspect of skiing, but I don't know
if people realize how hard it is. If you've ever done Aspen Mountain, it's a slog. You don't realize how steep it is until you try to hike up it, and Tiehack is the same way. But I think once people get into it and over the hump, they enjoy it, and it gives them an alternative [to lift-access skiing]."
Australian-turned-Aspenite Fiona McDonald was one of those customers who found herself—surprisingly, she quips—open to exploring new things after the mountains' closures shuttered the 2019-20 season. While she's the first to admit she doesn't consider herself a fitness buff, a spring sale at Four Mountain Sports on an uphilling setup was tough to ignore. Not knowing what her pass options may be in the future and knowing her current one was essentially worthless, McDonald went for the deal. What she never expected was to discover a new outlet that would become a regular part of her routine—often four days in a week. "I never considered [skinning] up a hill," she says. "It's ridiculous."
How things change.
"I got the setup, and I loved it," says McDonald. "It's so peaceful and beautiful, and it's really earning your turns."
The mental-health benefits are undeniable, as well. Because the physical activity itself is—at least in McDonald's approach—gentle and repetitive, it allows her to "get in the zone," whether with friends or solo, while taking time to more fully appreciate the mountain ambiance. "It's a peaceful kind of movement. There's no jarring; there's no pressure on your knees; you don't have to concentrate," says McDonald. "I cannot tell you how many times I have pinched myself, thinking, This is 1:30 p.m. on a Wednesday; I'm skinning up Aspen Mountain by myself. Seriously? This is my workweek? This is amazing. We're so lucky."
Gearing Up For A Safe Season
While most uphillers will probably stick to the rivers and the lakes that they're used to, there are still plenty more who will go chasing waterfalls this winter. It's the latter group that has some backcountry professionals nervous.
Jesse Deane, whose family owns T-Lazy-7 Ranch, is a pragmatist in his thoughts on the matter. Namely, that there will indeed be an influx of people in the backcountry this season. And he believes that's not a bad thing—Deane gives snowmobile tours through the ranch—as long as everyone is safe about it. "It's a little bit scary [in terms] of proper training and proper attire for these people," he says. "Most years, they're going to go ski inbounds or ski the [Highland] Bowl. If they can't do that this year, they're still going to be powderhounds chasing snow," he says. "We want to be able to get to these awesome zones, and if we're all safe, we'll live another year and keep stuff open."
A backcountry veteran, Deane is no stranger to the dangers it presents—and the loss those dangers can bring. "I'm just trying to get as many people trained as I can. We've had family members caught in avalanches and friends who have died," he says.
Morehead, too, stresses that safety has been the mantra of his sales team at Four Mountain Sports. "Now that people have this equipment, we want them to go into the backcountry safely," he says. "Take a guide. Just because you have the gear doesn't mean you know what you're doing back there. We've been emphasizing that to people."

Snowmobiles have already been flying out of showrooms ahead of the winter season. "I was talking with my buddy at one of the dealers outside Kremmling," says Deane, "and every single ski town—from Steamboat Springs to Breckenridge to Aspen—is calling and ordering every snowmobile they have. There's a huge uptick in the demand for a sled this year. A lot of people are forfeiting their ski pass or fearing closures."
In turn, industry leaders have taken notice and responded accordingly. Ski-Doo—in partnership with Backcountry Access (BCA) and Avalanche1—is offering a free online avalanche safety seminar series. Locally, Mountain Rescue Aspen (MRA) launched a new website that is more geared toward the general public and features a page dedicated entirely to education, where users will find videos with titles like "Med Kit 101" and "How to Plan a Backcountry Tour."
Of course, none of these efforts are new, per se: Ski-Doo has sponsored avalanche-safety courses since 2009, catering to more than 19,000 people across North America. But with Covid-19 shifting education to online platforms, baseline avalanche-safety courses have followed the trend. Similarly, Mountain Rescue has been having internal conversations about updating its website and expanding its public outreach for years, explains MRA member Greg Shaffran. In some ways, it was serendipitous the website was ready to launch in the weeks ahead of the 2020-21 season. "We found [our] seminars and events are great for the people who live here, but they're not for the people who are coming—visiting—and getting into trouble. So how do we reach a broader audience?" muses Shaffran. "That's the biggest change for us—how we reach out to people."
What's not new, however, is MRA's rescue preparedness for the winter season. "Nothing's changed," says Shaffran, as far as what to expect in that regard. "From a rescue sense, we're as ready as we always are."