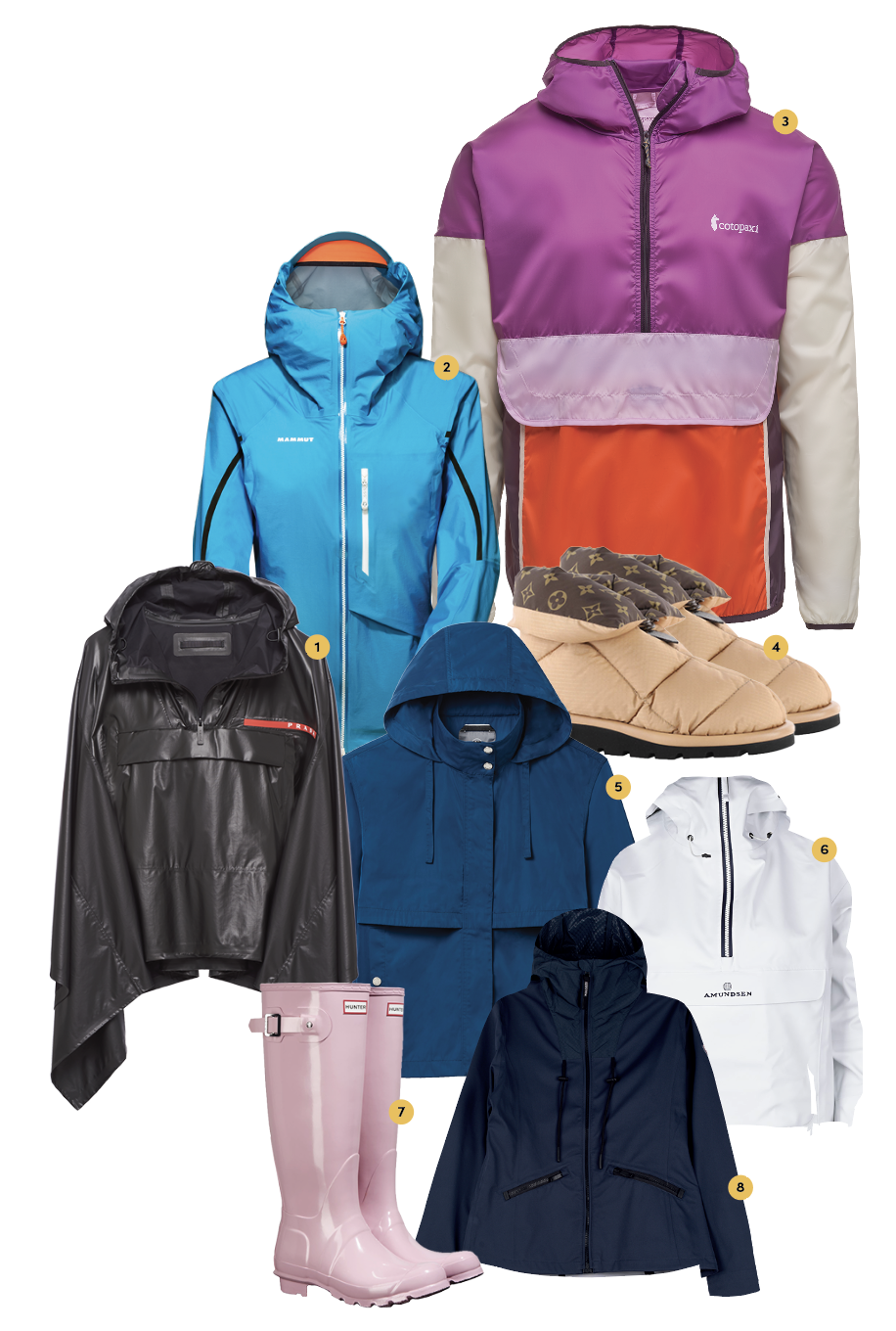 During the summer in Aspen you can almost tell the time of day by the clear-blue Colorado sky getting taken over by imposing, gray clouds. The inevitable afternoon rain shower is a summer tradition in the Rockies, often going out as quickly as it came in. The refreshing and quick sprinkle (or downpour, depending on the day) can give you time to retire to a couch sans guilt if you're lucky enough to be inside, but who among us has avoided getting caught on a hike or bike that started dry and quickly turned wet? For just those instances, we've rounded up the most functional and fashionable women's rainwear to make sure you stay dry while looking cool.  
____________
1 | Just because there is weather in the forecast doesn't mean you can't keep it chic with this techy, two-layer, highly water-resistant (and yet breathable) Prada cape. Light Nylon Cape, $2,130, Prada, S. Galena St. #312, prada.com.
2 | One minute you're hiking in the sunshine, the next you're in a torrential storm. For those times, there's this 3-layer GORE-TEX, fully seam-sealed Mammut hooded shell. Nordwand Light HS Hooded Jacket, $335, Mammut, Available at Miller Sports, 408 S. Hunter St., millersportsaspen.com.
3 | This easy-to-pack, weather-resistant Cotopaxi windbreaker is meant for light rain and wind. The internal phone pocket doubles as a stuff sack, and the form-fitting hood comes in handy if you run into an unexpected shower. Teca Half-Zip Windbreaker, $80, Cotopaxi, Available at Ute Mountaineer, 210 S. Galena St., utemountaineer.com.
4 | These designer pillows for your feet are water repellent, but they're even better for when you come inside from a rainstorm and want to get comfy. Pillow Comfort Ankle Boot, $1,170, Louis Vuitton, 206 S. Mill St., us.louisvuitton.com.
5 | The AETHER Zephyr Jacket has a boxy, easy silhouette that's stylish enough for every day, but the fact it's super lightweight and water resistant also makes it a great companion for summer adventures. Zephyr Jacket, $295, AETHER, 414 E. Cooper Ave., aetherapparel.com.
6 | Waterproof and breathable, this Amundsen anorak easily transitions from summer rain showers to the winter slopes. Peak Anorak, $529, Amundsen, Available at Performance Ski, 614 E. Durant Ave., amundsensports.com.
7 | You'll pray for rain so you can don these classic Hunter rain boots, rendered in a fun pastel hue. Channel your inner Kate Moss at Glastonbury and sport them even when it's not wet outside. Original Tall Gloss Rain Boot, $150, Hunter, hunterboots.com.
8 | Built to block rain and wind, this Rossi soft shell has a tailored, refined fit that also looks great when there's no weather to contend with at all. Windstopper Jacket, $230, Rossignol, 534 E. Cooper Ave., rossignol.com.