Snowmass Village is upping the ante.
An expanded Base Village opened in December of last year, promising even more changes by this winter, including new dining options, cultural offerings and a plethora of children's activities. Project developers East West Partners delivered on that promise, recently unveiling The Collective, a community gathering spot complete with lodging, restaurants and a wide array of daily programming. One Snowmass—a slopeside luxury condo development with a juice bar, cafe and optical shop—was also recently introduced. "We are thrilled to see the next phase of Base Village come to life," says Virginia McNellis, marketing director for Snowmass Tourism. "The new businesses that [opened] this season bring fresh energy to Snowmass and provide opportunities for locals and visitors to round out their Snowmass experience with an emphasis on wellness and fun."
McNellis emphasizes the extensive programming happening throughout the season at The Collective, which the tourism group bills as "the heart and soul of Snowmass Base Village." The robust daily agenda is nearly dizzying: Monday brings wine-tastings, book signings, movie nights and more; Tuesday highlights programming from Aspen Center for Environmental Studies; Wednesday presents live music; Thursday boasts morning story time and evening bingo; Friday is morning meditation and more live music in the afternoon; Saturday includes themed skate nights on the ice rink; and Sunday means brunch and a Bloody Mary bar, plus "Live in Snowmass," a rotating collection of live theatrical productions, from improv to cabaret. Certainly, no one can accuse the creative forces behind The Collective of sleeping on the job.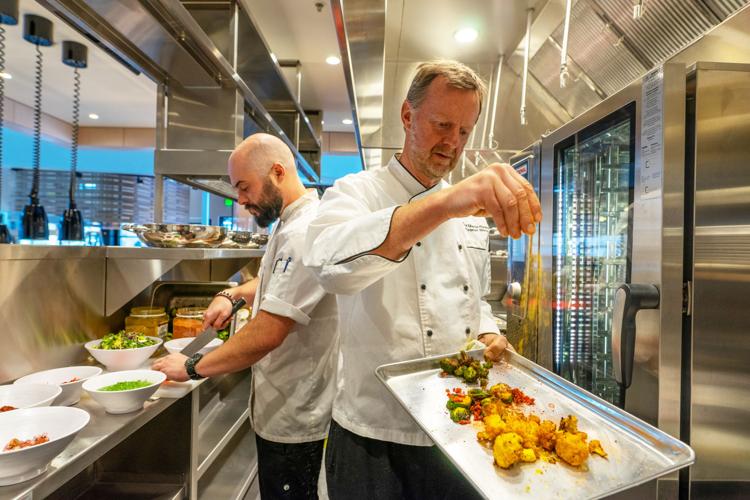 As for the dining scene at The Collective, the main level of the community-minded space houses seasoned local chef and Austrian native Martin Oswald's new eatery, Mix6, where patrons can create and customize their own dishes by choosing from a variety of proteins, vegetables and scratch-made sauces. "I hope to tempt people with the many flavors I've composed from all over the world," says the chef best known for his healthy, creative fare at Pyramid Bistro (above Explore Booksellers in Aspen). Next to Mix6 is Oswald's Moxi bar, Snowmass' newest après spot, featuring libations, craft beer and a shareable bar menu.
The two eateries join the new Jus Snowmass and GG's Market—as well as Mawa McQueen's beloved Crepe Shack, now in its second year—to give Snowmass' gastronomic scene a real bite.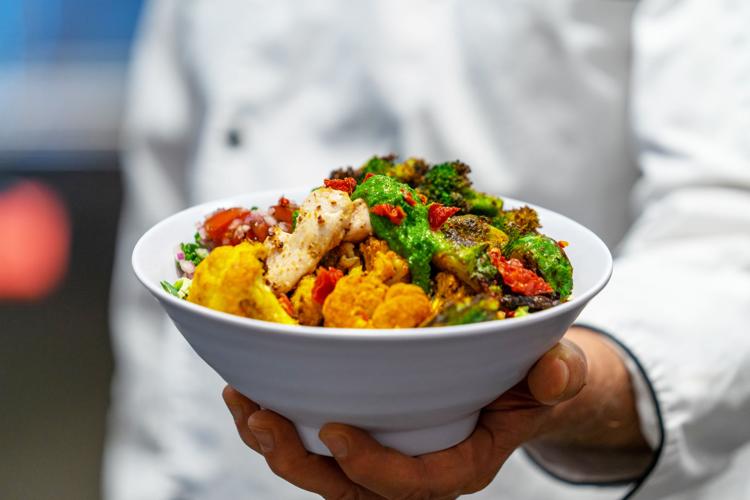 As of press time, the owners of the popular Jus Aspen—Landon Goldstone and his sister, Tamara Petit—say they aim to open their Snowmass locale in the main level of One Snowmass by the end of January. Their expansive new space will offer all of the Aspen outpost's classics (cold-pressed juices, smoothies, acai bowls, homemade granola, wraps, sandwiches), as well as a brand-new breakfast menu. "We're excited to bring our juice and food to the Snowmass family," says Goldstone. "Whether
Jus gets to start your day, give you a midday boost or help you feel better, we're here to show you what health can taste like." In the shop previously occupied by Clark's Express, GG's Market will sell premade items and other treats for skiers and riders on-the-go. Goldstone expects the market to be up and running around the New Year.
As for the kiddos? (Snowmass Village is the Valley's most family friendly destination, after all.)
The downstairs area of The Collective is home to a state-of-the-art game lounge that features a Ziegler Reservoir-inspired ball pit, ping-pong table, neon foosball, giant pin art, an interactive music mural, classic arcade games and more. "There's really nothing else like it in any other mountain town," says Sue Hyde, marketing director for East West. Jokes Oswald, "I'm worried my staff will be downstairs all the time." Of course, there is also Snowmass' signature "VIK" (Very Important Kid) program, which includes lessons in geology, a visiting magician, s'mores, arts and crafts, board games and more.
For longtime Snowmass locals, second homeowners and visitors, the completion of the current phase of Base Village is more than an exciting addition to the ski resort, it's the realization of a project 20 years in the making. Aspen Skiing Co. initially purchased the base property at Snowmass in 1999 but sold the incomplete development (with its partner, Intrawest Corp.) to Related WestPac in 2007. From the recession in 2008 until 2016, the financially plagued project remained a stagnant and incomplete eyesore in Snowmass. In December of 2016, SkiCo, East West and the Denver-based KSL Capital Partners purchased the $600 million development, vowing to finish what they had started and revitalize the storied ski area. Today, that has finally become a reality.