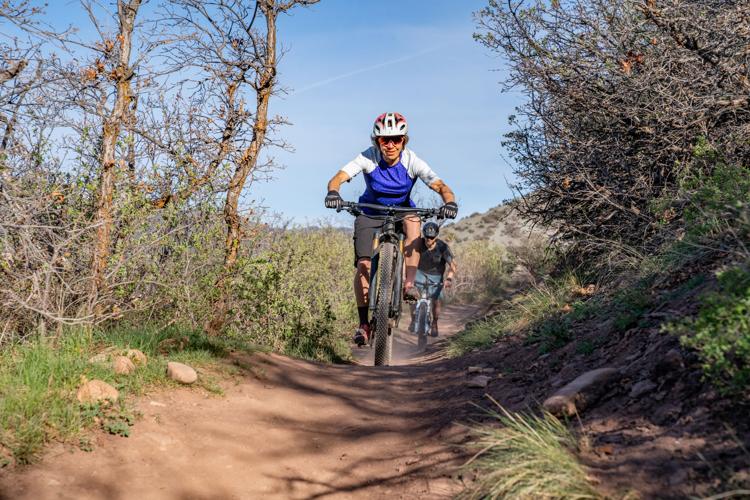 When you began your personal pedal journey, novel experience and enthusiasm might have fueled your early progression. You probably noticed vast improvements during your first, second and even third summer of riding road or dirt. But eventually, you start to plateau. Some continue to develop their technical skills, but the majority remain intermediates forever. While many might feel content in this cushy area of your comfort zone, there's much you gain from progressing your cycling.
"The fun factor goes up," says Aspen Pro Cycling owner Dean Hill, a cycling coach and guide. "If you're a nervous rider, [improving your skills is] going to bring the anxiety down. If you're a more skilled rider, it's going to open up a few more doorways in terms of speed, terrain, distance, recovery and range of riding partners."
Knowing you can ride whenever and wherever is a confidence booster, and the more time you put into cycling, the more you get out of it. Whether you want to graduate your mountain biking from the modern flow trails to the Valley's old-school classics, start commuting upvalley to work, score Queen of the Mountain status on Strava, complete a century ride or race in one of Aspen Cycling Club's newly announced time trials, achieving new goals in cycling may be more attainable than you think. And with the Roaring Fork Valley's new International Mountain Bicycling Association (IMBA) Gold Level Ride Center status designation, there's never been a better time to step up your mountain bike skills.
"Ten years ago, we had a gap in the trail system—it was a big jump to go from being a never-ever to advanced-intermediate," says Hill. "Now we have a graduated trail system that softens the entry to the sport. You can build your skills on your own terms."
Hill works with beginner, intermediate and elite level riders on dirt and the road seven days a week. Intermediate to advanced-intermediates make up 60% of his clientele. Most, he says, are stuck in a cyclical rut: "If you repeat the same rides, the same terrain, the same intensity, you're probably getting slower," says Hill. "Most people don't do enough longer easy days and/or enough really hard sessions."
Dialing in your fitness is critical to enjoying any genre of cycling, but many fit riders consider themselves experts without proper bike-handling skills. Aspen Skiing Co. event marketing manager Tyler Lindsay is a former bike coach and used to run the Aspen Valley Ski & Snowboard Club mountain bike program. He says, "good technique will make every single trail you ever ride more fun and safer."
With its ever-expanding network of trails for all abilities, the Snowmass Bike Park is the most logical place to hone your downhill mountain biking skills. There's no match for the volume of vertical feet and mileage you can rack up in the bike park in even half of a day. To climb 3,000 feet up to gain the same amount of descending the bike park offers, an average cyclist would be too fatigued to focus on a particular skill.
Removing pedaling from the equation allows you to hyperfocus your mental energy on whatever skill you're looking to improve, says Lindsay.
Professionally built trails at the Snowmass Bike Park are designed to control your speed so riders can develop good braking and turning technique without accelerating to a pace that feels dangerous or scary. Wider radius turns have large berms to foster the skill of carving rather than steering. Beyond boasting lift-assisted vertical and modern trail design, bike parks offer cultural immersion, says Lindsay. "Mountain biking, by nature, is a spread out and individual sport," he says. "The bike park provides a cultural incubator where you can interact with other bikers much more frequently. You can observe other bikers in action and emulate their technique."
If a day of riding lifts at Snowmass equates to a couple weeks of pedal-powered descents, a week of lessons at the Snowmass Bike Park may equal a year's worth of skill development. Similar to skiing or snowboarding, downhill mountain biking is a sport that requires a unique set of foundational skills best taught to first-timers by professional instructors. Snowmass Bike Park coaches help guests follow a logical, well-considered progression. And exploring new territory—even with great signage—is always better with a guide who's familiar with the terrain and your ability level. For $50 (not including bike rental or lift ticket), you can take the Park Ready Downhill Bike Clinic, a three-hour coaching session geared to getting you on the trails with confidence, during which you'll likely learn the ABC's of Mountain Biking. Below, Lindsay describes the acronym.
A: "Attack" or "athletic" position. Most people have played some other sport in their life. Proper position on a bike mimics a basic ready-position in tennis or basketball (feet shoulder-width apart, knees bent, eyes ahead). A good mountain bike coach will learn what your sport history is and tune the lesson to your experience. 
B: "Braking" technique. Using both brakes together in a highly modulated fashion and applying gentle pressure that allows you keep your wheels rolling and not skidding. 
C: "Cornering" or "carving" as opposed to steering. You can practice and refine this technique in a parking lot. The big knobs on the mountain bike tires act in the same way the edge of a ski works and the physics of carving a bike are identical to carving skis or a snowboard.  
One of the most important elements is to keep your weight centered vertically over that outside edge. The most important biking innovation in the last decade, a dropper post, allows you to lower your seat on the fly and lean your bike over while maintaining an upright and balanced body position. 
One unexpected element of bike progression is properly working equipment (clean your bike often, lube the chain and take it into a local shop for regular tunes) as well as a bike fit.
"A professional bike fit can make all the difference in the world," says Vega Brhely, a certified bike fitter and owner of Hill Climb Acupuncture. "We are asymmetrical human beings trying to fit onto a symmetrical piece of equipment. I take into consideration each individual's physical limitations, fitness and history of injury before making adjustments according to riding style and personal goals. An adjustment of 2 mm in saddle height has the capacity to completely change your power output. Two mm in the wrong direction can cause serious bodily harm when riding high mileage. My goal is to ensure your positioning on the bike will enable you to have the most enjoyable, powerful, comfortable and efficient ride possible."
Lastly, the Roaring Fork Valley's cycling scene ranges from tots striding around the pump track at Crown Mountain BMX Park to world-class athletes attempting masochistic feats on bikes. Curious how much vertical he could find in Snowmass Village, Dean Hill climbed every paved road in Snowmass one day, racking up more than 8,000 feet of elevation gain. A handful of locals have completed the "Idiot's Loop," a 230-mile route from Aspen to Buena Vista to Crested Butte and back in a day, gaining more than 17,000 feet in elevation. 
Regardless of your goals on a bike, your age or your ability level, progressing your fitness and skills on a road or mountain bike is a guaranteed way to make any day on two wheels more fun and enjoyable. 
Non-authorized female-specific riding tips 
I'm in no way a bike instructor, but I do ride with a large roster of women in the valley (many of whom I've learned from and continue to learn from each summer). These are the tips that made a huge difference for me and seem to help a lot of intermediate female riders advance to the next level. 
Brake with one finger. You need four fingers gripping the bars to have optimal control over your bike. Today's disc brakes work so well, you only need one finger to achieve the necessary pressure. Have a bike mechanic adjust your levers so your index finger locks into the hooked part of your levers and they are close enough to the bars so you have leverage. 

Keep your knees bent and apart (Don't squeeze the seat with your legs!). As part of the "athletic" position you should assume while descending, wide knees allow your bike to move up and down (your legs are your suspension) and side to side. This allows you to lean your bike separately from your body, which leads to better cornering. Exaggerate the bend of your knees and push them wider than you think, and it's probably just right. 

Keep your elbows bent and out (wider than you think!). You'll utilize your biceps, triceps, chest and back to absorb the trail and maintain control (rather than just your triceps).