Locals, and an increasing number of visitors, know Aspen is as much a bike town as it is a ski town. When the snow melts, and before it falls again, area mountains and hills reveal networks of twisting single-track trails, and scenic roads open that wind their way up dramatic mountain valleys.
With new trails for every level of rider going in from Rifle to Aspen, a dedicated trail advocacy group, a growing amount of cycling organizations for all ages and a thriving local racing scene, there's never been a better time to pedal the Roaring Fork Valley and its surrounding communities.
Mountain Favorite
This Smuggler-Hunter Creek Valley loop incorporates both the old school trails and the new flow trails. Take Smuggler Mountain Road to Behind the Sign (BTS) Trail, turn left at Picnic Loop. Turn left onto Lollipop, stay right on Lollipop, turn left on Lollipop Cutoff, right onto Lollipop Cutoff and right back onto Lollipop. Follow Lollipop Extension to Iowa Shaft Cutoff and turn right, then follow Iowa Shaft Shortcut and turn right on Hunter Creek Valley South Trail. Continue onto Hunter Creek Valley Trail. Turn left onto Hummingbird and climb up Upper Hummingbird to Reverse Hobbit to 4 Corners. At 4 Corners turn left then turn onto Secret Trail and continue to the new Upper Plunge Trail. Turn left and descend Upper Plunge Trail, cross Red Mountain Road, and descend Lower Plunge Trail. At the bottom of Plunge, keep right onto Hunter Valley North to the trailhead. 
Embrace the Dirt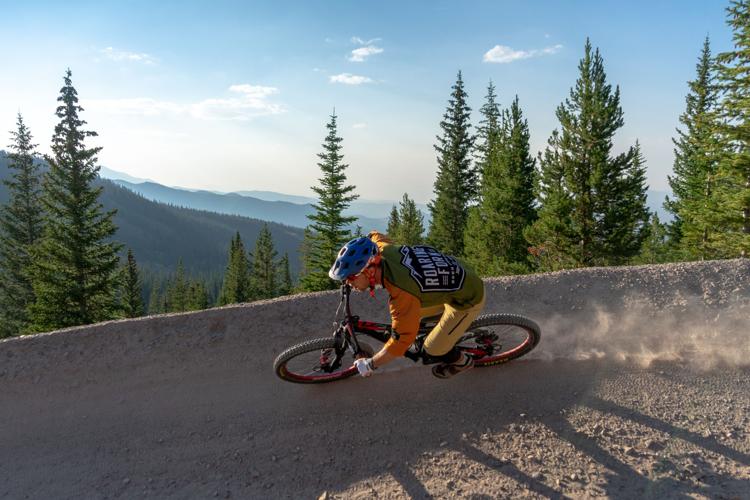 Between Aspen's Hunter Creek and Buttermilk trail networks, the Snowmass Bike Park, Sky Mountain Park (straddling Aspen and Snowmass), Carbondale's Red Hill and Prince Creek, Basalt's Glassier Open Space, Glenwood Spring's South Canyon and Grandstaff and New Castle's growing trail network, mountain bikers can find the full gamut of trails, from technical desert slickrock to alpine lift-accessed downhill trails to flow trails with low-grade climbs and perfectly sculpted berms. The variety of trails and their widespread locations — everywhere from 5,000 feet in altitude to 11,000 feet — means mountain bikers can choose their challenge level and ride according to season and weather. 
From downtown Aspen, riders can pedal up Smuggler to access both old-school and newer flow trails on Smuggler and in the Hunter Creek Valley. Or, cruise down the bike path to ride the local's favorite Government Trail on Buttermilk or the dozen smooth flow trails on the high desert ridge that is Sky Mountain Park. 
It's a far cry from the former fragmented network of steep and rocky mining roads and hidden illegal single-track, and credit is due to Roaring Fork Mountain Bike Association, an advocacy group working to create and sustain the best possible local mountain bike trail system through collaborative planning with land agency partners, trail stewardship and more. 
The organization's Trail Agent program has trained 85 independent volunteers to properly perform basic trail maintenance on their own time and then report back. Volunteers also reroute and build miles of trail each summer through dig parties, like the many slated this summer to create 11 miles of hand-built trail in the midvalley's Crown Special Recreation Management Area between Carbondale and Basalt. 
"One of our taglines is 'the best trails on the planet out the back door,'" says RFMBA executive director Mike Pritchard. "Our goal is to create and maintain quality trails close to where everyone lives. That's adding up to putting trail systems on the map for visitors, too."
The Snowmass Bike Park's multi-year expansion will end in nine new trails across 14.4 miles of terrain containing a mix of beginner to expert flow and hybrid trails. Three new trails by world-renowned trail builders Gravity Logic are slated to open this summer, including an extremely difficult freeride trail, similar to famed "Valhalla." 
The last two years have seen three new challenging trails added to the upper bike park accessed via Elk Camp Chairlift, but plenty of beginner and intermediate riding flows down the 2,893 feet of vertical descent on Snowmass, and the bike park is the perfect place to practice the fundamentals and improve skills. 
Two new connecting trails in Snowmass will add to the area's vast offering of cross-country trails, which can already be connected via a scenic 24-mile loop. 
In Glenwood Springs, the new South Canyon Trail Network — located off 1-70 one exit west of West Glenwood — opened in May, offering multiple loops that can be linked together for a 10-20-mile ride. 
The lower loop offers easy terrain for kids and beginners and entertains with berms and a few small jumps. Above, the trail winds through dark timber forest and tops out with views of the Flattops and Horse Mountain. 
And near Redstone, members of the Walton family are starting construction on almost five miles of new trail on their 221-acre property in Coal Basin that will open to the public in 2020. 
Group Cycling
At the core of the Aspen cycling community, the Aspen Cycling Club hosts iconic Wednesday evening races all summer that alternate between road and mountain for everyone from high school racers to beginners to visiting pros. 
This summer's series sponsored by The North Face races on some of the valley's classic roads and trails, while adding a couple of new mountain bike courses and a new road time trial. 
Three levels of competition, as well as age divisions and special races for children divide racers who compete for points in a season-long competition that encourages stewardship by awarding points for trail maintenance. 
Visitors can easily drop in to any Wednesday night race (your first race is free) for fun competition, a great work-out or just a tour of a new trail. 
With 30-year-old Andy Ralston serving as the organization's youngest president since its inception in 1988, many new board members and new branding, the ACC is breathing new life into local racing and aims to grow participation. "It's not like jumping into a race on TV," says Ralston. "It's a fairly small, manageable group of people who are most likely well matched in terms of fitness — there's usually someone who will be exactly as strong as you. It's a low-key opportunity to go out and challenge yourself, ride as fast as you can and achieve some personal triumph while feeling like you're part of something."
The nonprofit organization Roaring Fork Cycling formed four years ago to provide coaching for the high school teams, first in Aspen, then Basalt. 
Now, RFC empowers youth through cycling via free after-school programs throughout the school year, paid summer camps for first through sixth graders, female-only programming and a development program for middle schoolers and high schoolers. 
Around 30 coaches work for the group, run by managing director Tyler Durham, who says mountain biking's benefits are tenfold. 
"You're never in the dugout, and it's a lifelong sport that you can be doing when you're 90 — they're aren't many 90-year-old football players." 
Young cyclists learn skills and build their fitness — a group of seventh graders might ride 20 miles and climb 4,000 feet during a four-hour practice. 
RFC's co-founder Jon Delk was instrumental in luring the National Interscholastic Cycling Association to Snowmass to host the area's first high school race, which will draw around 700 student athletes this summer. Visitors to the area can take advantage of summer camps and clinics by visiting roaringforkcycling.org.
The Aspen Valley Ski and Snowboard Club also offers four levels of cycling programming, starting with free introductory programs in Aspen and Carbondale and continuing to a mountain bike team, which will compete in the Aspen Cycling Club mountain bike races as well as the Aspen Snowmass Enduro series. 
A developmental program bridges the gap between the two. On top of the technical skills honed, bikers at all levels will learn about bike maintenance and safety, environmental stewardship and the local trail systems.
Favorite on the Pavement
My go-to one-hour road loop leaves town via Cemetery Lane, follows McClain Flats road until it crosses the Roaring Fork Rover and takes the bike path up to the Intercept Lot. From there, follow the Brush Creek path to the Rodeo Lot roundabout, then take Highline Road to Owl Creek Road up and over the "pass." Descend down to Buttermilk on the bike path and then back to town. To make it longer, ride McClain Flats to Woody Creek, then follow Upper and Lower River Road to its intersection with Highway 82 at Old Snowmass. I ride up Snowmass Creek Road to the backside of Snowmass and Divide Road. Then, follow Owl Creek Road the same as you would for the shorter version. 
Road Rules
There's no need to choose between the valley's mountain bike trails and scenic paved roads. Many locals own a quiver of bicycles (inclucing a townie, of course) to pedal on any surface. From the roundabout near Aspen, cyclists can access two of the town's favorite rides: Up Maroon Creek Road to the world-famous Maroon Bells or up Castle Creek Road past the historic Ashcroft ghost town and the popular Pine Creek Cookhouse. The nine-mile climb to Maroon Lake is shorter, but steeper than nearby Castle Creek Road, which gradually climbs 1,800 feet over 13 miles of scenic curves. 
Both follow crystal clear rivers and offer alpine views of spectacular peaks and little traffic (Maroon Creek Road only allows buses during certain hours of peak season). 
Locals tend to ride Independence Pass early and late season, or early in the morning, to avoid traffic on the state's fourth-highest paved road with little-to-no shoulder. The 4,200-foot, 19-mile climb to the Continental Divide could be considered one of the world's most beautiful rides. 
The Rio Grande Trail offers a 42-mile paved bike path from Aspen to Glenwood Springs, which cyclists often use to connect road biking loops through Old Snowmass, Basalt and beyond. Basalt's Frying Pan Road climbs 14 miles from town to Ruedi Resevoir along the scenic Frying Pan River and continues on another 15 miles up the valley toward Hagerman Pass. Carbondale, Glenwood Springs and the space between them offer numerous rural roads seemingly created for road biking.