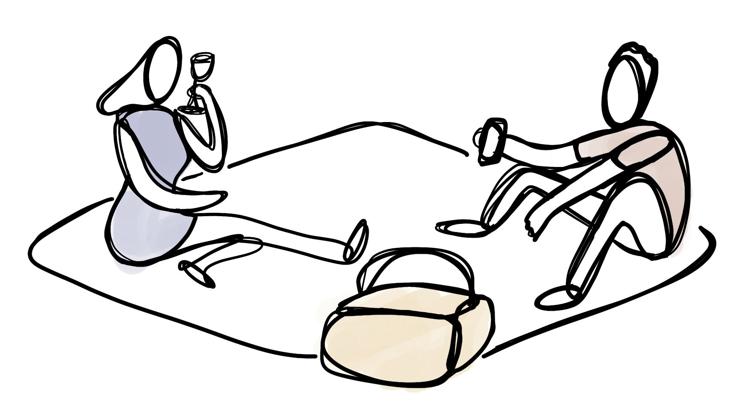 With people looking to spread out this summer, Aspen parks are primed for a big season. Although we are surrounded by more than 2 million acres of White River National Forest, which offer endless opportunities for social distancing, sometimes the escape you need can be found in a few feet of green space within city limits. Defined by their location, activities and patrons, Aspen's parks each have a unique personality, and often a name that pays homage to the town's rich history. Whether you are picnicking, playing or partying, there is a perfect park for you.
Herron Park  /  For the Fam
The Herron Brothers Mining Company operated the Smuggler, Durant and Midnight mines in the final days of Aspen's silver prospecting days. Sensing the demise of the industry, John Herron was instrumental in transitioning Aspen's economy from mining silver under the mountain to grooming black diamonds on top of it. He lobbied Colorado Senator Ed Johnson for the federal WPA program that resulted in Aspen Mountain's first lift, the infamous "boat-tow," and ultimately leased the surface rights of his mines on Ajax to Walter Paepcke to create his nascent "cultural and sports complex."
Herron's boat-tow is gone but his name lives on through his eponymous park, which today is Aspen's best waterfront hang. A natural beach and low-flow section of river created by a sharp bend in the Roaring Fork is perfect for wading, skipping rocks and for dogs that like water—but only up to their ankles. It also features one of the best playgrounds in town, with swings, slides and a wobbly bridge. The expanse of grass is often covered by family blankets and birthday parties, so get there early to get a spot.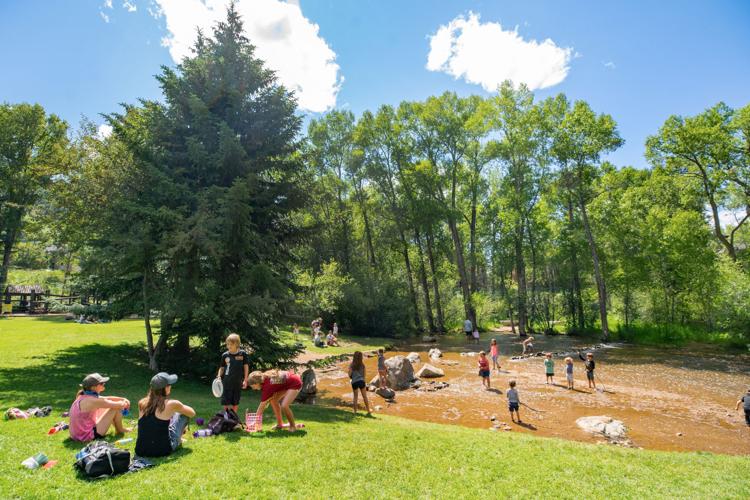 Koch Lumber Park  /  Side Out, Outside
Cue up the Kenny Loggins and flex those muscles, Koch Park is home to the best beach volleyball scene since Top Gun. Once the site of the Koch Lumber Company building, the sand courts are now home to the Motherlode Volleyball Tournament, which has hosted some of the top bump-set-spike talent in the world for nearly 50 years. You don't have to be a pro to dig in—there are plenty of pick-up games on most summer evenings. Don't worry, if you really lack hand-eye coordination, there is plenty of grass to sit and watch athletic people do sports.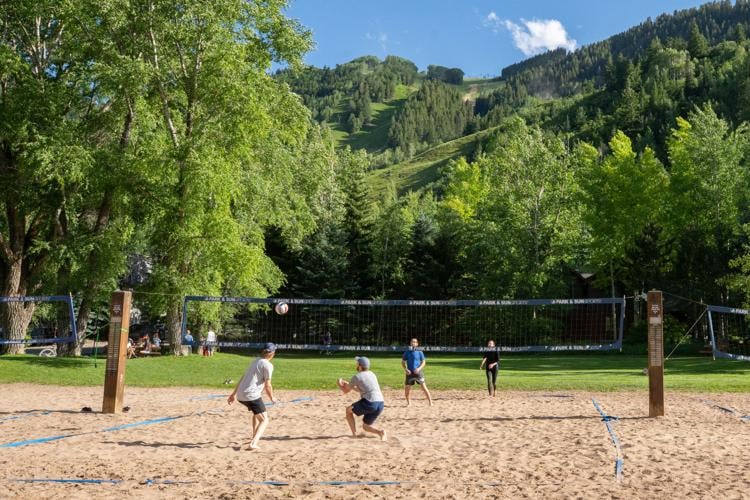 Glory Hole Park  /  Quiet & Calm (usually)
Originally created by a three-story mine collapse, legend has it that the Glory Hole contains two freight cars and a substantial length of track from the Colorado Midland Railroad. Once the town dump, the site was redesigned as a park in the 1960s and is now home to town's ducks and the toddlers (and canines) that chase them. Its proximity to the central core and relative seclusion makes it a great place to bring coffee or lunch to escape the bustle of downtown. Post up by the pond with bread crumbs for the kids and cold brew for you.
Wagner Park  /  Center Court
Both the major sporting fields in Aspen are dedicated to rugby, with towering goalposts painted red, black and white in support of the hometown Gentlemen. Wagner Park, named for an early Aspen mayor and originally a baseball diamond, is typically out of commission for much of June as it is prepped for, and recovers from, playing host to the Grand Tasting at the Food & Wine Classic. With the annual bacchanal canceled this year, the grass is pristine and ready for frolicking earlier than ever. This park is center-stage in Aspen and perfect for playing catch, fetch and a yet unnamed Aspen game that includes throwing a hula hoop over one of the 18-foot rugby spires. Wagner is also home to "tooth park," a molar-shaped kids playground that, while not as extensive as some other tot lots in town, is much closer to bars that allow for parental cocktailing while the kids are climbing. As long as the kids are having fun, the adults can drink in peace.
Rio Grande Park  /  The Outdoor Gym
Rio Grande Park is the most active of Aspen's parks. While it's long hosted soccer practices, lacrosse tournaments and weekly dog meet-ups, more recently it has evolved into a de facto gymnasium as Covid-19 pushes local fitness classes outdoors. It's also home to Aspen's skate park—which is overflowing with wheeled talent during daylight hours—and a set of severely neglected basketball hoops. The park serves as the gateway to both the John Denver Sanctuary (a popular place to get Rocky Mountain High) and Child's Play, a pond with a mellow beach that is ideal for smaller kids. (Pro tip: This park boasts the nicest public restrooms in Aspen.)
Mollie Gibson Park  /  See & Be Seen
Mollie Gibson derives its name from one of Aspen's richest silver mines. Discovered relatively near the surface, the ore deposit was once described as a "treasure house of inexhaustible riches … where strikes of rich ore have become as common as colonels in Kentucky." Nowadays, the Mollie Gibson mine is sealed; however, the park continues to offer priceless panoramas. Adjacent to the Smuggler Mountain Open Space, the public ground provides an elevated vantage of downtown Aspen, dead-on views of Aspen Mountain and idyllic sunsets over Mount Sopris. The most scene-y of Aspen's parks, it is frequently occupied by kite-fliers and frisbee-tossers or rented for parties and weddings. Colloquially referred to as "Smuggler Park," the lawn used to get particularly rowdy on Tuesday nights when it served as the terminus of the Tuesday Cruiseday ride, which was often hundreds strong. If you're looking for a place to picnic with the best scenery and plenty of space to socially distance, this park is for you. It's a local's favorite, so don't tell anyone else about it.