Guaranteeing happy campers this summer has little to do with s'mores or bug spray: "Plan ahead," says David Boyd, Public Affairs Officer for the White River National Forest, the country's most popular national forest. "I can't stress that enough. Be prepared to camp farther from your destination than you hoped." 
Last summer, Covid pushed unprecedented numbers of people into the great outdoors, leaving trails and campgrounds full. This year, expect the same. But with some foresight, it's still possible to snag a spot at one of the Valley's 19 campgrounds. Choosing which one, however, is up to you and your nature preferences.
Boyd's advice for success? He recommends trying to camp outside of peak times (midweek) and, of course, to stay away from holidays.
Come prepared and have a backup plan—as any good camper should. recreation.gov.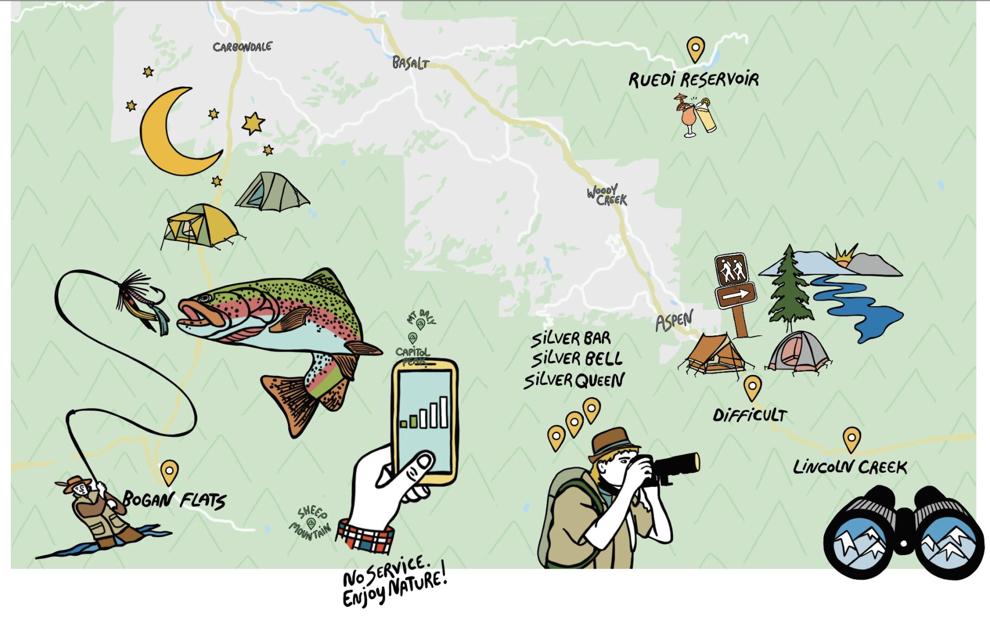 For the angler: Bogan Flats along the Crystal River, outside of Carbondale, is where fly-fisherfolk can channel Brad Pitt in A River Runs Through It. Rainbow, cutthroat and brown trout are abundant in these gold-medal waters. But, remember, it's catch and release, so don't plan on reeling in your dinner. 
For the Caribbean experience: Ruedi Reservoir is the Caribbean of the Roaring Fork Valley—it's the one place you can find boats. Camping here is all about that aquatic life, and the Ruedi Marina Campground means you can have glassy water-ski turns in the morning and a sunset booze cruise for happy hour. (Just don't expect tropical weather. At 7,700 feet, it's actually not at all like the Caribbean.) 
For that red-rope feeling: Along Maroon Creek Road, three campgrounds—Silver Bell, Silver Bar and Silver Queen—offer limited, tent-only sites available by reservation. Their popularity lies in their proximity to the Maroon Bells, the iconic 14,000-foot, picture-perfect twin peaks at the end of the road. With just a handful of sites at each campground and no cell service, it feels exclusive even though it's an easy 15-minute drive from Aspen. 
For an all-American vibe: Just outside of Aspen, Difficult Campground has the most sites in the area—47. It's close enough to Aspen (just four miles from town) to make things easy, but far enough away to still feel like an adventure. Given the site's location along the upper Roaring Fork River and the fact the less-trodden Difficult Trail leaves from the campground, there's a lot of fun to be had from your tent.
For an alpine experience: (or when you can't find anywhere else to camp): Head up Independence Pass to Lincoln Creek to explore dispersed options on the long, bumpy road. Several first-come, first-served spots dot the initial couple miles and then campers can spread out in meadows and forest beyond that—as long as you're 300 feet from the road and streams. Here, you're rewarded with high-mountain views and a true "out-there" feeling. 
______________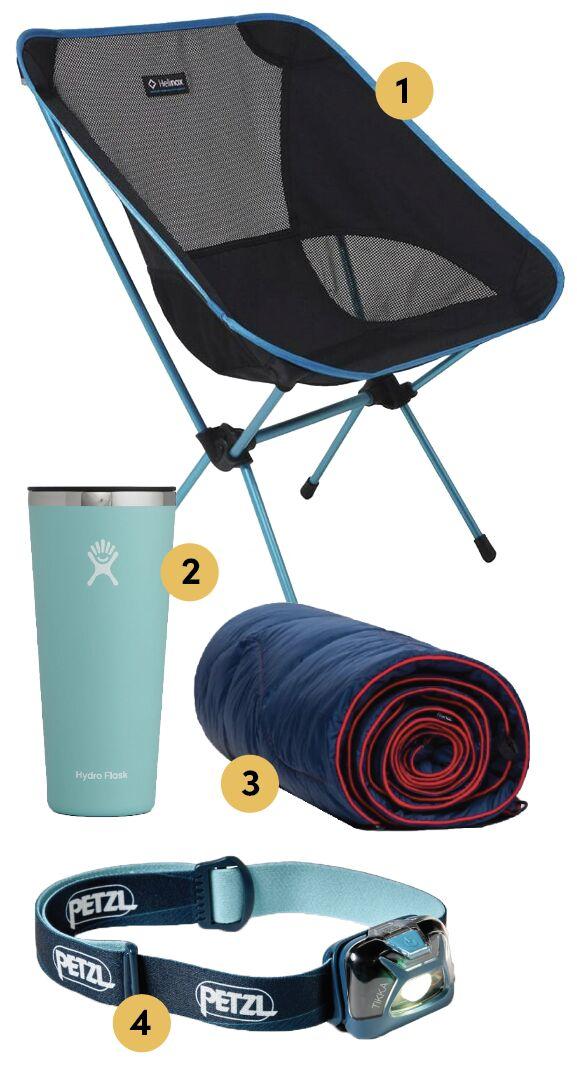 Complete Your Kit
Camping is about more than a tent. Here, a few pieces of gear you should make sure to have on hand.
1 | This ultralight, durable chair offers a surprising amount of comfort for outdoor seating.Chair One, $100, Helinox.
2 | The ultimate vessel for keeping coffee hot in the morning and margaritas cold at night. Tumbler, $30, HyrdoFlask.
3 | Use this blanket as an extra layer for cold Colorado nights in the tent or for keeping cozyaround the campfire. Down Blanket, $100, Rumpl.
4 | Multiple light settings on this headlamp go from don't-blind-your-friends to deer-in-headlights. Tikka headlamp, $30, Petzl. 
All available at Ute Mountaineer, 210 S. Galena St., utemountaineer.com.