The entire second-grade class at Basalt Elementary School was offered a free bike last week and 100 out of 106 students accepted a Huffy Rock It single-speed coaster provided by a Denver-based nonprofit.  
The bikes were assembled Oct. 14 in the old Hub of Aspen space and took volunteers about 10 minutes per cruiser to assemble, according to Brad Appel, founder and executive director of Wish for Wheels. Since its founding in 2004, the group has provided about 7,000 bikes per year to students in schools that have a high ratio of subsidized or free lunches, Appel said.
"Our mission is to change the life of a second grader in a Title 1 elementary school," Appel said this week. 
Appel's love of cycling hearkens back to his childhood in Westchester County, New York, where he was able to ride his bike almost everyday and everywhere. As a parent, he's seen far fewer kids biking than in his youth, which provided the original impetus for his project.
Each Huffy bike costs about $120 with costs underwritten by corporate philanthropy and private donations. "It's a simple, strong bike" with five parts, he said.
During the bike building day last week, volunteers were helped by passersby who noticed what they were doing in the retail space across from the Wheeler Opera House. Former Gov. Bill Ritter built a bike as did part-time Aspenite Lance Armstrong.
"This was his first time participating with us," Appel said of Armstrong, who won seven consecutive Tour de France races before being stripped of the titles because of doping. 
On Oct. 15, the afternoon after the bikes were assembled, volunteers ferried them in trucks from Aspen to Basalt Elementary, where the second-graders were fitted to their new wheels and new helmets. 
Students had varying levels of experience, from never-ever to those with many miles in the saddle. Armstrong was among those volunteers who taught children how to ride a bike, Appel said. 
This bike build and giveaway was larger than the average Wish for Wheels project, which typically averages about 60 bikes.
The project was the largest single event that Whitney Carper, assistant principal at BES, has seen in her two years in this position at BES, she said.
"The bike giveaway was a wonderful day for our second graders," Carper said. "We have a wide range of students with varying levels of experience in biking. Having all of our second-graders together as they were given their new bikes and helmets, with the support of the Wish for Wheels volunteers and BES parents and teachers, was truly a joy to see."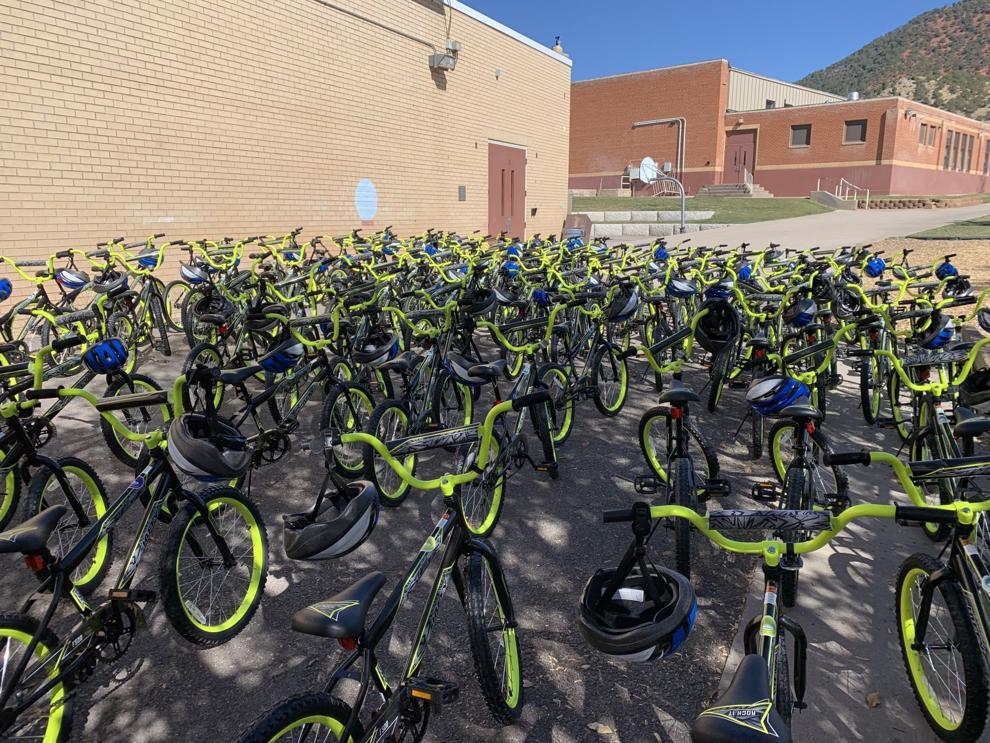 Resources were provided in English and Spanish.
Wish for Wheels provided Glenwood Springs Elementary's second-graders with bikes last year, and Appel said the organization would like to return next spring to work with Crystal River Elementary in Carbondale.
All of the elementary schools in the RE-1 district  are considered Title 1, according to Kelsy Been, public information officer for Roaring Fork Schools. The schools are located in Glenwood Springs, Carbondale and Basalt.
"To qualify for Title 1, 40 percent or more of the students in a school must qualify for reduced or free lunches, and all of our elementary schools meet this threshold," she confirmed.
Appel said a Wish for Wheels test program associated with the Denver Public Schools will track the behavior and test scores of bike recipients and if those who accepted the bikes fared differently than those who did not. All told, Appel said more than 50,000 bicycles have been given away since the organization launched 15 years ago.
Last week, about $10,000 was raised during a fundraiser in Aspen that was organized by Aspen resident Melinda Goldrich. Another source of funding has been using the bike building project as a team building exercise for corporations, according to Appel.
While the volunteers were setting up for the bike giveaway last week, assistant principal Carper said she overheard some third- and fourth-graders coveting the new Huffy bikes and saying of their fortunate second-grade peers, "What makes them so special?"