It was 15 minutes past 6 p.m. and I couldn't help but feel a tinge of uneasiness as I made my way into the Hotel Jerome to the check-in desk for the annual Aspen Words Benefit Dinner last month. Should I even be here as an attendee? I have been to a lot of fancy affairs at the Hotel Jerome, but rarely as a guest. I'm usually shoe-horned in the back of the room with cameras strung over my shoulders dodging the busy waitstaff while attempting to capture photos of the speakers, attendees and all the action in every detail.
This time I was in the ballroom sans camera and feeling a little out of place seated at one of the head tables next to the legendary photographer and filmmaker Pete McBride. He also happened to be the course instructor for a class I was taking at Summer Words, an annual gathering of literary luminaries including authors, teachers, editors, agents, aspiring writers and me, a local small-town photojournalist hoping to gain more insight into the world of travel photography and storytelling.
Two days earlier after ­checking in at Summer Words and receiving my packet of materials for the three-day Readers Retreat, I sat anxiously awaiting my fellow classmates and instructor, like on my first day of Creative Writing 101 at Kent State University more than 20 years ago. Who were these fellow readers and what kind of class would this be? It turned out a few of the attendees were also locals working on fine-tuning a new novel or expanding their understanding of storytelling for an upcoming documentary. It was an eclectic mix of students and I was thrilled to be among them.
Although Summer Words is best known for its writing workshops, I was excited to learn the program also offered a class, which was not a writing-intensive class, led by McBride, a National Geographic photographer and Colorado native. McBride recently wrapped up his most ambitious adventure yet, walking the length of the Grand Canyon, nearly 800 miles, in stages with his friend and writer Kevin Fedarko. The year-long process was chronicled in the film "Into the Canyon," which premiered in February at the Wheeler Opera House here in Aspen. A self-taught photographer, filmmaker, writer and speaker, McBride has traveled around the world on assignment for the National Geographic Society, Outside, USAID and more.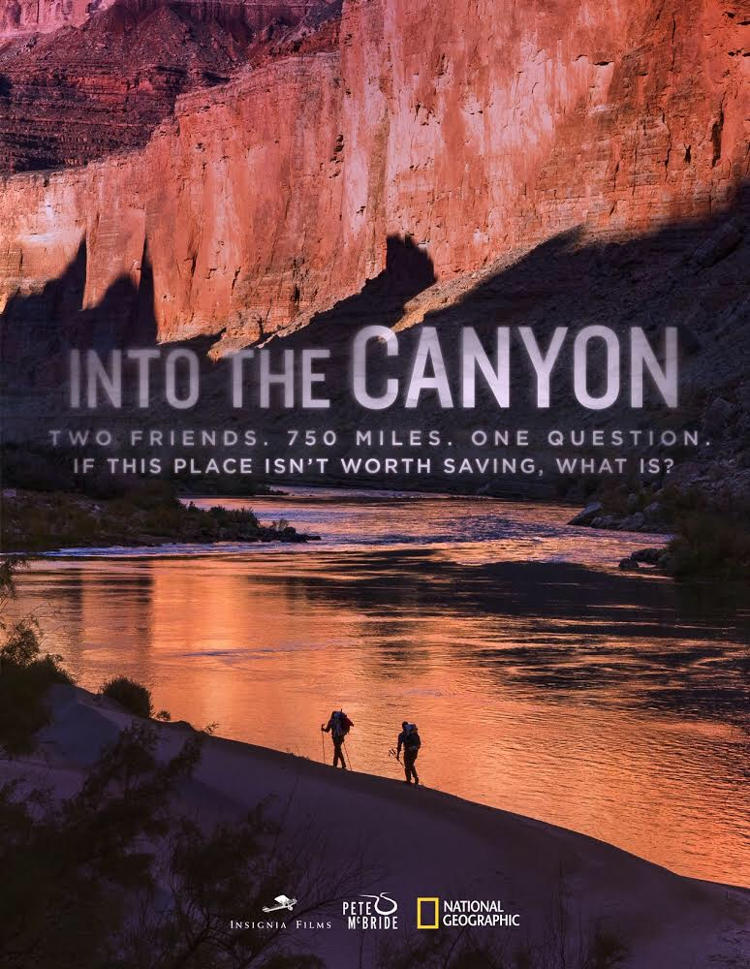 Like any first day of school, everyone else showed up excited and ready to engage. We settled into a conference room-turned-classroom at The Gant and began a deep dive into stories by writers Nick Paumgarten, Wells Tower and one by our own instructor.
As we navigated the relationship dramas of two siblings and their father on a few misadventures in "Meltdown," Tower's piece from Outside, and the raucous world of ski racing depicted by Paumgarten in "The Descent of Man" in The New Yorker, it became evident to me that I was in uncharted territory and headed full steam ahead into the world of writing I love to read, but rarely ever examine beyond the surface.
Over the first four hours, we shared personal stories that we could relate to the tales we had read and examined the ways writers use characters and other foils to advance the narrative. We shared a moment of grief for the recent passing of beloved Aspen local Sam Coffey, who was mentioned in the ski racing story. We wrapped up day one with a personal story by McBride featured in National Geographic Traveler detailing his journey to Mexico to trace his family's distant ties to a legendary figure in Mexican history.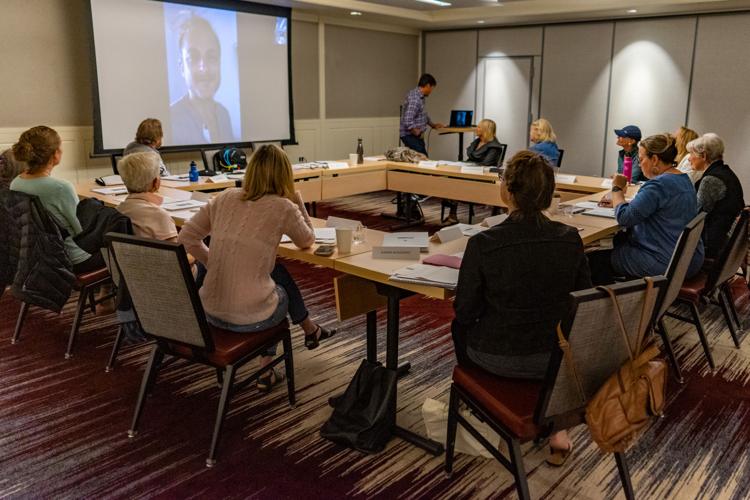 Upstairs as I awaited lunch — steak tacos with all the fixings — I became acutely aware of the impact this class was already having on me. I realized how little I knew about travel writing and that I was in the perfect place to soak up some serious knowledge. Writer Nick Paumgarten posited during a Skype interview on day two that you don't have to tell the whole story, "start small ... one small part of it is enough." That changed my whole perspective because I always look at a story as this huge thing to somehow distill and share rather than focus on one small aspect and highlight that.
Homework each night consisted of moderate but captivating reading. Each series of short stories, written for magazines like Outside, Esquire and The New Yorker, featured an array of characters from across the globe captured by award-winning writers putting themselves in extreme circumstances. I was enthralled from the first page of the first feature we read.
McBride led the class with an earnest, insightful and expert review of each story. He challenged us to examine the story from other perspectives. Each day we went further down the rabbit hole and into a world of travel writing that forces readers to examine the world around them and think about their impact on society. We had Skype interviews with Fedarko and Outside features editor Elizabeth Hightower Allen who both shed light on how they, too, approach the storytelling process.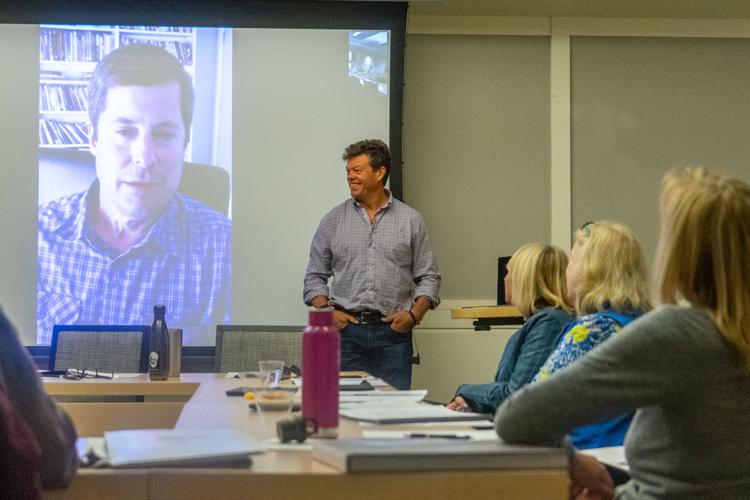 Hightower Allen suggested that in order to captivate the reader the writer must "meet the people where they are." That idea was taken all too literally in one story we read, "Desperate Passage" by Michael Finkel, featuring photos by Chris Anderson. It a story read by millions around the world when it was published on June 18, 2000, in The New York Times Magazine. Its effect on the world view of Haitian refugees had a lasting impact and parallels the issues facing those crossing the ocean for refuge in Europe just recently. Finkel and Anderson, despite months of challenges and setbacks, booked passage on an ill-suited, over-crowded small boat headed from Haiti to Miami filled with refugees. They didn't make it to Miami, as the boat was intercepted by the Coast Guard before it could either reach land or sink. We Skyped with Anderson for a look back at his choice to take that risk and how it affected his life and career path. It was an insightful conversation between moments of levity with his daughter, who was in the background on the Skype feed, vying for his attention. He mentioned that throughout the months-long process of securing passage, it was his ability to lead with dignity and respect that inevitably led them to that fateful voyage.
Since completing the class last month, everyone has gone back to their normal lives, things have progressed as usual for me in Aspen in the height of summer, which is to say at breakneck speed covering the myriad events that take place in town over the course of eight weeks. One thing that has stuck with me more than any other message I took from the class is to slow down, take my time and observe more.
I've taken that idea with me into my personal and professional life from sticking around a little longer at a photoshoot to see what might materialize, to making more time between assignments to learn about what I'm covering.
As everyone filed into the ballroom to their assigned seats at the benefit dinner, I held little hope for a seat anywhere. At the last moment, when it was clear there was no room at the inn, McBride tapped me on the shoulder and told me to go grab a chair, he was saving a spot for one more at Table 9. And so it came to be that I sat down next to McBride, took a big sip of wine and reflected on everything I had learned. I toasted to the three days that had passed and to the inspiring evening ahead alongside a new friend and mentor all thanks to Aspen Words.