The Aspen Chamber Resort Association is asking social media users to be more discreet as they upload the area's dreamy outdoor pictures to the internet.
The chamber has created a new geotag that users can connect to their photographs, instead of using the actual location where it was taken. The geotag name is "Tag Responsibly, Take the Aspen Pledge" and points to the corner of Bleeker and First streets.  
"Geotagging social media photos responsibly will support our efforts to keep Aspen's natural beauty intact for future generations to come," ACRA said through its most recent website blog post. 
"Overcrowding, trail damage, litter and encroachment on native species are threatening our landscape, putting both people and animals at risk. Social media, while a great way to share experiences with your friends, is also driving more and more people to flock to places which are unable to support the rise in traffic," the post added.
ACRA runs the Instagram account with the name @AspenCo where they describe themselves as an "tourist information center." However, the business association no longer will be giving away all the secrets behind the backcountry photos it posts.
"This tag will appear on general nature shots, backcountry recreation and lesser-known sites instead of a specified location on all @AspenCo social posts," ACRA said.
Though it cannot enforce the public's use of their new tag, ACRA has created guidelines it hopes will be followed by those who want to keep the lower traffic sites less traveled. For instance, ACRA says it's fine to tag Independence Pass, but discourages tagging the Lost Man Loop. Similarly, tagging Smuggler Trail gets a thumbs up, while they'd like Cathedral Lake and Sunnyside trails to remain under the radar. ACRA also discourages tagging shrines and powder stashes throughout the ski resort.
Eliza Voss, ACRA director of marketing, said the new location tag falls in line with keeping Aspen, Aspen.
"Aspen as a destination and a place for people to live has long been on the forefront of sustainability and conservation so it's just one step that ACRA is taking toward continuing that," Voss said.
Along with the creation of the geotag, ACRA has created the "Aspen Pledge" campaign, a tongue-in-cheek guide for visiting the area in a responsible manner. The pledge recites promises like, "I will venture into the great unknown while staying on the known trails" and "I will hit the slopes without hitting the other skiers."
A geotag on Instagram for Aspen as a whole already exists, and users aren't required to use a location when they post a photo to their individual accounts. But Voss said the name of the location pin that ACRA created — "Tag Responsibility, Take the Aspen Pledge" — is a way for the chamber to try to educate visitors that goes a step further than just encouraging the generic city tag or no tag at all.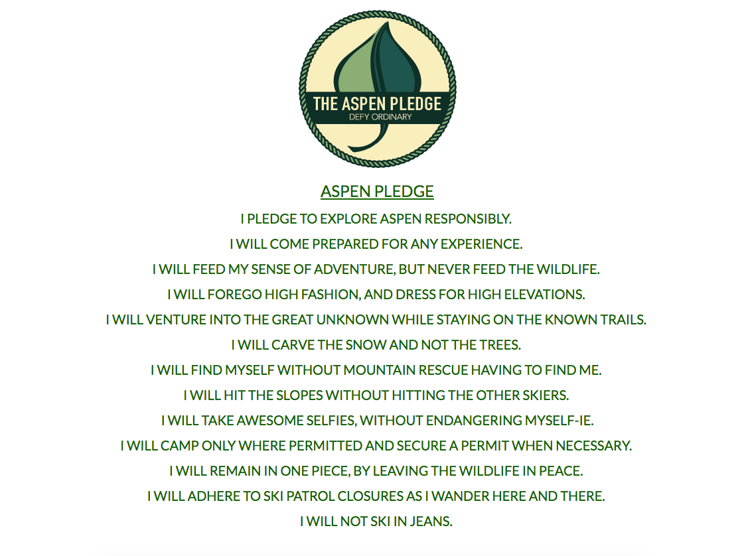 "The Instagram effect has been widely covered in travel, in that people are going to places just to get the shot. You know if they are on top of a 14er, are they prepared for any event that might happen there, or are they just there for the bragging rights?" Voss said.
ACRA unveiled the new geotag Wednesday by using it as the "location" of a shot of hikers in a trail of wildflowers alongside an alpine lake. The photo has more than 1,500 "likes" and 30 comments, split evenly between support for the initiative and those who criticized the organization for keeping information about public lands exclusive to insiders.
"This is really unfortunate," wrote user @sarah517 in the comments of the photo. She said she traveled to Colorado last spring and used some geotags from social media to plan her trip.
"I wouldn't have even known where to begin research for a visit. How do you google 'random alpine lake,'" she asked. "Things like this may hurt the tourism that many of the residents in your valley rely on for income."
User @craigarchibald said that while he is a proponent of preserving the natural environment, he doesn't think the generic location tag will make a difference.
"This won't prevent traffic on natural locations. Just sweeping the problem under the rug," he wrote.
Bridget Crosby is marketing manager for ACRA and runs the @AspenCo instagram account. She said the initiative is a reaction to overcrowding and trail damage that comes as a result of social media.
"We just don't want the traffic that geotags sometimes bring to vulnerable natural areas that can't really handle all of that foot traffic," she said.
Crosby said the ACRA website has many blog posts about top outdoor destinations that can help people research the same type of experiences they might be seeking by perusing Instagram hashtags. But she sees the opportunity to link that information to the Aspen Pledge as a benefit over those who are just seeking to get the shot. 
ACRA also formulated a list of lower elevation hikes that so that visitors could be directed to safe alternative hikes as the late-season snow kept top tourist attractions such as Independence Pass and the Maroon Bells blocked off.
"It's not that we are telling people not to visit, we just want people to explore other areas and be as responsible as possible while visiting," Crosby said.
Bend, Oregon, and Jackson, Wyoming, have already created similar hashtags to limit the overuse of some of their more pristine areas. Also, last summer, the environmental organization Leave No Trace released a set of social media guidelines, the first one being "Think Before You Geotag."
"We encourage outdoor enthusiasts to stop and think about their actions and the potential consequences of posting pictures, GPS data, detailed maps, etc. to social media," the organization wrote on its website.
The guidelines set forth by Leave No Trace and ACRA are just that: guidelines. Neither organization can control what visitors to photogenic spaces do with their online content. And, as it turns out, Aspen's most sought after social media landmark will always be off the grid, because it does not exist.
"You know what people really want to see is where the 'Welcome to Aspen' sign is from (the movie) 'Dumb and Dumber,'" said Voss, "and sadly it just does not exist for their Instagramable moment."