For an industry that hasn't grown in decades, an uptick in skier visits this season from good snow and new pass deals seems to be causing some growing pains in the mountain west.
Complaints of crowding by season pass holders at areas impacted by the Ikon Pass, including those owned by Aspen Skiing Co. and Alterra Mountain Co., the Denver-based company formed in 2017 by Henry Crown and Co. and private equity firm KSL Capital that acquired Intrawest's holdings and other assets, have recently multiplied on social media.
A video posted this week from Teton Gravity Research, showing moose sharing the slopes of Jackson Hole with a snowboarder, became an occasion to decry the pass product that has seemingly brought more guests to the local slopes. It's a trend that's picking up steam as it rolls through resorts where there's a vocal, local populace.
This week on Facebook, when a photo of moose intermingling with riders on the slopes was shared, Ryan Yeats joked that, "Even the moose are pissed about the Ikon Pass."
The derision continued on the resort's website when commenter Lan Do wrote: "Jackson Hole is now closed to the Ikon Pass. There is no powder here and the powder that is here will make you very, very sick. Stay away at all costs."
Snowmass Village resident Ian Long said this week he's heard similar complaints about the Ikon Pass impacts from locals who ski not only in Aspen and Snowmassbut Solitude, Utah, and Squaw Valley, Calif., which also are part of the pass conglomerate.
"Seems to be a trend forming. Join the Epic or Ikon and you change that ski area and not for the good," Long said.
In classic Aspen fashion, the bumper stickers are already circulating, including one that reads "Stop Ikonisizing Aspen."
Some have looked to Arapahoe Basin's announcement last week that this would be its final season as part of the Vail Resorts' Epic Pass due to parking and restaurant capacity issues as a warning sign. A-Basin is one of the closest areas to Denver.
"A-Basin has seen exceptional growth both in popularity and skier visitation after investing $40 million over the last 15 years," according to a statement to the media from the resort's chief operating officer, Alan Henceroth.
"While the mountain still has plenty of room for skiers and riders, the ski area is feeling a pinch on parking and on restaurant space. Arapahoe Basin believes its staff can take better care of its guests by separating from Vail at this time.
"Our goal is to minimize waiting and crowding and maximize experiences and fun," Henceroth added.
Henceroth was out of town and unavailable for further comment this week, according to resort spokeswoman Leigh Hierholzer.
A-Basin's move comes amid the backdrop of a maturing industry seeking more growth avenues.
A report in the winter 2019 edition of the National Ski Areas Association Journal written by NSAA President Kelly Pawlak indicates there's reason for concern.
Pawlak's reported noted, "Skier days are flat and we have not hit 60 million visits since 2011. Prior to 2011, the last time the 60 million skier day mark — an indication of lift tickets sold — was broached was 2008.
The actual number of domestic skiers and snowboarders who participate on a regular basis is far less that the number of skier days.
"We have not hit 10 million participants since 2011. We are also not keeping up with our historical percentage of U.S. population capture. Last season our participants represented 2.9 percent of U.S. population and we have not hit 3 percent since 2014," she wrote.
The industry is also falling short capturing the next generation.
"We've seen a decline in share of visits for those aged 13 to 24. In 2004, 18 percent of visits were attributable to 13 to 17 years old and today they account for 13 percent," according to the report.
During the same period, U.S. ski industry participation by 18 to 24 year olds dropped from 12 to 9 percent, it noted.
The report painted a picture of an industry continually dominated by upper echelon earners:  "About 27 percent of our guests have incomes of $200,000 or more compared to 5.8 percent of U.S. households," it noted. That's up from 17 percent a decade ago.
"The U.S. population continues to diversify but our customer base still lacks diversity," the report continued.
The National Ski Areas Association has formed a growth committee, according to Adrienne Saia Isaac, director of marketing and communications, and it is looking beyond just lift tickets sold.
"How can we not just encourage skiing and snowboarding," she said of the committee's mission. "How can we introduce more people to the outdoors and mountain recreation in general. Not everything is going to be dropping off a cornice."
Beyond weekend business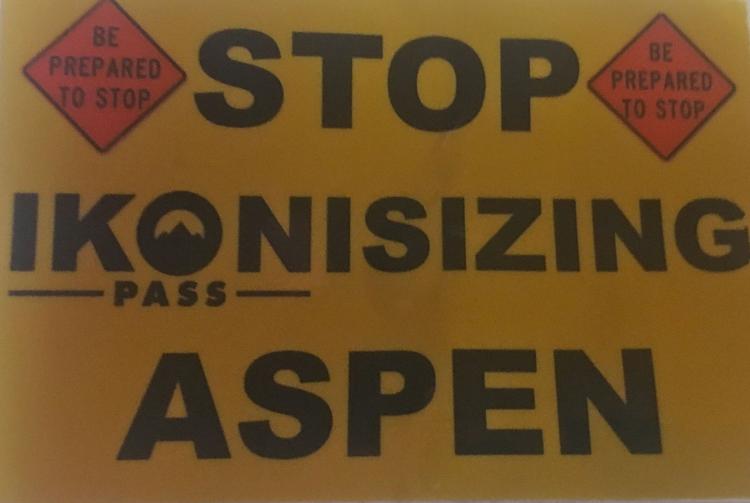 Enter the new era of ski resort ownership conglomeration and the rise of products like the Epic Pass and Ikon Pass. While parent companies keep the numbers close to the vest for fear of a losing a competitive advantage, the Colorado Sun reported in October 2018 that Alterra was poised to sell around 250,000 Ikon Passes for 2018-19.
Aspen Skiing Co. has allowed that the Ikon Pass is pushing up weekend numbers on the local mountains, but provided little information beyond that.
A Vail Resorts spokeswoman did not respond to a request for information on Epic Pass participation and previous attempts to ascertain numbers about the Ikon Pass from Alterra and SkiCo have not been successful.
"We don't track their sales data. It's proprietary," the NSAA's Saia Isaac said.
She did say that Ikon and Epic are "a great product for skiers who want a little more variety" and one that provides some snowfall assurance since the passes are good in different regions.
Chris Linsmayer, a spokesman for Colorado Ski Country USA, the umbrella marketing organization for most of the state's ski areas, said it is premature to try and measure this new pass product's impact.
"We are still in the middle of the first season of the Ikon Pass so it is too early to say anything definitively either way," he said. Asked how the season-to-date skier visits are faring compared to past years, Linsmayer said, "We will be releasing those season numbers at our annual conference in June."
Saia Isaac also said it's too early to gauge the season for ski area operators but the tremendous snowfall in California, the Pacific Northwest and the Rockies could bode well in numbers. She said no mid-season report on skier figures was available.
The Ikon Pass pricing for the 2019-20 season was released this week and sales begin March 5. The Ikon Base Pass which includes some blackout periods, starts at $649 and the unlimited Ikon Pass has an earliest season best price of $949. Those who bought a pass during the inaugural season get a break on next year's pricing.
The Mountain Collective pass will continue for 2019-20 season as well as Ikon, said Aspen Skiing Co. spokesman Jeff Hanle. Details are expected in a week or so on the pass that includes some locals' favorites like Alta and Jackson Hole.
Just as there's reticence to speak on actual numbers, industry spokespersons are also noncommittal on whether the Ikon and Epic passes will lead to an increase in future mountain users. Much remains about the snow, many suggested.
And crowding may also be a matter of perspective.
This week, a foursome of guests from Austria and Germany who were visiting the Aspen areas said they had encountered nothing close to what could be considered either crowds or lift lines "compared to what we find in Austria," said one man.