The Aspen-Pitkin County Airport terminal is an outdated facility that leaves much to be desired in terms of providing a positive traveler experience.
That was the general consensus of a panel of commercial airline representatives who spoke Monday afternoon during an ASE Vision meeting held at Colorado Mountain College's Aspen campus.
"From the point of booking your ticket all the way through your final destination and getting your bags, we like to provide the highest customer experience that we can," said Daniel Ortiz, general manager for American Airlines' operation in Aspen. "It's very difficult for us to do so with some of the current facility constraints."
Ortiz said while the size of the airport terminal is adequate on some days, "it cannot support the current operation" during most of the winter and the peak days of the summer season.
"Ensuring that our current level of service is maintained and our customer experience is positive … is very difficult to do here," he said, referring to the cramped conditions that often occur throughout the airport when the "sterile boarding area" — the section where travelers go after passing through security — reaches capacity. 
Because of the increase in airport business in recent years, the airport has had to create a system in which passengers waiting to board a plane are held in the ticketing area until there is enough room in the sterile boarding area to allow them to proceed through security. If the ticketing area also becomes full, as measured by the capacity allowed under local fire-code regulations, then some travelers are asked to wait outside the terminal, regardless of weather conditions.
There are other issues as well, Ortiz said, mentioning the small conveyor belts that bring checked bags into the terminal for travelers that have arrived in Aspen.
"In the wintertime you can have wait times up over 45 minutes [for people] waiting for bags, just because there's a backlog of bags waiting to get into the terminal," he said. 
"I think it's very important for … passengers flying through the Aspen airport to have a good experience," Ortiz continued. "Here in Aspen, unfortunately, during most of our peak months, it's a negative experience both on arrival, whether it's waiting for bags shoulder to shoulder, or on your departure out of Aspen, with longer ticket lines, longer [security] lines or closure of the sterile boarding area because we've hit capacity."
According to Ortiz, the current airport terminal "has kind of lived its life. It's done very well, but for the current level of service that we provide, it's been overgrown."
Paul Amen, manager of air traffic management for American Airlines in the western U.S., said improvements can be made at the airport that don't necessarily equate to large numbers of additional aircraft flying into Aspen.
"There's some tweaks and enhancements that can maybe just help with the current situation," he said. "Just the fact that the [community is] getting together and meeting, and looking at these alternatives, I think is great, because you can find enhancements to this airport without necessarily detracting from some of the other concerns that you have."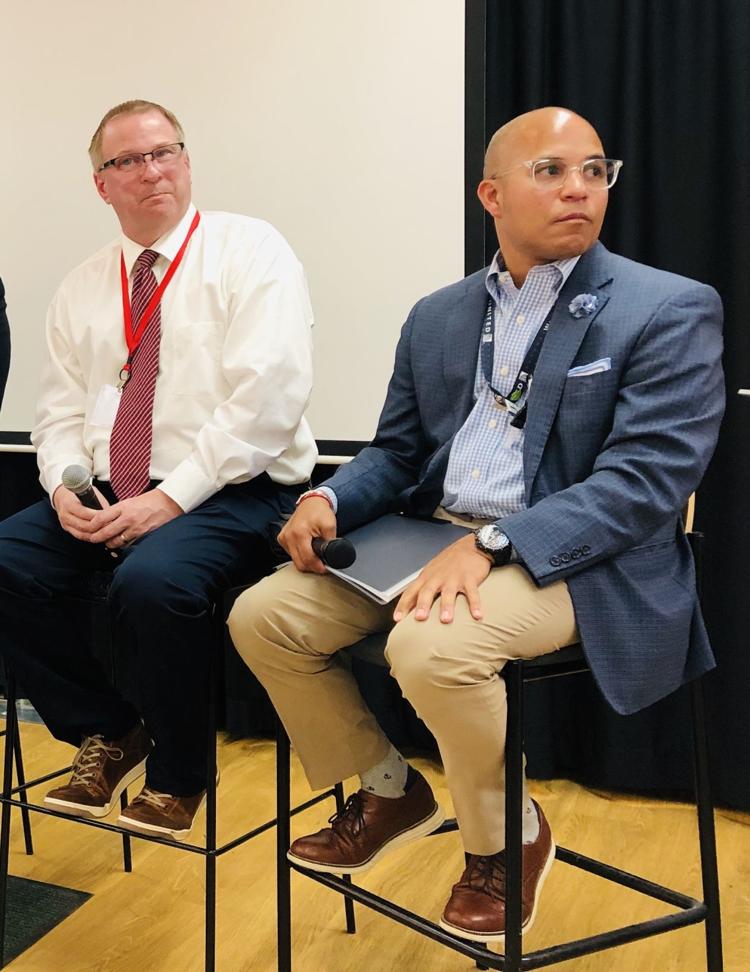 Those concerns, as outlined by former Mayor John Bennett at the onset of the meeting, include reductions in noise and air pollution, limited growth in enplanements and providing a "warm, welcoming and comfortable" experience inside the terminal.
Lorin Carr, manager of corporate real estate for American Airlines, pointed out that Pitkin County and airport staff have done "a phenomenal job" maintaining the air-transportation facility, joking that there are times when systems are held together by "rubber bands," "bubble gum" and "Band-Aids."
"We really appreciate that," Carr said. "They're doing a good job for this community. …Having said that, I will tell you, that just about every piece [Ortiz] was alluding to about the customer experience is not what we would hope to see. When you enter the terminal building, and you enter the lobby, and the security checkpoint line is backed up out to the doors, it makes it very difficult for customers to get to the ticket counter. … In Aspen, we have a lot of checked bags.
"We need a right-sized lobby. And we need a right-sized security checkpoint," he said. "You're not capable of going from one section of the building to the other section of the building without going outside."
Ortiz pointed out that the airport can reach overflow capacity with as little as one or two flight delays on peak days. He later added, "To maintain [the business] we currently have, we do need terminal growth."
The ASE Vision process, which has been underway since February, is designed to bring community members into the process of deciding how best to proceed with terminal and runway improvements that airport officials and other supporters believe to be necessary. More than 100 area residents have signed on to multiple committees to participate in the process, with the goal of reaching consensus on a recommendation to Pitkin County commissioners by the end of this year.
While much of Monday's meeting concerned the outdated terminal building as it relates to customer experience, some questions for the panelists related to the types of aircraft that will be flying into and out of Aspen after the CRJ-700s, which are the most common type of commercial aircraft flying into and out of Sardy Field, are retired from service in the near future. 
Airline officials declined to get into those specifics, saying they could be held liable for breaking antitrust laws.
Mizraim Cordero, director of state and local government affairs for United Airlines, said his company's relationship with the county and its other partners, including SkyWest Airlines, is critical. SkyWest ferries passengers into and out of Aspen on behalf of United, American and Delta airlines.
"We can help the community achieve its vision," Cordero said. "I may not have perhaps the answers that you want. Some of the questions that were submitted have to do with topics that could get some of us in jail if we tried to answer them in this forum.
"But I'm here because we value the partnership," Cordero said. "It is important that the community reaches a vision for what it wants to see and we'll partner together until we get to that vision."
No one from Delta Airlines served on the meeting panel.