The three airlines serving the Aspen-Pitkin County Airport will scale back their local operations – albeit slightly – during the peak travel period around the Christmas and New Year's holidays.
Total flights into Aspen by United, Delta and American will reach up to 38 flights per day from Dec. 19 through Jan. 5, the height of the winter tourism season. Each airline has dropped one nonstop flight from its list: United cut one of three San Francisco runs, Delta cut one of three Salt Lake City runs and American cut one of two Chicago runs. 
Last year during the two-week peak, the airport handled up to 41 flights per day. The decrease in daily seats will amount to around 205 seats, or 6.7 percent of capacity, compared with last year.
The move was a direct response to last winter's crowded conditions at the Aspen airport, according to Bill Tomcich, a local consultant for Fly Aspen Snowmass, a partnership of the airport, Aspen Skiing Co., Aspen Chamber Resort Association and Snowmass Tourism. Essentially, Tomcich handles air-service negotiations for the airport and the community.
"It was a deliberate response from the airlines to 'decompress the peaking' of scheduled arrivals and departures – in fact, those were the exact words one of the airlines used," he said Tuesday. "Last winter, we definitely had some overcrowding and related air-traffic control delays, which were well-known at the airport."
In March, Airport Director John Kinney sent an email to the airlines and local officials under the subject line "Terminal Constraints" to outline the overcrowding problem, which was occurring not only during the holiday peak but in the winter months that followed. He asked the airlines for assistance in finding solutions.
"I suggest we collectively make some decisions on flight times, number of daily flights, facility improvements, new procedures or a combination of all four," Kinney wrote.
The decisions on which flights to cut during peak season were partly market-driven and partly based on the timing of the flights, Tomcich said. At certain times last winter and the two winters previously, the airport handled seven arrivals or departures within a single hour in the middle of the day. Aspen's airport cannot handle that much commercial flight traffic and the corresponding number of travelers in a 60-minute time frame, he said. 
"And that's where we had a real problem," Tomcich said. "Seven arrivals or departures was just more than what the facility can handle. With the flight reductions and the realignment of schedules, we won't have any periods of time during this holiday season where we are going to have more than six arrivals or departures within a single hour."
While capacity will drop slightly during the holiday period, Tomcich said it's not likely to have an effect on local tourism. The remaining flights will probably be carrying fuller loads into Aspen. Given that Aspen-Snowmass Village is such a popular winter-resort destination, travelers will find other ways to get here, such as flying into Denver and relying on ground transportation, he said.
"The demand is so strong here over the holidays, and we have additional beds to fill this year," he said, referencing this year's opening of the Limelight Hotel in Snowmass Village and the W Hotel in Aspen.
Tomcich provided an overview of 2019-20 winter-spring flight capacity in an addendum to the October local summary of the Sept. 30 occupancy report provided by resort-tracking firm DestiMetrics.
From now through Dec. 3, the airport will handle up to eight flights per day, which is nearly identical to last year's capacity. That number rises to 14 flights from Dec. 4 through Dec. 18, up one flight from 13 during the same period last year. Capacity will climb 6.6 percent.
After the peak holiday period, from Jan. 6 to Feb. 13, the airport will manage up to 28 commercial flights daily, and up to 30 on Saturdays. Last year, the airport handled up to 29 flights on Saturdays during the same time frame. Capacity will rise 2.6 percent.
From Feb. 14 through April 2, capacity will rise 4.5 percent as up to 33 daily flights and 34 Saturday flights will serve the airport. The Saturday total last year was 33.
Overall from Dec. 4 through April 2, commercial flights to Aspen will have a 2.1 percent increase in capacity compared with last year's winter-spring flight season, Tomcich said. He added that he expects a modest increase in enplanements – the number of people boarding a plane in Aspen for other destinations (such as visitors headed home) – over last year's ski season.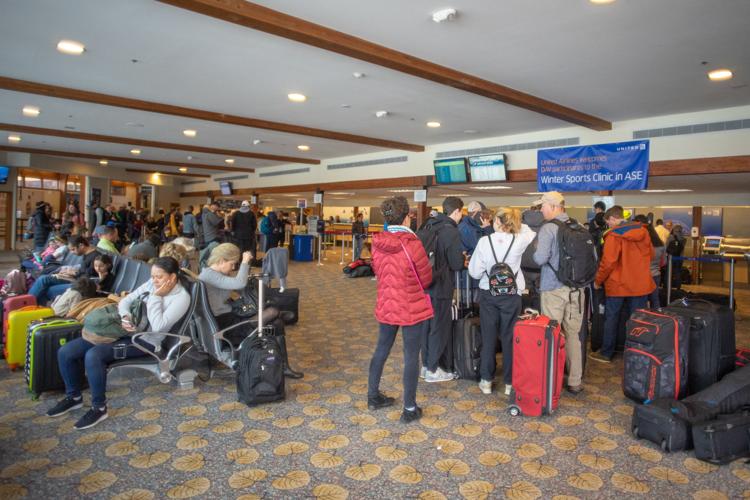 "The flights are better scheduled, they have better connections, and I predict another increase in passenger enplanements," he said. "[The changes] are certainly going to result in a better passenger experience at the airport."
Oversight of the DestiMetrics local summaries was the responsibility of Tomcich when he was president of reservations firm Stay Aspen Snowmass. Now that he is an independent consultant, the summaries are being handled by Kristi Kavanaugh, SkiCo vice president of sales, and Lise Adams, director of Stay Aspen Snowmass.
In the November summary to the Oct. 31 DestiMetrics report, the local authors say that Aspen-Snowmass occupancy for the upcoming winter has been "pacing flat to last year," which was a record winter for hotel bookings. December was pacing 6 percent higher, while March was pacing 4.6 percent behind.
"There is still plenty of time left to fill in holes and create another stellar winter," the report states.
Kinney said Monday that along with the reduction in flights, the commercial carriers will assist the airport in another way: by bearing the cost of recent short-term terminal improvements designed to alleviate overcrowding.
The airlines will pay for $1 million-plus worth of terminal projects, he said, including the elimination of administrative office space and a small gift shop to restore 107 passenger waiting spaces in the sterile boarding area that were lost when the airport reconfigured its terminal capacity a couple of years ago. The extra space in the secure area means the airport won't have to do as much passenger management, such as keeping travelers from entering the Transportation Security Administration checkpoint line until more space becomes available in the boarding area. 
Administrative offices are now split between the Airport Operations Center off Owl Creek Road and offices in the Aspen Business Center, Kinney said. Soon, a new trailer will be installed on airport property to provide some additional office space.
The improvements also include a new baggage tent, which is currently under construction, to store luggage that is brought to the airport when flights to Aspen are diverted to other airports. Previously, diverted baggage was piled inside the terminal – taking up precious traveler space – prior to being claimed.
Other measures that have been undertaken by the airport to improve customer service, Kinney said, include a reconfiguration of parking areas to add "100 more available spaces to the traveling public." That cost will be covered by the airport, not the airlines.
Last winter, parking spaces in front of the terminal were removed to comply with federal security regulations and replaced with drop-off lanes. The decision irked many locals who were used to parking and going inside the airport to assist friends and family with baggage, but the airport had no choice in the matter, Kinney said at the time.
Now the airport has a "cell-phone lot" near the terminal traffic loop where motorists waiting to pick up someone can wait temporarily for arriving travelers. October snowfall hampered construction of the lot, but the airport was able to create a short-term solution for the winter season and will revisit the project next year, Kinney said.