WE-cycle, the upper Roaring Fork Valley bike-share network, is accustomed to firsts.
Launching to the public in summer 2013, it was the first automated bike share network in North America outside of a metropolitan area. 
It was among the first North American systems to integrate its passes with a bus service provider, as it has done with RFTA for many years. 
Partnering early on with the Transit mobile application, it became the first North American network three seasons ago to allow users to check out a bike using their smartphones, and it was among the first in the industry to use smaller "satellite stations" to bring service to more neighborhoods.
Now, going into its sixth season on May 1, WE-cycle will continue breaking trail as the first bike share program to be free system-wide to all users, for rides of 30 minutes or less.
WE-cycle debuted in Aspen with just over a dozen stations, 90 bikes and 10,000 rides in its first year. It has grown steadily since then and expanded to the midvalley in 2016. Last season, WE-cycle boasted 20 stations in Aspen, 23 in the midvalley, 190 bikes between the two zones and just over 43,000 rides in total. 
In 2017, season pass holders totaled 1,555 and accounted for 87 percent of use. Many, if not most, of those passes were provided at no cost to the user. Both the city of Aspen and midvalley governments offered underwritten passes to residents and workers who signed up through programs designed to encourage less driving. Private sector and institutional sponsors whose support is critical to the system's existence — including Aspen Skiing Co., Aspen Valley Hospital, Aspen/Snowmass Sotheby's and Aspen Meadows, among others — also have given their employees passes. Others paid $3.75 per ride or bought their own season pass for $50. 
This year, paying for 30-minute-or-less rides won't be an option, thanks to increased support from the public sector, including $145,000 from the city of Aspen. Six-figure grants have also come in recent years from the multi-jurisdictional RFTA board of directors and the Elected Officials Transportation Committee.
WE-cycle director and co-founder Mirte Mallory said that, given the expanded free service this season, "we anticipate more ridership." She's just not sure how much more.
"It's unprecedented to have free bike share within a community. I can't predict at this point what ridership will do," she said, adding that the system has the capacity to absorb more usage. It will grow this season to 48 stations between Aspen and the midvalley, with 210 total bikes. Mallory also anticipates hiring additional operations staff to help with bike balancing, maintenance and logistics.
WE-cycle is striving to ease the sign-up process as well. Users can claim their free pass either on its website — www.we-cycle.org — or through the Transit mobile app interface. Bikes can be checked out using the app or with a key-card users can purchase for $5. You can also access the system via credit card at a kiosk.
All users will be required to have a credit card on file. If a bike is checked out and not retuned after 30 minutes, it will cost 50 cents per minute.
Mallory noted that the average ride time last season was 9 minutes.
Mallory also touted the continued integration of local mobility services via Transit, which helps direct users to the closest WE-cycle station. The app, which has long integrated RFTA schedules and route information, now shows estimated bus arrivals in real time for some routes. 
New this year, the app will also link users with the Downtowner, a service paid for by the city of Aspen offering free, on-demand rides within the Aspen core and West End (though the separate app for the Downtowner service must also be downloaded). Transit also shows information about Uber car service, when it is available.
The goal, Mallory said, is to seamlessly connect all the transit services, which, with the exception of longer valley-wide trips on RFTA and Uber, are free to the user.
It's remarkable to have such a multi-modal transit system in a small community, Mallory said, which helps discourage driving.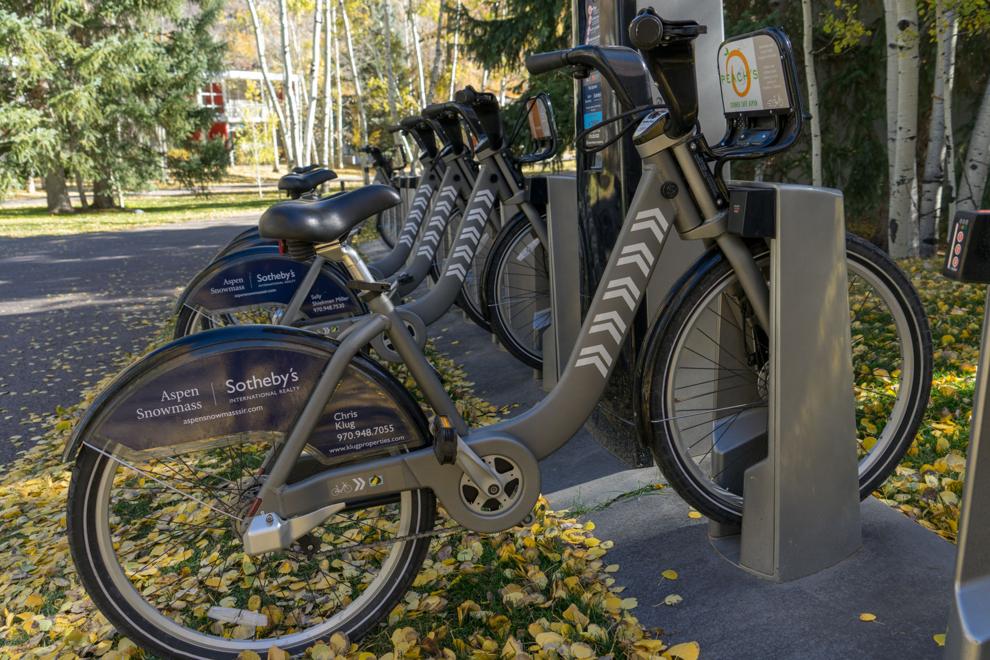 Stay nimble
The biggest story in Aspen transportation this year is, of course, the $4.6 million project at the entrance to Aspen to improve pedestrian and transit-user infrastructure while smoothing over the roadway surface. During the work, which is running from April through mid-June and mid-August through October, with a two-month high-season hiatus, traffic delays are expected during peak times. The pedestrian and transit infrastructure that is being improved is mainly out of commission while the project is underway, with no safe highway crosswalk in the area during the work.
Deploying WE-cycle in the most effective way to help people deal with the Hallam Street/Castle Creek Bridge project has been at the planning forefront going into this season, Mallory said, noting a collaborative effort between WE-cycle, the city of Aspen and RFTA.
With the season-long closure of the Eighth Street bus stops — where one of the busiest WE-cycle stations has been located — stations will be placed on either side of Main Street at Fourth Street, which is the next-closest bus-rapid transit stop. 
A WE-cycle station will also be located at a temporary BRT stop at the roundabout.
Also new this season, a WE-cycle station sponsored by the Hotel Aspen will be located outside the Main Street lodge, across the road from an existing station at the Molly Gibson Lodge/Paepcke Park.
WE-cycle will also deploy its first station in the Maroon Creek Valley at the Aspen Recreation Center, though the plan is to move that station to the Benedict Music Tent on the Aspen Institute grounds during mid-July through mid-August.
What to do about the Eighth Street station, cut off from bus service this season, has been a matter of discussion, but WE-cycle will launch with the station in its previous location. There had been some talk about locating a station across the highway near Seventh Street, but that station is not included on the season-opening map.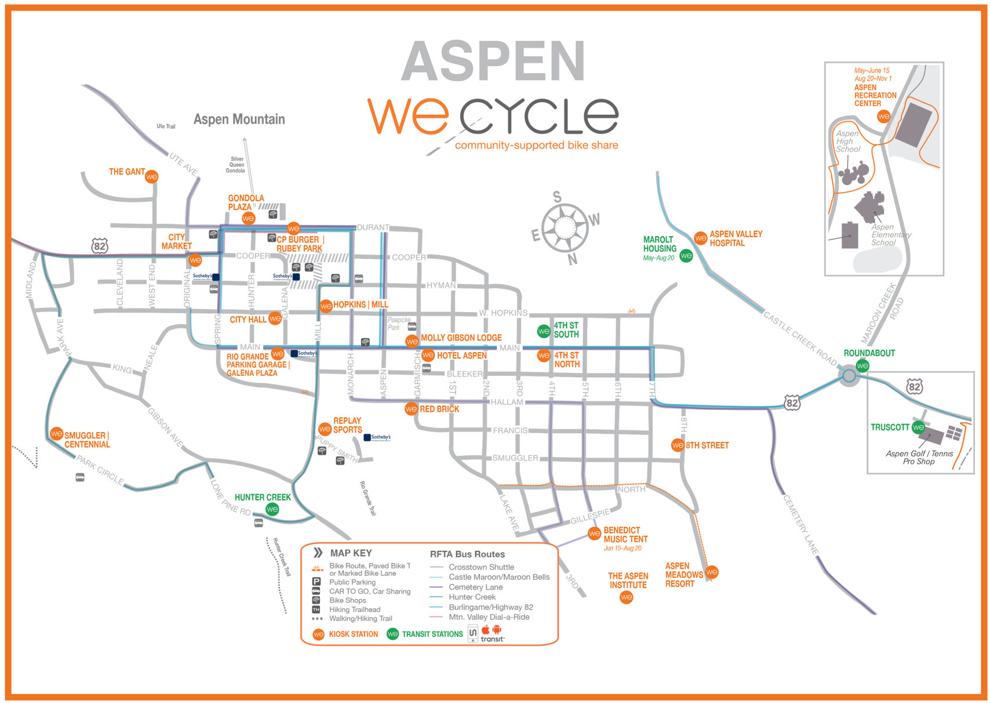 WE-cycle will be monitoring usage and ridership patterns closely and is open to shifting stations around if it makes sense, Mallory said. The bridge project could present interesting changes in rider behavior, which will be watched closely, she said.
"We are grateful to be able to be nimble," she said. If a station is in an area where it is not working, then operators will move it to a place where it could be more useful.
"As the system is modular, we can easily reconfigure stations and contract and expand based on ridership demand and location specifics," she wrote in an email.
The midvalley network will also see new stations this season, with service coming to the Southside Basalt neighborhood, as well as an additional El Jebel station.
The midvalley stations make it more appealing to use RFTA bus service, Mallory said, helping residents connect that "first mile/last mile" between their homes, the transit line, the final stop and the ultimate destination in Aspen.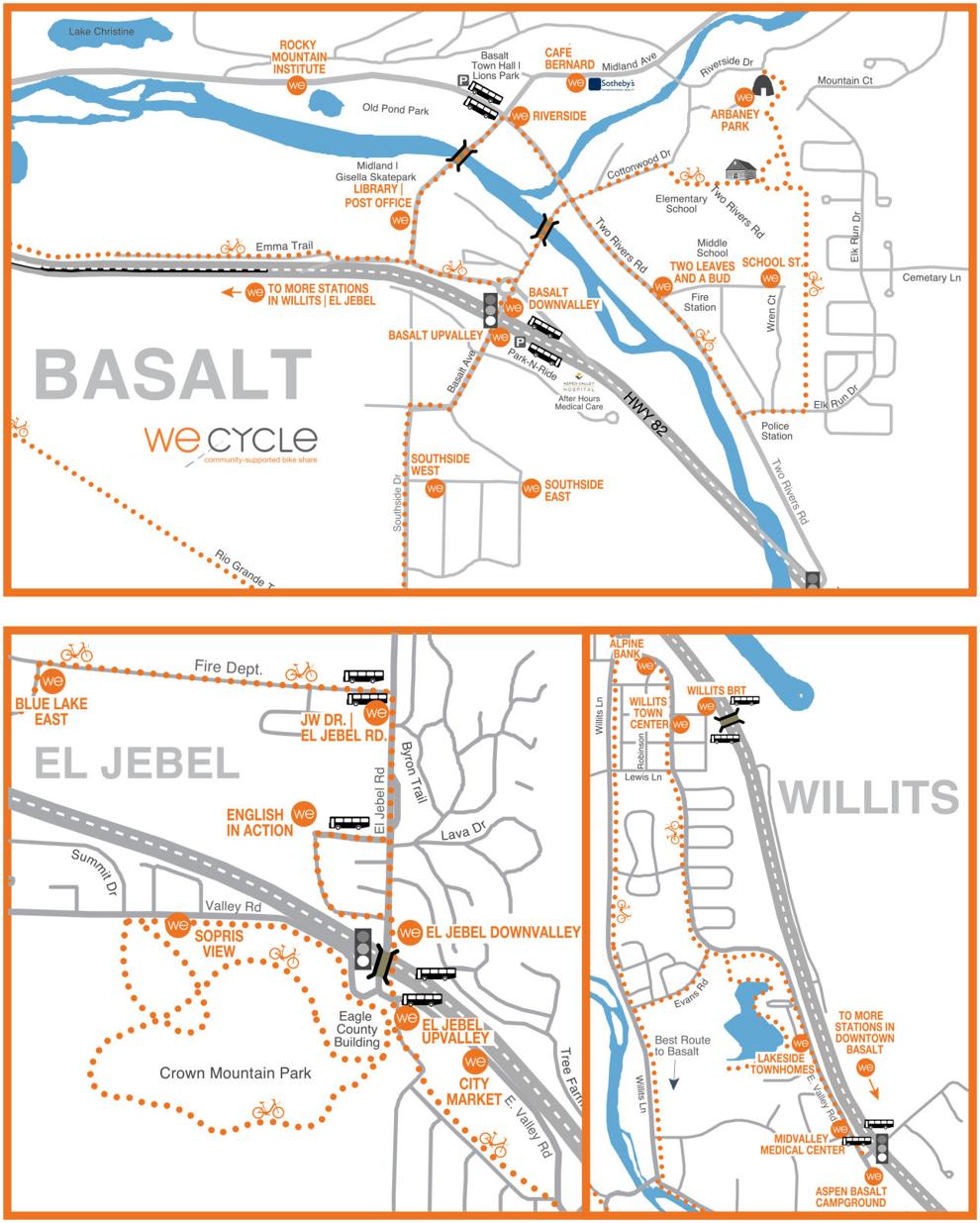 Are you gonna go my way?
At a recent Aspen City Council meeting where elected officials approved the $145,000 grant for this season, Mallory and the council discussed a possible Aspen system expansion to outlying areas west of Maroon Creek. It's hard to talk about WE-cycle in Aspen without hearing a desire for stations at Buttermilk, Burlingame and the Aspen Business Center.
"We hear a lot of, 'Are you coming to my neighborhood?'" Mallory said.
While such an expansion is in the works, it is not going to happen this season. WE-cycle is hoping that state and federal grants that both the city and Pitkin County are seeking will come through, which would support such an expansion.
WE-cycle's manufacturer, PBSC Urban Solutions, also makes e-bikes that interface with existing docs. Mallory noted that the distance and the wide, paved path running alongside the highway from the west-of-Maroon-Creek areas into town would lend itself well to e-bikes.
"The technology and equipment are there, it's just a matter of funding," she said.
WE-cycle also submitted a bid in January for a city contract to provide e-bikes in conjunction with the Aspen Mobility Lab, but that project is on hold until 2019.
A long-eyed expansion into Carbondale and Glenwood is also still a goal, but is contingent on funding, Mallory said.
"WE-cycle continues to hear from the public that serving both ends of the valley is important," she said, noting that efficiencies of scale would be crucial for such an expansion to work. "It returns to a matter of funding."