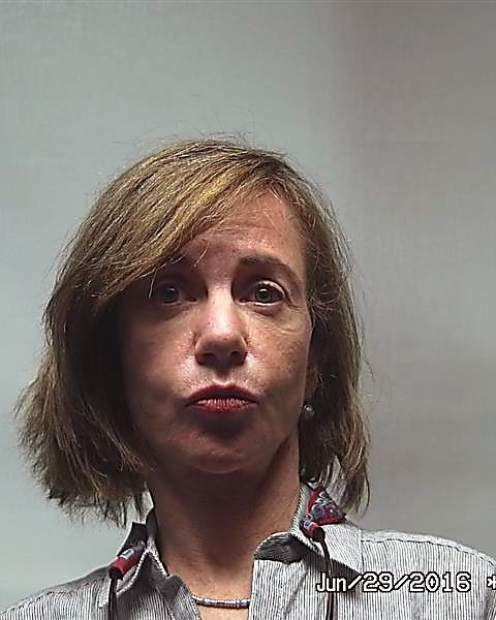 A Woody Creek woman sentenced to in-patient restoration after being found incompetent to stand trial earlier this month now has a warrant for her arrest after failing to turn herself into Pitkin County authorities.
District Judge Chris Seldin denied a request that Jillian White, 64, participate in outpatient care — that said, he delayed his Aug. 5 sentence until last Friday, giving Denver-based attorney Jennifer Longtin time to seek private in-patient arrangements for her client rather than the state-run Colorado Mental Health Institute at Pueblo, or CMHIP.
However, when it became apparent that more time would be needed, Seldin denied Longtin's request for an extension. With White still out of custody, Seldin on Tuesday signed a $200,000 cash-only warrant which states "Ms. White poses a danger to the community until she is restored to competency."
White has a decade-long criminal record that includes six theft charges since 2008 and four DUIs since 2014, including subsequent charges of felony intimidation and attempted extortion filed in May for allegedly attempting to coerce a former male friend into falsely telling police he was driving during the most recent DUI incident, according to court documents. 
Now, White is one of six Pitkin County District Court cases awaiting action from CMHIP, which is operated by the Colorado Department of Human Services Office of Behavioral Health. John Reno, 45, also required an extended continuance for his case during the Aug. 5 docket, pending a mental health evaluation from CMHIP.
"He's just been sitting in custody," public defender Ashley Andrews told Seldin, noting that CMHIP had submitted a letter requesting an extension to perform the necessary evaluation. Reno is still an inmate at the Pitkin County Jail.
Seldin acknowledged his own experience with the Pueblo facility's backlog and how it impacts local defendants.
"This is just anecdotally my understanding, but the situation is driven substantially by the federal court's order in respect to competency evaluations. As a consequence, their limited resources, by virtue of the federal court order, are addressed first to competency caseload," he said. "The consequence that I have observed in this courtroom is that sanity evaluations can take a very long time, indeed."
In Reno's case, the court received a letter from CMHIP July 31 requesting an extension until Oct. 28 for an evaluation.
The federal court order Seldin referenced is from 2015 that mandated nobody wait more than 28 days to be evaluated for competency and, after that and if appropriate, no more than 28 days to receive restoration treatment. A 2011 lawsuit filed by Disability Law Colorado claimed CMHIP and the CDHS violated detainees' constitutional rights by inadvertently keeping them in jail instead of efficiently moving them to competency restoration treatment at the hospital. In March of this year, a consent decree between the parties was filed.
As part of the agreement, the state agreed to a $100 per-person, per-day fine for every detainee that remained in jail for longer than 28 days while awaiting court-ordered treatment. Those fines began June 1.
"We're already past $1 million," said Alison Butler, director of legal services at Disability Law Colorado, of the revenue collected. "I think that although it's negative [that] people are waiting in jail, we are excited about what we can do with some of this money and we're really looking at supportive housing [as well as] onsite therapists, medication, support, things right there on the [CHMIP] housing campus that people can access."
The backlog didn't happen overnight; since 2000, court-ordered competency evaluations in Colorado increased by 592 percent, according to CDHS data.
"I think if you ask 10 different people, you'll get 10 different answers," Butler said when asked the reason for the increase. "We are living in a state where we are criminalizing mental health. I think the real problem is we're just not supporting folks at every point [in the criminal justice system], so it just leads to people with mental health issues being in jail for a long time without mental health support."
Still, she continued, there is reason for optimism. For instance, two new 2019 laws, SB 222 and SB 223, address the concerns raised in Disability Law Colorado's lawsuit.
"I think that [SB] 222, being the safety net bill, is very important because it's recognizing that we do need to figure out a better way to provide support to people who may be the hardest to serve," Butler said. "With 223, it essentially makes laws out of most of what was in the consent decree."
The consent decree outlined several commitments to ensuring not only expedited care but also more responsible discharge procedures so that people "aren't living under a bridge" after release, Butler noted.
Still, for many like White and Reno, the system still involves a lot of waiting.
"Today, things aren't better than they were six months ago. We just have some hopes that things will get better," Butler conceded.