If Roaring Fork Valley residents ponder the roots of the system that begat the nation's world-class system of legally designated wilderness areas, they likely would point toward passage of the Wilderness Act, signed into law by President Lyndon Johnson in 1964. At that time, the Maroon Bells-Snowmass Wilderness outside Aspen became one of the country's first 54 wilderness areas.
For those who might take that pondering one step further, the names of our country's wilderness pioneer-philosophers might come to mind. John Muir. Bob Marshall. Jim Bridger. Gifford Pinchot. Aldo Leopold. Howard Zahniser. But lost in the shuffle is a lesser-known luminary, one who personally helped move the land-preservation needle toward the birth of a system that has evolved in the past 55 years to include more than 750 legally designated wilderness areas totaling more than 110 million acres.
His name was Arthur Carhart, and his perspectives toward land preservation began just to the north of the Roaring Fork Valley, near what is now known as the Flat Tops Wilderness — the second-largest wilderness area in Colorado.
This year marks the 100th anniversary of a report Carhart submitted to his superiors at the nascent U.S. Forest Service that was so cutting-edge and profound that experts say it greatly influenced Leopold — considered by many to be the father of the American wilderness system.
On Dec. 3, 1919, the young Carhart met in Denver with Leopold, 10 years his senior, who, in 1949, would publish the seminal "Sand County Almanac."
To commemorate Carhart's wilderness preservation legacy — which we'll get to in a minute — rangers from the Blanco Ranger District of the White River National Forest are presenting interpretive discussions at Trappers Lake, which is being referred to in a WRNF press release as the "cradle of wilderness." The presentations, which began in late August, are being held each Saturday evening through Sept. 28 at 7 p.m. at the Trappers Lake Cutthroat Campground Amphitheater.
The Aspen Daily News got with two experts in the history of the U.S. wilderness system who are of the opinion that, even though Carhart played an important role in the early days of the country's land-preservation consciousness, his name has been unfairly relegated to near-historical-footnote status.
Ralph Swain is the regional wilderness and wild and scenic rivers program manager for Region 2 of the U.S. Forest Service, which is headquartered in Denver. Swain is also considered one of the founders of the Leave No Trace Center for Outdoor Ethics. He is a man who lives and breathes wilderness.
Curt Meine is a senior fellow with the Aldo Leopold Foundation in Baraboo, Wisconsin. The author of "Aldo Leopold: His Life and Work" and "Correction Lines: Essays of Land, Leopold and Conservation," Meine is considered one of the world's foremost scholars on Leopold and the ethos of the American wilderness system.
First, some basic Carhart biography: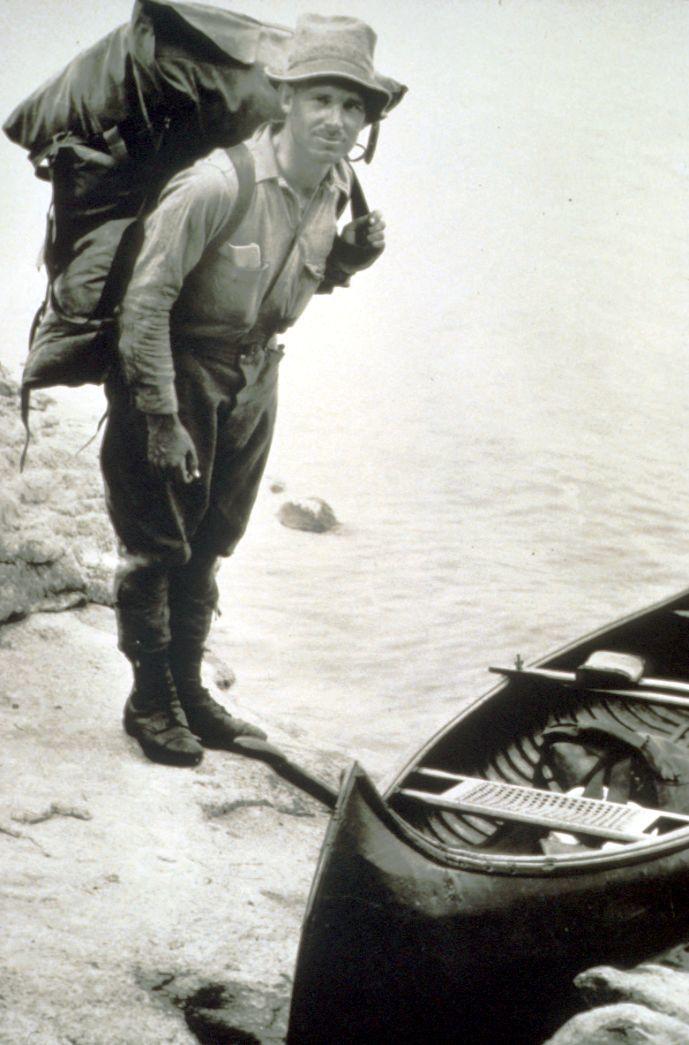 Carhart was born on Sept. 18, 1892, in Mapleton, Iowa. In 1916, he became the first person to graduate from Iowa State College with a degree in landscape design and city planning. He worked for a Chicago landscape architecture company until 1917, when he entered the United States Army during World War I. He was made a lieutenant as a bacteriologist and public health officer in the Sanitary Corps at Camp Meade, Maryland.
After the war, Carhart moved to Denver to work for the Forest Service. His tenure only lasted four years because, in 1922, funding for his position was cut. He went into private practice in landscape architecture and city planning as a partner in McCrary, Culley & Carhart in Denver. He sold his first book in 1928 and sold his interest in the firm to work full-time as a freelance writer in 1931. He made a living selling books, short stories and magazine articles for eight years. He then became the Colorado coordinator for the Federal Aid in Wildlife Restoration program, where he stayed until 1943, at which time he returned to writing. He wrote 24 books and over 4,000 articles. Carhart wrote historical novels, Westerns and books, stories and articles about forestry, wildlife management and conservation. From 1960 to 1970, he served as a consultant to the Conservation Library Center at the Denver Public Library. He died in 1978 in California.
Swain: Go back 100 years and think of a young, newly-appointed recreation engineer, and one of his very first assignments was to get up to Trappers Lake. Let's think about that. That probably meant a train ride to Glenwood Springs, then a horseback ride to Meeker. Then another horseback ride up the South Fork to Trappers Lake. When we say "remote" today, we've got to put that in context. Getting to Trappers from Denver, I'm going to say it was a two-day trip minimum just to get there. He arrives and he is hit, just like you and I, with that spectacular backdrop of the geological plateau — the Flat Top, and you're staring at Flat Top Lake, without any development. It had not been timbered. There was no grazing, except for a few sheep. Bottom line, it was basically in its natural state, undeveloped, remote and wild when Carhart arrived.
His assignment was to survey around the lake. The Forest Service was proposing building summer homes around the lakeshore and having a road that would extend into the lake and perhaps all the way around the lake. He stays a while, does his survey and comes back to Denver and tells his bosses "I recommend we do nothing, that we leave it alone. Its greatest good is in its wild, natural condition." Got to give him credit for that. In those days, the Forest Service was trying to accommodate a new automobile visitor. Visitors to early public lands were in the new automobile. Everybody saw it. So what was that going to mean for primitive, roadless, undeveloped settings? This was pretty visionary to say, "No, we should leave this alone."
A few months later, Leopold was in Denver for a gathering of Forest Service line officers. Leopold by then was a forest supervisor. We don't know exactly how the meeting happened, but he and Carhart definitely met and talked.
To commemorate the 100th anniversary of Carhart's 1919 report, rangers from the Blanco Range…
Meine: I've dipped into the legacy of Carhart through my research on Leopold. There was some overlap. Both Carhart and Leopold were from Iowa, so maybe that enhanced their relationship and friendship. Carhart was a landscape architect, while Leopold was a traditionally educated forester, as most Forest Service employees were in those days. By the time they met, Leopold had already worked with the Forest Service, which was brand-new at the time, for 10 years. A landscape architect was described by foresters as a "beauty engineer." I don't think it was a compliment.
By the time they met in December 1919, Leopold had done work in recreation planning all over the Southwest, including the Grand Canyon. They operated in the same circles, at least partially because the Forest Service was a small entity in those days.
What is intriguing about their meeting — and for all we know, it was the only time the two met in person — was that they were coming at the concept of wilderness preservation from different angles. Carhart focused on the smaller scale sites, like Trappers Lake and, later, the Boundary Waters, while Leopold was looking at the whole of the Southwest. He was thinking of wilderness preservation on a larger scale. I think Carhart's perspective helped to ground Leopold, to think of specific spots.
Swain: It wasn't like this was brand-new thinking, but it was still pretty revolutionary. The idea of preserving wilderness had grown from Muir in the 1890s. It seems like a combination of people and vision were growing in that time period, the idea that we need to consider the greatest good of land being its wildness.
Meine: In 1921, Leopold published an article in the Journal of Forestry that does not reference Carhart. The article makes a broad policy argument for the protection of the wilderness resource. It puts Leopold on the map nationally. It sets off a period of four to five years during which time Leopold becomes a national voice for wilderness preservation.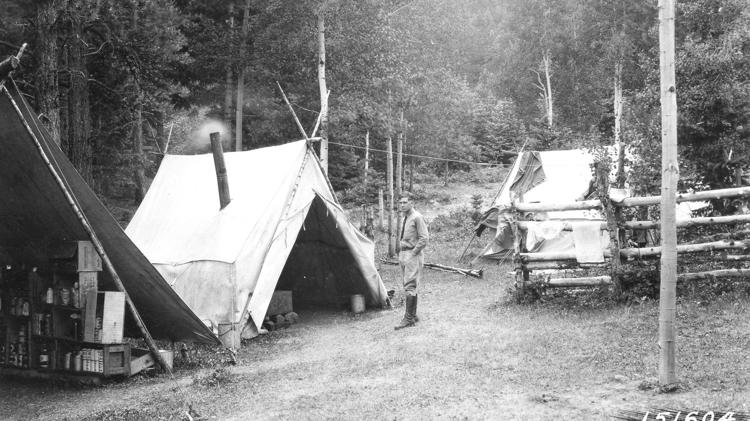 In 1922, Leopold did a report that made the case for the Gila Wilderness in New Mexico being protected. In 1924, the Gila became the first de facto wilderness in the country.
Carhart was not referenced in either of those writings, but there is no doubt they influenced each other. Leopold prompted Carhart to think more expansively, to not just focus on one lake or one road. Their meeting was a genesis point in a new wave of wilderness consciousness that was sweeping the country, a wave the was reimagining the relationship between humans and wilderness.
Swain: After he returned from Trappers Lake, Carhart established Squirrel Camp in what is now the Pike-San Isabel National Forest. This is where Carhart first introduced his idea of a "health camp." He worked with the community of Pueblo to take some Forest Service land and start planning the development of an area for primitive camping. It would still be accessed by automobile, but the idea was for people to get out of their cars and camp in a primitive setting. This was the introduction of what we now know as Forest Service campgrounds. He called them "health camps." He wanted to see the people of Pueblo and Denver get out of the urban setting, get into the forest and relax and connect with nature and come back healthier from breathing clean air and getting away from mechanized world.
In 1921, he was assigned to go to Boundary Waters, all the way up in Minnesota, which back then was part of Region 2. He was sent there because the Forest Service was proposing a timber cut, some summer homes and a development around some of the lakes. Once again, he came back with plan to not extend roads into the area. He said the best use was to leave it wild.
Meine: One thing Leopold and Carhart shared was an understanding of the role the automobile was going to have on the landscape.
Swain: There is little doubt that Carhart's recommendations, first at Trappers Lake, then in the Boundary Waters, made it all the way to D.C. I think they played a role in the establishment in 1924 of the Gila Wilderness. But there is no documentation that Leopold and Carhart maintained their relationship after 1919. There is no evidence they ever stayed in touch.
Carhart really wanted to be a writer. He wrote a lot of pulp fiction. Back then, publishers paid something like three cents a word. He was knocking out articles and trying his best to become a conservation writer, but couldn't make a living at it. He was involved in a lot of conservation projects. The original Colorado Department of Wildlife would pick him up on various projects including wolves. He did become somewhat of an expert on wolves, which was important in the 1930s because of the cattle industry's constant conflict with coyotes and wolves. He even tried his hand at running a peach orchard. He never could make anything stick. But, of all the champions of wilderness, he lived the longest.
While Leopold hands down is the more important of the two men when it comes to the history of wilderness, you've got to give Carhart credit for vision and coming back to Denver and saying no to development at Trappers Lake. But, to put it in context, when you're looking at the champions on wilderness, all those people who led the fight for the passage of the Wilderness Act beginning in 1956, you will not find Carhart's name in that circle. Why is that? He stayed on fringe. He was not really on wilderness-champion level as Leopold or Zahniser. Carhart was never in the circle. Leopold was an intellectual giant. Carhart sort of got lost.
***
Even though Carhart's name is not often uttered in the same breath as Leopold and Zahniser, the man who penned the actual wording of the Wilderness Act, his memory does live on in a big way in Montana, where the Arthur Carhart National Wilderness Training Center can be found on the campus of the University of Montana in Missoula. It was established, according to its website, "to preserve the values and benefits of wilderness for present and future generations by connecting agency employees and the public with their wilderness heritage through training, information and education."
This is where employees from all of the federal land stewardship agencies come to learn about wilderness and to conduct scientific studies on wilderness-related issues.
It has become the world's leading wilderness research institute.
The website states: "Arthur Carhart was a Forest Service landscape architect who, in late 1919, became the first official in a land management agency to advocate for the designation of wilderness."
That's a great legacy, and it all started just over the horizon from the Roaring Fork Valley.