Editor's note: The following is the third installment in the Aspen Daily News' continuing coverage of mental health during the age of COVID-19.
Doc Eason would love to be performing sleight-of-hand these days, interacting with audience members who watch him pull a coin or a card from an unexpected place during one of his popular magic shows.
"Almost all of the stuff I do on stage requires my having someone come up on stage. My whole deal is connecting with people," Eason said of his 40-plus years of performing.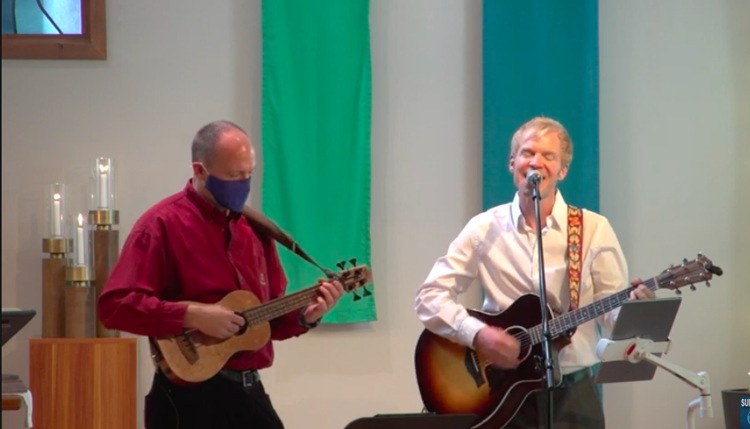 COVID-19 has shut down Eason's shows for now, which is by choice due to safety concerns, he said. He put performing on hold — he is not retired — after doing magic for a private party in May and hearing shortly thereafter that the host had contracted the coronavirus (Eason said his own COVID-19 test was negative).
"People are starved for entertainment but in good conscience, I can't do it," he said. "Close-up magic has hit the skids."
Like other performing artists who not only are suffering financially during the pandemic because they aren't able to work in a live situation, Eason said, "The bottom line is I'm borderline depressed."
Mischa Schoepe can relate to how the pandemic weighs on an artist's self-esteem. He was part of the troupe performing at the Glenwood Vaudeville Revue when the local outbreak first hit in March.
"One weekend we were performing, the next we were done," Schoepe said. (The theater reopened for performances on July 3, according to its website, and its season runs through October with a cast of mask-wearing entertainers including Tommy Erickson, Bailey Barnum, Aviad Bernstein, Eva Kosmowski, John Goss and Jeff VanDevender.) 
Schoepe said, "As artists we do build our lives around opportunities on our calendar. But almost every single thing was canceled on the calendars for the summer, then fall."
One of his jobs continued uninterrupted during the  pandemic and "it was a life saver." Schoepe plays music and sings with his husband Paul Dankers during Sunday services at Snowmass Chapel, which have expanded to include an outdoor worship in the chapel yard at 10:30 a.m.
"This was one thing I could still work toward," Schoepe said.
Dealing with no audience
Jackie Skramstad, clinical operations manager for Mind Springs Health, agreed that artists may be feeling a double whammy that extends beyond their wallet.
"How do you have creative audience participation when there's no audience around you? It's one of the challenges we're all facing: We all have to do our work in a different way," she said.
"Then there's the reality, some of our jobs lend themselves to virtual better than others. It's hard to be a singer, magician, musician when you are used to an audience," Skramstad added.
It's not impossible, of course, for artists to entertain in person during these times and with proper precautions. But many performances remain on a virtual platform.
The Aspen Choral Society will host its annual performance of "The Messiah" virtually this year, according to Dankers, who is music director for the choral society in addition to serving a similar role with Snowmass Chapel. 
Dankers recalled on Sunday how emotional some congregants became when outside services resumed in June amid the pandemic and he and Schoepe played live.
"People would see us singing and just burst into tears. It's been very powerful," he said, adding that he believes the power of music to be therapeutic.
"We've given up more than we know for the good of all. I do believe we're doing the right thing. I also think we don't realize how much we've lost in these months, not just in the performing arts," Dankers said.
Skramstad said for those suffering, "There are no magic coping skills for any specific population. What we're all trying to struggle with — things are so different now — is how do we get into a rhythm and a groove?"
And that remains true whether a person's occupation is hospitality or construction, professions that also require one to show up in person for work.
Matt McGaugh, adult and family services manager for Pitkin County, said he wasn't surprised to hear of some distress, both mental and financial, from the artists' community.
Health provider surveys early in the pandemic stated that "in general and no surprise, increases in stress, anxiety and depression were definitely notable," and seen across the board in occupations, McGaugh said. Earlier this year the county formed a mental health coordination effort that brought together private clinicians and nonprofits.
Stressors such as those felt by families as kids went back to school may have acted as recent triggers for some.
"We have different pockets we want to help support," McGaugh said of a community-wide health team effort that includes Mind Springs, Aspen Hope Center, Aspen Strong and Mountain Family Health Centers.
Those agencies are working "to have a streamlined and cohesive message about mental health," he said.
Not stopping, just a pause
Doc Eason said he can't predict whether conditions will permit him to resume live magic shows this winter. He's fielded interest from his regular venue, the Stonebridge Inn in Snowmass Village, among others.
"If this situation continues, I'm going to have to sit this out. Maybe I'll do a private party," Eason said.
In the meantime, he has been working on a book about his decades of charming audiences with his magic back at the old Tower on the Snowmass Mall and elsewhere. 
"After 42 years of doing magic in Snowmass I've got a few stories to tell," he said with a chuckle. Eason said he's also in love and receives emotional support from a partner, which helps. 
Still, he misses stepping into the spotlight and making people laugh, smile and feel special when they become part of his act.
"Magic is in my blood," Eason said.
Mischa Schoepe said he's learned not to take things for granted, having lived through the conditions wrought by the pandemic that dropped the curtain on some of his live performances.
"Now that I've been deprived, I treasure it even more. There's been a lot of growth in the past months for the sheer appreciation of being able to do something that before was kind of normal. Now it's such a treat to be able to do that and such," Schoepe said.