Grocery stores in Aspen and Snowmass Village on Tuesday made changes to their operations in response to suggested new grocery store protocol by Gov. Jared Polis, and also to satisfy the ebb and flow of foot traffic and curb panic buying.
City Market instituted a new limit on how many customers can shop in the store at one time – 30 – in order to adhere to the 6-foot social distancing requirements mandated by the COVID-19 crisis, according to customer service representative Brien Richard. 
"When five people leave, we let another five in," Richard said on Tuesday. "That way, we don't have too many people in the store at one time." 
City Market is owned by the Kroger chain, which received a letter from Gov. Jared Polis' on Tuesday "encouraging new safety protocols for customers and employees." 
"I want to urgently ask you to adopt the following proposals for providing the greatest possible protections for your workers and customers while simultaneously minimizing economic disruption.
"Proposals include providing appropriate gloves, masks, face screens, and other personal protective equipment to grocery store workers to the extent possible; consider expanding into grocery delivery services, prioritizing service to those at the highest risk," the letter continued. 
Offering daily designated time periods to allow when higher-risk individuals may shop, establishment of entrance and access controls "to ensure crowds are in compliance with safe social distancing practices," and to the extent possible, assigning employees with higher health risks to duties with lowest exposure risks (backroom work), were included in the letter sent to Steven Burnham, president of King Soopers and City Market, and Todd Broderick, president of Albertsons Companies. 
Polis wrote that some of the suggestions came through Kim Cordova, President of the United Food and Commercial Workers (Local 7), and others.
While the letter asks grocers to stay open longer hours, that doesn't align with decisions by local stores, which have shifted to off-season hours early.
"Establish longer store public hours for the duration of the emergency to disperse traffic and increase public confidence, with periodic closures for restocking and cleaning," Polis' letter noted.
New hours in place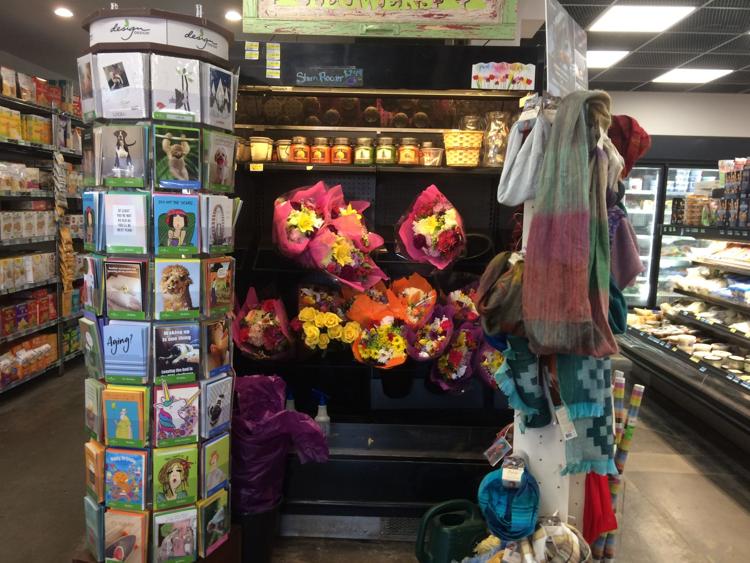 Tuesday was the first day of reduced hours at Roxy's Market at the Aspen Business Center, which is now open daily from 8 a.m. until 7 p.m. (formerly the store was open from 7 a.m. until 9 p.m.).
Roxy's does not plan to limit shoppers unless warranted, which hasn't been the case so far at the neighborhood grocer. There are also Roxy's Markets in Big Sky, Montana and Montecito, Calif. (Montecito Village Market) that opened since Aspen's debut in Nov. 2014.
"We haven't had to do a head count on limiting people coming through the door," said owner Roxy Lawler. "It hasn't been nuts."
Also new on Tuesday at Roxy's were plexiglass partitions at the check-out stands. 
Lawler said the owners have a few face masks for employees on the front line: "They are not being forced to wear them but it's suggested ASAP to minimize their exposure and their risk."
According to Polis' letter: "As I announced at my Sunday evening (3/22) press conference, we are working through approaches to produce personal protective equipment (PPE) here in Colorado in response to current industry shortages and the lack of federal supplies, so hopefully we will soon have a greater supply available here in Colorado including for grocers."
Taking stock
Clark's Market stores in Aspen and Snowmass Village have been well stocked of late since getting wiped out last week during a round of panic buying and selective hoarding. Clark's, City Market and Roxy's now restrict how many items of a certain product may be purchased.
"We're limiting toilet paper," said David Clark, store manager and one of the owners of Clark's Market in Aspen. They are expected to be full up with rolls by late next week. Clark's Market operating hours are 7 a.m. until 8 p.m. at both stores.
Neither the Aspen nor the Snowmass stores have had to limit the number of customers. Snowmass' sudden slow-down after the ski area closed is being seen daily, said Trevor Moodie, manager.
"It's slowed down quite considerably," he said.
On average, there are about 10 or fewer people in the Snowmass Clark's Market at any given time right now, he said. There are just a couple spots in the day when 15 to 20 people are in the store, which spans about 15,000 square feet. The Aspen Clark's Market weighs in at 20,000 square feet which provides ample social distancing opportunities.
City Market's Richard said there were fewer things the store was running out of, hand sanitizer leading the list, but that the distribution pipeline is catching up after last week's panic buying.
All four of the local groceries in Aspen and Snowmass Village reported they are making headway catching up with consumer demand for items like pasta, tomato sauce and toilet paper. 
"Stocking staple items hit hard when the panic set in initially," said Roxy Lawler. "It's the TP that I still don't understand."
David Clark said, "We're getting more product every day, higher fulfillment rates every day.
"When everyone panicked a week ago, they cleared out the regional hub," he said. "It's a gradual process. It won't be overnight."
According to Snowmass' Moodie, "Now I'm 75 percent stocked on all products."
While the times when delivery trucks unload their goods differ on a daily basis, City Market's Richard said the best time to shop each day, and when most items seem to be available, is before noon. 
"We are running out of not too many things," he said, reiterating that dry pastas and sauces which provide "a quick meal," toilet paper and hand sanitizer remain some of the most sought-after products. 
Clark said that manufacturers are doubling down on their core products and "boiling down to what they need to operate." For example, Clorox is focusing on basic bleach and "not bleach with lavender or lemon."
On the toilet paper demand, "We are expecting it to be back in stock in the next 10 days," he said.
There are nine Clark's Markets in the regional chain located in Colorado, Utah and Arizona. The majority of their products come from the Associated Food Store warehouse in Salt Lake City with other items shipped from UNFI in Aurora, Colo., Clark said.
Filled pantries
After a hellacious week at the markets, "I think things are calming down," said Lawler. "People feel better once they loaded up their pantries in case they couldn't leave home," she said.
Gov. Polis' letter to the grocery store chains "applauds efforts currently underway."
It also encouraged local law enforcement to maintain "a supportive presence at grocery stores through proactive and frequent high-visibility extra patrols, walk through and response plans for any disturbances or breaches of the peace."
"We have directed our Colorado State Troopers deployed throughout our entire state to make grocery stores a regular priority for extra patrols and store visits, and also be a response resource to assist your local law enforcement agency when and where needed," according to Polis' letter to the grocers.
It finished with, "I am hopeful, as we continue working closely with the federal government on its package of emergency benefits and with local and state agencies on our already in-place emergency measures, that we can again reassess our level of success in public health and economic security protection on an ongoing basis."