An investment group set up to acquire and grow independent craft breweries has purchased the Aspen Brewing Co.
Legacy Breweries Inc. announced the deal on Thursday that, according to Aspen Brewing Co. founder Duncan Clauss, has been about six months in the making. The sale includes all Aspen Brewing Co.'s assets, though it will maintain its name and continue to be based and produced in Aspen.
Legacy, which debuted last spring with its purchase of Eugene, Ore.-based Ninkasi Brewing Co., focuses on "aspirational" properties that are distinct in their markets, according to CEO Don Bryant, who is based in Evergreen. Aspen Brewing, which started here in 2008, fit the bill and is among the second group of acquisitions announced by Legacy. Other companies bought by the group that were also announced Thursday include the Laurelwood Brewing Co. of Portland.
Bryant said his firm has been approached by about 125 breweries since its debut who were interested in a partnership. Aspen stood out because of the cachet of the Aspen name and the brewery's positioning in the local market.
"You talk about Aspen — what an unparalleled canvas to paint on," Bryant said. "And so, if we can provide the support for Duncan and the capital to do these things, we think the sky is the limit on what we can do here in Aspen."
Clauss, who like all existing investors in the brewery sold his stake to Legacy, will stay on in a leadership role in Aspen, though the specific delegation of duties is still a work in progress. Other financial terms of the deal were not disclosed.
Legacy will bring in a new team to revamp operations at the brewery's affiliated taproom, Aspen Tap, including a new chef and menu. The taproom, which opened at the corner of Galena Street and Hopkins Avenue in December 2017, stopped serving food over the summer.
Bryant said Legacy is buying out the rest of Clauss' downtown lease, as well as the lease on the production-facility space the brewery rents at the Aspen Business Center, and has discussed extending both leases for up to 10 years with the respective landlords.
Aspen Brewing Co. production will remain at the ABC facility, though Bryant said Aspen brewers will have access to the "state of the art" brewery operated by Ninkasi in Eugene for product development, experimentation and training. 
"Even if we go do innovation in Eugene, we would prefer to brew the beer here," he said.
Aspen Brewing Co. currently has an annual production of about 4,000 to 5,000 barrels of beer (one barrel equals 31 gallons), Clauss said. The target is to increase that to 10,000 in the next couple years and grow more sales locally. Part of that strategy includes opening new brewpubs in the local area, perhaps in Snowmass or the midvalley. Both he and Clauss declined to identify specifics but said there are ongoing discussions about particular spaces.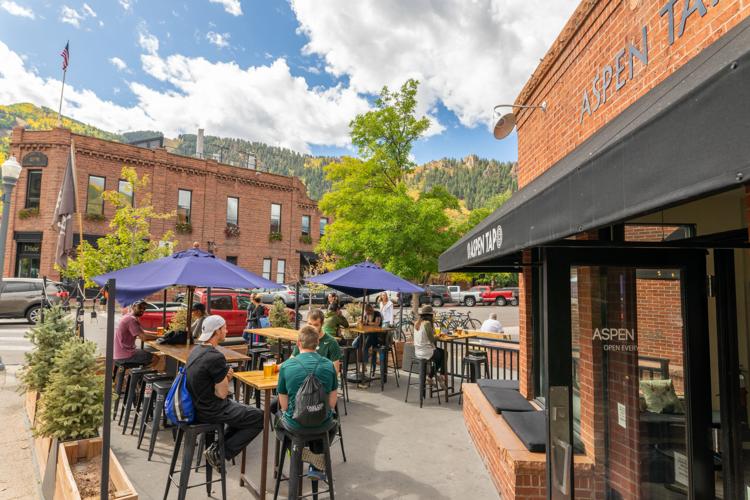 "The thought is, in the county, if we are truly the destination beer, then we should want to have it available through facilities where our people can have the expertise to sell our beer," Bryant said.
Clauss said there are no plans to depart from the brewery's flagship beers — the most popular varieties that are available in cans are an IPA, a blonde and a pilsner — but the hope is to create more small-batch brews available in the brewing company's taproom.
Artisans must become businessmen to survive 
The sale of a small, local brewery such as Aspen's to a national partnership like Legacy reflects the changing contours and explosive growth of the beer business in the last 10 years, Bryant and Clauss said. When Bryant started in the business, there were a grand total of 48 breweries in the country, he said. That number now eclipses 8,300, with roughly 1,000 new additions to the craft-beer marketplace each year.
"The reality is 10 years ago, anybody that had a bathtub got into making beer, because it was the cool thing to do," Bryant said. "And all you had to do was make relatively decent beer and everything else just went away. Well, now the stakes have changed. Beer has become more of a commodity; there is more innovation needed; you have to be more efficient on production. You have to be a businessman and most people who got into craft beer got there because they were an artisan.
 "And, you know, there are a lot of starving artisans, quite frankly."
Clauss noted that Aspen Brewing Co. was among the first 40 breweries in Colorado when it opened in March 2008. There are now about 400 in the state and five in the Roaring Fork Valley. While Aspen Brewing Co. beer at one point had a distribution plan that reached eight states and three other countries, that has been scaled back so that distribution is only in Colorado, with the majority between the Roaring Fork Valley and Grand Junction.
"Craft is more competitive than ever and from a business sense … all those resources that Legacy brings to the table will help the Aspen brand grow to the height and width that I have always dreamed to create," Clauss said. 
Bryant, who is based in Evergreen, said he first heard about the Aspen Brewing Co. after the head of Elite Distributing, which distributes Aspen beer, reached out to an investment banker.
"She [told the banker], 'I have got this brand that is doing so well, but they can't make enough beer because they don't have the funding to do all the things they need. Can you find somebody to help them?'" Bryant said. That banker called him and said, "Hey, there is an opportunity here that might be a great fit for you guys."
With Legacy and Ninkasi's resources behind him, Clauss said he will be able to focus more on the big picture and less on the logistics of executing that vision, since others will be in place to help with that. For example, if the brewery wants to launch a new beer variety in a can, there will be a graphics and a marketing team to help out.
"All of the things that Duncan would have to do in a vacuum, in his spare time, now he can direct and come up with the vision and now we can get to a better place with that infrastructure," Bryant said.