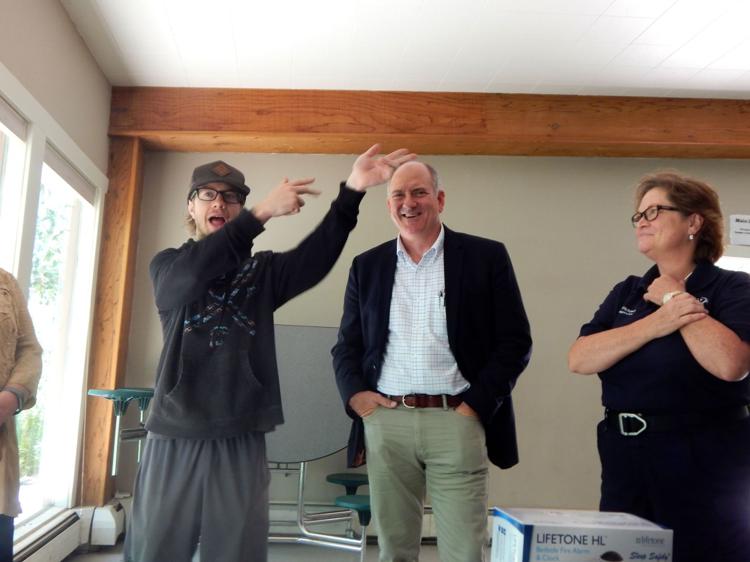 What's the best way to awaken a deaf or hard-of-hearing person in the event of a fire?
The flashing lights and loud horns of a traditional alarm for a person with a hearing disability could fail to reach a heavy sleeper who may, for instance, have their face buried deep in a pillow, and it's something that's been a longtime concern of fire inspector Sarah Pickard of Roaring Fork Fire Rescue, the moniker for the newly combined Snowmass and Basalt fire districts.
During a visit Thursday to the Aspen Camp of the Deaf and Hard of Hearing in Old Snowmass, Pickard explained how a chance meeting at a trade show led to the donation of five Lifetone Technology smoke-detector alarms. The devices have a pulsating bed shaker and a male voice shouting "Fire!", among other features.
Pickard and assistant fire marshals Brooke Stott and Frank Rudecoff of Roaring Fork Fire Rescue were joined by Aspen Camp staff and the owners of Stillwater, Okla.- based Lifetone on Thursday, a day in which 27 high school-aged campers and eight counselors were rafting the Arkansas River.
It was the perfect time to invade one of their 1970s-era dorms to try out the low-pitched, 520 Hz square wave alarm that is activated in concert with a ceiling smoke detector.
Appearing as an ordinary clock radio, the Lifetone HL successfully coordinated with a standard smoke alarm that also was connected to a sensor placed beneath a bunk bed's mattress.
Camp facilities director Zack Sisson, who is deaf, received a sense of the sensor that was tucked under one boy's bed. While the sound of the fire horn may have escaped his aural notice, the movements of the bunk bed were obvious.
"That's a real bed shaker," laughed Griff Roark, one of the alarm company's owners, as he watched Sisson's reaction to the pulsating mattress.
Roark's father, Joel, the alarm company's CEO, said the system is also designed for older adults who may have experienced loss of hearing and mobility.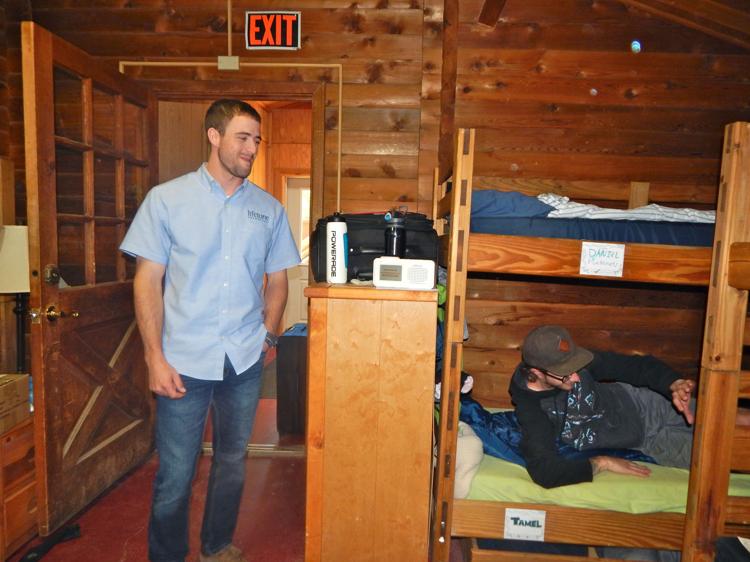 Campers are fire aware
There was a "tiny fire" at the Deaf Camp in 1973, according to executive director Lesa Thomas. "They were quick to get it out," she said. "It's the only time we've had anything" that was fire-related.
The buildings scattered on the property along Snowmass Creek are a mishmash of donated cabins from the Pabst family and the Aspen Center for Physics. They house adolescents and staff, and include performance spaces and a recreation center. Many are predominately wood or have wood facades.
The Snowmass-Wildcat Fire Protection District originally oversaw protection of the facility, but with this year's merger of the fire districts, those based in Basalt will get the first call.
Still, the three fire professionals who turned out at the camp for the alarm testing on Thursday seemed to have a certain fondness for the place and its mission to provide an inclusive camp experience for kids and teens. The camp was founded in 1967 by Carbondale resident Reed Harris, who had a deaf son.
This summer the camp is on high alert for fires, with mitigation methods, evacuation plans and an escape route through Wildcat Ranch as an alternative.
According to fire inspector Pickard, the campers, who hail from 47 states and 12 countries, are also making their own sacrifice in the name of fire safety.
"They have foregone campfires that are a normal part of any camper's experience," she said.
Sessions for middle school- and elementary-aged deaf and hard-of-hearing campers follow this week's gathering of high school-aged kids.
On July 21 is the annual Deaf Camp picnic and benefit, where guests may give a free-will offering, as the show entrance is free. Over the years, John Denver, Jimmy Buffett and the Nitty Gritty Dirt Band have been the benefit's headliners.
The Spin Doctors are the marquee name at this year's event, which begins at 4 p.m. on Fanny Hill in Snowmass Village. Also featured is Mandy Harvey, a deaf jazz and pop singer who performed on the TV program "America's Got Talent."
"She's a great role model," Thomas said.