Aspen City Council worked to define its 2020 objectives during a facilitated retreat this week. The council held a similar gathering in July, one month after being sworn into office. 
At the time, City Manager Sara Ott was in an interim role, and the group was just getting their legs under them. On Tuesday, Ott pointed out that this workshop finds city leadership on much firmer ground.
"We didn't know who was going to guide the organization in the future," Ott said.
The retreat, which took place over two half-days Monday and Tuesday, was facilitated by Michelle Ferguson of the Novak Group.
She began by having council members look inward to ask themselves what makes an ideal city councilmember from the perspective of the public and city staff. 
Councilmember Ann Mullins said there is an expectation that the board has read their informational packets — which often are hundreds of pages long — and are present and attentive during meetings. Mayor Torre listed accessibility, including the importance of showing up for community events, as an expectation, and that council members should be presenting themselves in a way that respects the office to which they've been elected.
"[The public] wants to know that your love and your passion is there," Torre said.
The five members also laid out best practices for communicating with one another. Mullins and Ward Hauenstein served together as part of the last council, led by Mayor Steve Skadron. Torre won an open race for mayor — through his competition included two sitting councilmembers in Mullins and Adam Frisch — and was joined by Skippy Mesirow and Rachel Richards, who topped a council field that included and incumbent board member in Bert Myrin. Mullins praised the work done this week, but said each council member came in with pet projects and there is still more to be done to improve the council dynamic.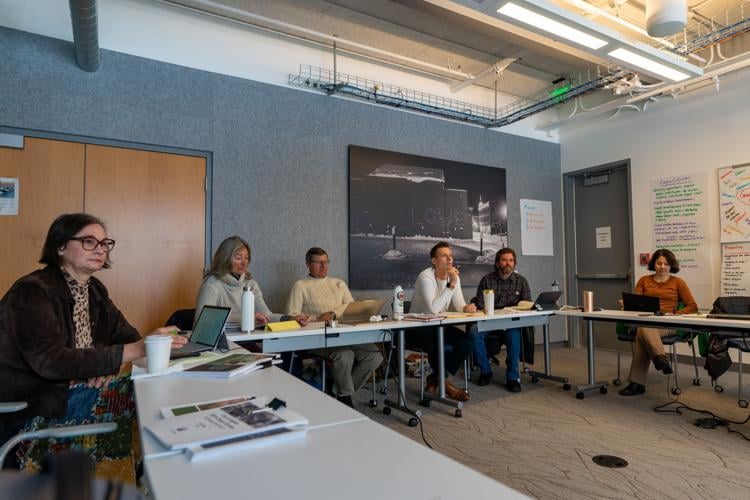 "I still don't think we are working as well as we can as a group because we are so focused on what we think is important," Mullins said. "We've got enormous potential with the staff we have on board, and with what the five of us bring to the council table to get it done sooner than later, but I think we are still learning to work together."
Along with addressing their own conduct during meetings, the council discussed the best way to incorporate public input, which has become contentious at times in the first eight months of the term. Several members asked for more consistency when it comes to public comment, and to all responsibly weigh broader public sentiment with the squeaky wheels that show up in force during controversial discussions such as the city's gun ban, or 5G regulations.
After the retreat, Torre told the Aspen Daily News he is not willing to put a hard stop on public comment length just yet.
"I'm not interested in that right now. I have a big concern about too much rigidity in that area. You have the same amount of opportunity to lose good input as you do to exclude the bad input," he said.
Overall, Ferguson praised the day-to-day work of the council and city staff, calling Aspen a unique town, because its government goals are so closely in tune with its community values. 
"There is something different about the way Aspen does business. There is something different about the culture," Ferguson said. "In Aspen you blur the lines in a positive way, that the organization is part of the community and the community is part of the organization and it doesn't fit neatly into the box."
She consults with government bodies across the country, and said that while other municipalities may have similar strategic goals as Aspen, the public may be apathetic and less engaged in what civil servants are doing.
"I don't think you suffer from that problem here," she said.
Ott, in an interview after the retreat, agreed with Ferguson's assessment of Aspen and said its uniqueness is intentional.
"There is a reason why we say we don't want to be like that other town up on I-70 right? There is something different about here. People believe in it. I believe in it," Ott said. 
In order to come to a shared set of values, Ferguson had the council envision an idealistic Aspen 10 years from now. Though it was an individual exercise, all five members came back with health and happiness prevailing, along with additional housing for the workforce and senior residents, and reduced numbers of vehicles entering and parking in town.
Ultimately, the council will use brainstorming from this week to refine a mission statement that can be used by all department heads and city staff, to evaluate budgets and work plans. The guiding statement is meant to last longer than any single council, and direct the entire organization toward the same spot on the horizon.
Ott said ultimately, the goal is to follow through on public directives, as laid out in the Aspen Area Community Plan.
"I really think this is more of a mission. Vision comes from the Aspen Area Community Plan. That is the will of the people in that document, so the mission is about how are we going to deliver that will that has been articulated in the community plan," Ott told the Aspen Daily News.
She told council that their decisions hold great weight when it comes to how staff spends their time at work. Once the vision statement is created, everything from budget, to policy, to outreach will refer back to it.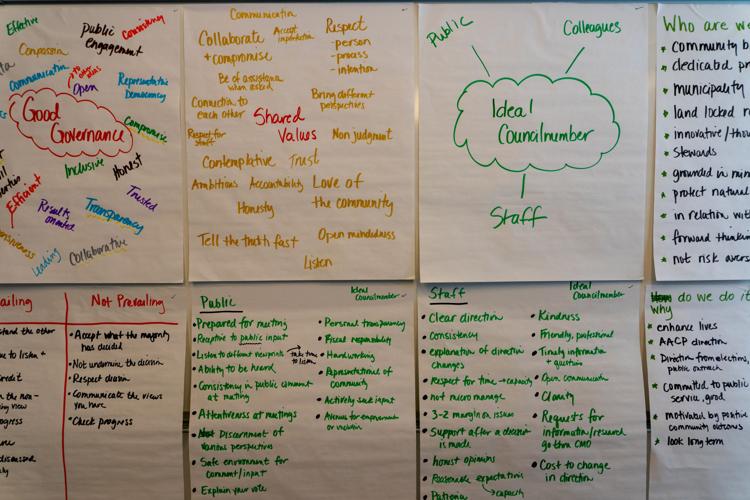 "If you are in the finance department and you read this you are going to realize that you have a responsibility," Ott said.
The council finished out day two by offering more clarity on 13 goals the group identified in July. While Ott said some of the initiatives are already underway, others had been left too vague or too daunting, based on those prior discussions, for her to give the green light on without scaling down the objectives. 
The council tried to focus specifically on achievable aims for 2020.
"We are getting to the point where I need to know, because you've been in office for eight months now, what is it I need to get done for you by the end of the year?" Ott asked.
Council was not able to cull the list during an October work session focused on the strategic goals, but Ferguson said that this time direction was needed. 
"Staff has said they cannot make all of these 13 things happen in this calendar year," Ferguson said.
Council unanimously agreed that the four items focused on the housing category are the top priority for 2020. These include exploring options to fund more affordable housing including a potential county-wide tax, and more short-term rental regulations.
Following close behind housing is an initiative to address early childhood services in Aspen, both in terms of facility space and increasing the number of caregivers. And aligned with a unanimous council concern for climate change, waste management and diversion was placed at the top of the list, paired with ongoing work to incentivise energy reduction in local buildings.
While Torre said that the top three objectives of housing, child care and the environment are no surprise, the exercise of clearly stating the goals will help city staff in their work toward achieving them.
"The truth is unless you define it, and clearly define it, and write it down, and pass it by resolution, it gets lost in translation," he said.
Remaining goals were placed in a second-tier priority or put off for future calendar years. The second-tier objectives will be addressed through council work sessions to be scheduled throughout the spring. Those initiatives include evaluating the decision making power of the Planning and Zoning and Historic Preservation commissions, and potential policy solutions supporting local business.
To that end council discussed lengthening the amount of time they give to philosophical conversations, suggesting that work sessions start as early as 2 p.m. instead of the current start time of 4 p.m.
Already this term, the council has swapped their work sessions to Monday and their legislative regular meetings to Tuesdays, to allow for more lead time and conversation before making decision on policy.
"Changing the meeting to Tuesday has been an enormous improvement," Mullins said.
While it was on the agenda for the council to also set up parameters regarding how they will evaluate the two staff positions they are tasked with overseeing — the city manager and the city attorney — time ran out before that discussion could begin.
Instead, Ferguson will be following up with written questionnaires for the council, that she will then compile into a suggested evaluation system. Ferguson will also provide a comprehensive report of this week's retreat, including providing the 2020 goals in a format that can be finalized and adopted via resolution. 
 "I am looking forward to letting staff know what great progress has been made over the last two days," Ott said.
Council members also each added a pet project to be kept on the back burner as projects get checked off over time.
"That should keep us busy for the next 100 years," Hauenstein said.