Aspen City Council met Monday in a meeting called specially to discuss ways Aspen can finance local economic recovery efforts. The public health orders put into place since the spread of COVID-19 in the community have shut down dining, entertainment and construction in the town, and directed most other industries to remote or reduced work.
As an immediate bandaid, the council passed a $200,000 appropriation to help fund the Pitkin County-managed emergency fund set up to help locals who need financial assistance due to loss of work because of the virus and its related closures. Three of the five councilmembers patched into the meeting via video conferencing to adhere to social distancing measures. 
Last week, each council member was assigned to be a liaison to certain sectors of the economy and have been meeting with business owners to gather input on the immediate and long-term needs of the community. They unanimously relayed to city staff that businesses want assistance navigating the options available to them through local funding and the federal stimulus package passed Friday. 
Mayor Torre said that there is a sense of urgency both from businesses and from council that the city come up with a plan to begin economic recovery from the hard hit caused by the early end to the ski season. But he cautioned that any recovery package would need to be vetted by staff, and in light of the city's own projected financial shortfalls.
"There is a tremendous desire from council to make definitive decisions (but) I anticipate staff needing time for responses," he said.
The council presented ideas of their own and relayed assistance ideas from the public, most of which would require funding from the city of Aspen's general fund, which is populated by sales tax. 
Immediate suggestions were made for a paid small business advisor who could help walk companies through the small business loan application process, and paid positions that could help with deliveries of groceries and pharmaceuticals to seniors.     
City Manager Sara Ott said staff is working to cut costs and nonessential services right now in order to preserve the most urgent functions of the city government. She said council will soon have to make hard decisions about priorities because there will not be enough money this year for everything that has been budgeted. 
"We have to look closely at what are the community's most critical needs," and using certain funds to pay off others can come with strings attached, Ott said. "You have some real limitations to navigate in those situations."
This week the city decided to lay off 55 part-time employees from the Wheeler and the recreation department. There is not work for that staff at this time because the Wheeler and many recreation facilities are closed under the emergency health orders.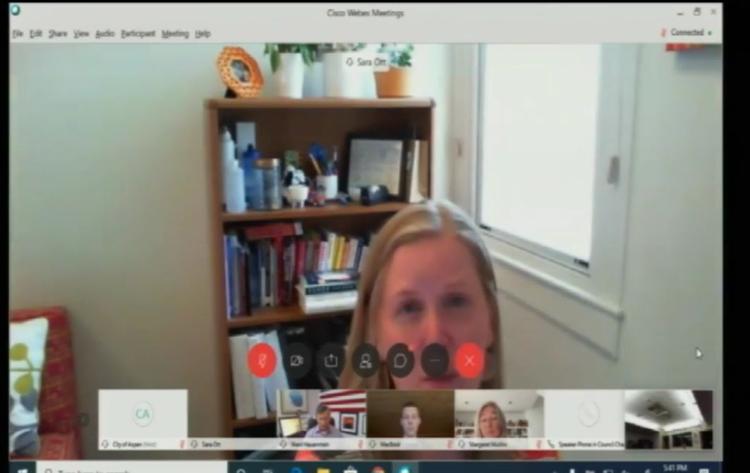 She suggested businesses look to the Aspen Chamber Resort Association for assistance in small business loans and other government funding. ACRA has opened its resources to all companies, not just its member organizations at this time.
"It is a wealth of information," Ott said. 
Councilmember Rachel Richards offered the most specific suggestion for economic recovery, amounting to $6 million being rerouted to assistance programs from the city's Wheeler Opera House fund and affordable housing fund, both of which are supported by a real estate transfer tax.
She suggested that $1 million from the housing fund be used to cut rent by 50 percent for those living in APCHA-managed complexes, and as a way to help residents of privately managed APCHA units at Castle RIdge and Centennial, as well as free market tenants, receive rent relief.
She suggested $5 million from the Wheeler fund be loaned to the general fund to help buff out the Pitkin and Eagle County emergency funds, to help with medical needs such as protective wear or testing as it becomes available. Some of the funds would also go to the nonprofits that are helping with relief efforts such as food banks, and another portion would go to help small businesses.    
"It's a community stone soup and if we all throw something in the pot we will have a pretty good bowl of soup at the end of the day," she said.
City staff needs a week to look into the legality of borrowing from the other funds, particularly the RETT-funded Wheeler pot, and using it for other purposes. 
In a special meeting next week, Ott will bring back an analysis of Richards' financial assistance model, and again prepared council to make some hard choices.  
"What I would ask of the council is to think about what is it you are willing to stop doing," she said. "Inevitably that is the conversation I am going to ask you to have."
She directed them to the approved 2020 budget, as well as their agreed upon council priorities for a sense of what is at stake. The general fund contributes to council priorities like child care, and staff time that had been directed to revamping affordable housing mitigation regulations. 
 "All of us need to be prepared for what services and what projects we are willing to put on a lower priority list in order to give assistance and aid to our economy at this point," said councilmember Ward Hauenstein.
Richards said even since their last meeting on March 24 the national landscape around the coronavirus has become more dire, and the economic impacts in Aspen will last years.
"The magnitude of what we are dealing with has come into sharper relief," Richards said.
"We are all buckled in for a bumpy road."