The Aspen City Council is being asked to spend up to $201,000 toward public outreach and conceptual designs for the open space that will surround new city offices on Galena Plaza, during a meeting that takes place this evening in council chambers, 130 S. Galena St.
Former Aspen Mayor Bill Stirling and architect Harry Teague have been leading a charge to reconsider the current plans. As sketched out in conceptual drawings, the park includes aspen trees, a seating area and an amphitheater. This summer, city council said they would be open to other possibilities, and directed city staff to come up with three additional alternatives.
In a memo to council, Robert Schober, of the city's capital asset department, outlines the additional costs of the scheduled public outreach, design, and project management. 
"The process includes three public open houses, which will be hosted at two different times for a total of six public meetings. These proposals take this process from conceptual design to schematic design," Schober wrote. 
The outreach and design phases will take place over the next few months. A $147,595 budget would be doled out to the city office building design team including Charles Cunniffe Architects, and Design Workshop, as well as the agency, PR Studio. Another $20,000 is budgeted for Concept One group, the city's representative.
Mike Tunte, landscape architect and construction manager for the city, has been in touch with Stirling and Teague, and has met with plaza neighbors the Pitkin County Public Library. He said the drawings laid out now are flexible, and may be dated.  
"I think there are opportunities for the plan to be better and to better respond to what's happening today, and to anticipate what will be happening in the future," he said.
Last fall, the public voted Galena Plaza as the preference for the site of new city offices. This led to the passing of Ord. 4, which outlines the approvals for the building. But Tunte said the programming of the surrounding public open space is not specified in the ordinance.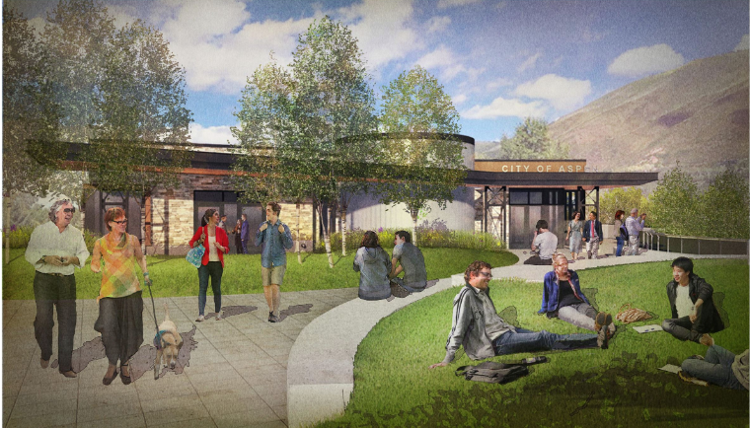 "Ordinance 4 allowed flexibility on the outdoor spaces, so we think this is a good opportunity to look at them again," Tunte said.
The concept for a new government office building on Galena Plaza has been in the works for more than a decade. Tunte said in that time, the surrounding area has changed, including the renovation and spike in popularity of the John Denver Sanctuary. 
"What we repeatedly hear is people are asking 'where is John Denver Sanctuary?'" said Tunte. 
But, he said, the most direct way to the attraction includes passing through a maze of uninviting paths. "Right now if you are standing on main street and you look at Galena Plaza, there are two 'do not enter' signs." 
He said there should be a better connection between the Rio Grande Park, the plaza, and Aspen Mountain, on the city's southern border.
"We always look at Galena Plaza as where everything comes together. It's where you really drop down to the river … and you have this dialogue with the city," said Tunte. "And when we look at it we see some deficiencies there."
If council approves the change order request tonight, the additional funding will come from the Open Space and Trails' budget. The new designs would be presented along with their projected costs. 
When Stirling and Teague first spoke at a council meeting this spring the board had a different make up. Then-mayor Steve Skadron said he was worried about the precedent setting of skirting what he called representative democracy.
"It is a broader question, about if we can govern ourselves. Or does every decision need voted on and rehashed again and again," he said. 
But Tunte said it's worth one more glance before permanent decisions are made. 
"We have an opportunity right now to get this right, and it's one opportunity to get this right," Tunte said. "I would suggest that it would be a disservice to the community to not give this a look."