Joy Maxwell Caudill, one of the Aspen area's pioneers of environmental stewardship, died Sunday at her home in Carbondale, surrounded by family. She was 90.
Caudill and her friends Connie Harvey and the late Dottie Fox were co-founders of the nonprofit Aspen Wilderness Workshop in 1967, which later dropped "Aspen" from its name. The trio was credited with pushing for the creation and expansion of several federally protected wilderness areas from the 1970s to the 1990s, including Maroon Bells-Snowmass, Hunter-Fryingpan, Collegiate Peaks, the Raggeds and West Elk. Those five areas cover an estimated 550,000 acres.
Former Wilderness Workshop executive director Sloan Shoemaker, who was with the environmental advocacy group for 21 years, remembered Caudill on Tuesday as "strong and quiet, a true salt-of-the-earth woman" and a force to be reckoned with in the fight to protect public lands.
"She did not want the spotlight, she was not the charismatic leader," Shoemaker said. "She was a detailed, hard worker that kept her nose to the grindstone and made sure that all the work was getting done. She was strong-willed, very focused and not to be deterred."
Shoemaker also recalled another memorable quality of Caudill's: She had no patience for "puffery."
"She saw right through that," he said. "That's the kind of leadership that inspired me when I was coming up through the ranks and took over leadership of the organization, just to be a truth seeker and intolerant of anybody's B.S."
Caudill and her husband, renowned architect Sam Caudill, are members of the Aspen Hall of Fame. She already was living in the area when Sam Caudill arrived in the 1950s. They had five children – three girls and two boys – including eldest daughter Jody Cardamone, the first director of the Aspen Center for Environmental Studies. Sam Caudill died in May 2007.
Mark Fuller was hired as an environmental coordinator for Pitkin County in 1978. He said he had many dealings with the Wilderness Workshop and other environmental groups, and that Caudill served as a mentor.
Fuller said the last time he spoke with Caudill at length was at an event marking the 50th anniversary of the federal Wilderness Act, which was passed in 1964. The trio of Caudill, Harvey and Fox, known to some as the "Maroon Belles," were honored at the occasion.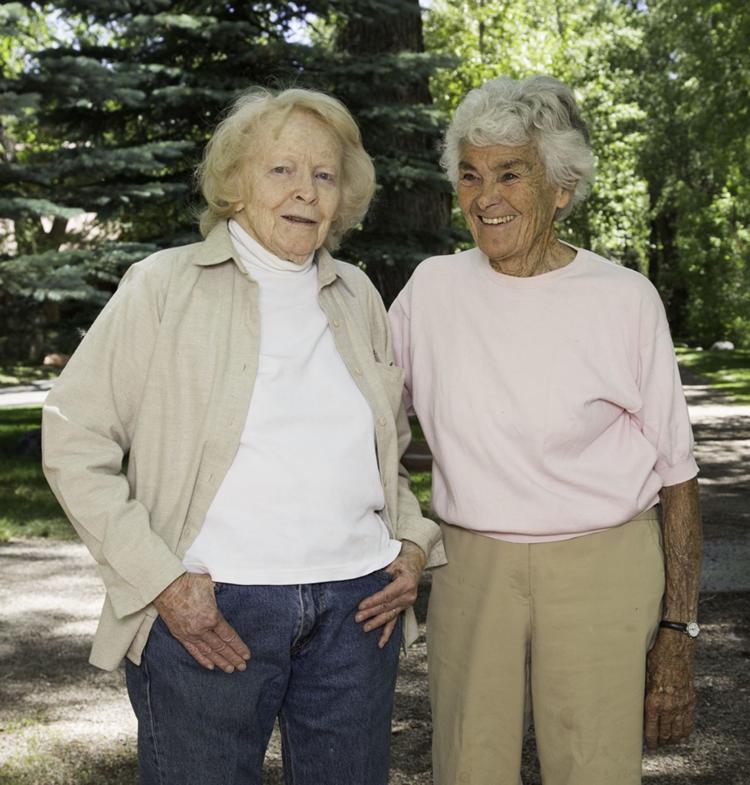 Each had different personas, Fuller said, with Caudill being more "motherly" than the others. He described her as the "glue that held them together."
In an interview in Sojourner magazine in 2017, Caudill put it this way: "I was the serious, on-the-ground nuts-and-bolts person. Dottie had this wonderful way with people and was great with outreach. Connie understood the political side. It was exciting because, together, we figured it out."
Fuller said he conferred with Caudill regularly in his role with the county, as well as when he served on the board of Wilderness Workshop for 25 years.
"Joy's great strength was that she was hard-nosed without ever being mean," Fuller said. "She knew exactly what she wanted and she was relentless about getting it. But she was always polite and civil.
"She also had a great sense of humor. She was quick to see the absurdity of things when they got absurd, which they often did," he said. "And she loved to have a good time. We had some memorable parties at the Caudill house down on Maroon Creek back in the day."
Fuller said a lot of what makes the Aspen area special today, the many environmental- and conservation-oriented projects such as open-space purchases, can be traced back to the initial work of the "Belles" in the late 1960s and early 1970s.
"All of those things that make the environment here something that is key to our local lifestyle go back to the dedication and passion that those ladies showed," he said.
Pitkin County Commissioner Greg Poschman said though he didn't know Caudill as well as many in the community, he grew up in Aspen around the same era as Caudill's children: Boone, Robin, Jody, Anne and Julie.
He said Joy was "one of the feisty three women who, after passage of the Wilderness Act, jumped into action and helped create what turned out to be almost 600,000 acres of wilderness," Poschman said. "They had a huge impact. They were three powerful ladies of Aspen who decided to stand up and do something when they had the chance, and of course Wilderness Workshop is their legacy."
Poschman said he saw Caudill about a year and a half ago when they worked together on a Wilderness Workshop video. What struck him about their meeting was that she was enthusiastic about a new grandchild and her family – and that she continued to display "a fierce passion" for protecting nature.
"That still came through. There was a kind of seriousness to her," Poschman said. "You didn't want to mess around with her. It was so wonderful to see that in a lady in the later years of her life. She had so much fire left in her."
All of those who spoke of Caudill on Tuesday pointed out how well the three women did their homework in advance of a cause. In the Sojourner article, Caudill acknowledged the effort that went into each project.
"When the Wilderness Act passed, that gave us a great tool. There were wild, undeveloped lands surrounding the wilderness, and it was important to see what was there and whether we could add it to [the designation]. We'd break up into groups and go out there on foot. 'Ground truthing,' we called it. Each team would have a section to hike around and look for signs of development, like roads and buildings. We'd look at maps and research claims and investigate land ownership. If the requirements were met, then we had to get someone to sponsor legislation," she said.
Caudill also was an active member of the nonprofit Great Old Broads for Wilderness, a women-led, grassroots organization that aims to inspire activism to preserve and protect wilderness and wildlands. The group is now based in Durango.
Family members could not be reached for comment Tuesday regarding plans for a memorial.