Councilmember Ann Mullins hopes to see Aspen adopt a restaurant voucher program that would help support the local dining options while also assisting locals who are in need of a meal.
"I started thinking about it a couple of weeks ago. I thought we needed this," Mullins said.
Silt and Avon have both already rolled out a restaurant voucher program. Mullins pointed to those towns as an example of what Aspen could do in a recent city council meeting.
In Avon, the town allocated $55,000 that it distributed door to door to lower income and community housing units. Each door got three $20 vouchers that could be spent on any of the 19 open restaurants in the town. The program, which expired this week, benefited 800 households.
Avon Mayor Sarah Smith Hymes said the town manager and staff came up with the idea and devised the stimulus program on the fly.
"We figured with restaurants, we could get food in people's stomachs and we could support our businesses," Smith Hymes said. "Talk about killing two or three birds with one stone"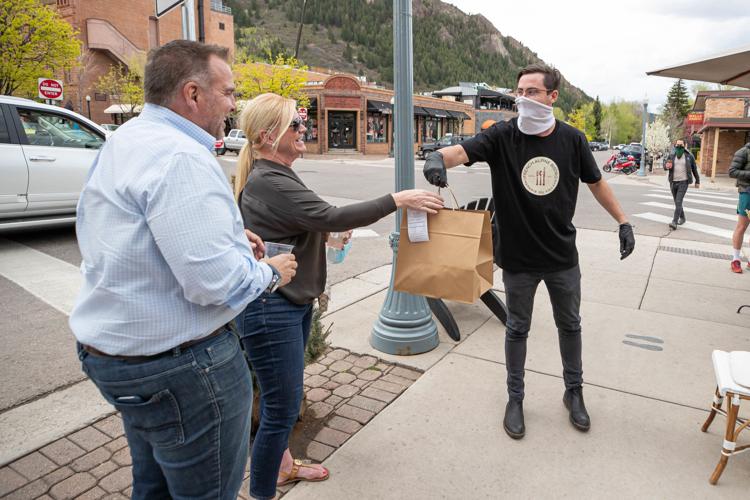 The $20 one-time-use vouchers were then redeemed by the restaurants with the city, which also included an 18 percent gratuity on the bill.
"So that put some money in the servers' pockets as well," Smith Hymes said.
She said it is a rare government initiative that has not met any criticisms, and that businesses and community members have expressed their gratitude for the vouchers.
"Everybody has been so happy and appreciative of it. A lot of the residents of those housing communities are really stressed. They are looking for rent relief, some of them of course are not documented, so having this gift, they were so appreciative," Smith Hymes said.
Silt rolled out a similar voucher program this spring aimed at assisting lower income residents. Town manager Jeff Layman said the gift certificates help the community on several levels.
"This plan is aimed at helping distressed Silt residents directly with meals, helping restaurants directly with a little business and encouraging others to patronize Silt businesses."
The town set aside $6,000 for the vouchers, which officials hope will help around 250 residents patronize one of six participating restaurants. Unlike the Avon program, which was delivered carte blanche to residents' front doors, Silt residents must apply for the coupons and demonstrate ­financial hardship.
Silt also has a business loan program, allowing local establishments to borrow money from the city. If businesses spend up to $2,000 on expenses within six months, the loan is forgiven.
Tailored to community needs
Aspen Mayor Torre is in favor of creating a voucher program in the city, which may extend beyond just dining establishments to include retail as well. He said that instituting a restaurant voucher program helps residents with food security, as well as benefiting a sector of the economy that took a significant hit under the stay-at-home public health orders that were enacted.
"It's a thank you and support for those restaurants that are open at this difficult time, helping them and their employees do business," Torre said.
He is also hoping the Aspen program would allow some sort of community connection, perhaps through online engagement in the application process.
"It's that continued social ­connection through time of separation and isolation. We want to continue to make sure to give people the opportunity to be connected to their community, and this is another way," he said.
Aspen is unlike Avon and Silt in its sheer number of restaurants that have remained open or have reopened in the last month.
Special Projects Manager Ron LeBlanc is leading the city staff team trying to create the local program. Along with looking to Avon and Silt, LeBlanc is also considering other food voucher programs that have existed for food insecurity prior to COVID-19.
The team has not landed on what the exact program would look like yet, who might qualify to receive a voucher, and if it would expand beyond restaurants to groceries or retail. He said what the project team is sure of is that they want a straightforward system.
"We want the program to be easily understood by the merchants and restaurant owners. We want the public to understand how to use it so we want to make it simple," LeBlanc said.
He hopes to have the plan ready to present to council by the end of the month.
Smith Hymes, the mayor of Avon, has consulted with various other cities looking to replicate their voucher program, and advises to do just what Aspen is doing in tailoring the program to fit the local community.
"You just have to think through all of the logistics of it," she said.
Mullins, who asked for a status update on the program at the May 11 work session, said she has been impressed by the city's staff's responsiveness to the changing budget projections since the economic shutdown.
"A lot of details have to be worked out," Mullins said.
The voucher program would be funded by a portion of the $6.5 million that the city council released to be used for a variety of response and recovery programs. But Mullins said she hopes that some of the government programs established at this time could become ongoing fixtures.
"What I want out of this crisis is to make sure we learn some lessons," Mullins said. "We could turn this into a permanent program that benefits those in need."