It may have technically been a private event, but Aspen High School's drive-in graduation ceremony at the Buttermilk parking lot did not suffer a dearth of energy or enthusiasm.
Cars donned extravagant decorations shouting out to individual graduates — presumably inside jokes and general congratulations to the class of 2020. A chorus of honking horns punctuated every speech and prerecorded musical performance, produced and projected on a massive screen framing Aspen Mountain almost perfectly.
Aspen High School Principal Tharyn Mulberry kicked off the presentation by outlining some impressive statistics about the graduating class. Mulberry himself was commemorating his final graduation ceremony as principal; he'll start his new role as assistant superintendent in July.
"Academically, the class of 2020 had 87 of its seniors graduate with honors and 51 students had a GPA of a 4.0 or higher," he beamed from the stage, adding that 121 of the 138 seniors "accepted the challenge of at least one IB course. Ninety-two percent will attend over 70 different colleges."
But the graduating class whose final months were mired by the novel coronavirus, which shuttered in-person classroom and extracurricular experiences for the remainder of the school year, also excelled in varying sports arenas, he continued.
"Six regional and conference championships," Mulberry said. "One undefeated program: our girls' hockey team. Five individual state champions, four state team championships."
Additionally, the recent graduates made quantitative and qualitative impacts in the community via service.
"The class of 2020 had over 3,421 hours of community service. Eight of our seniors lettered in the National Honors Society and had over 100 hours of service. What an amazing group of ­seniors," Mulberry summarized.
To that, the sound of more than 100 car horns echoed off the pavement of the parking lot.
In his closing statements to the last class of students he oversaw as principal, Mulberry emphasized a sense of gratitude as a cornerstone of strength. Particularly in the context of COVID-19, he felt that maintaining an actively grateful perspective will continue serving the graduates well.
"I ask you to consider all the things in your life for which you have to be thankful and begin to consider what opportunities all of these changes may have created. Instead of being the class that had to graduate at Buttermilk, you are the class that got to graduate at Buttermilk," he said. "You are not the COVID kids; you are the mighty class of 2020. No one chooses the shape of their ­circumstances, but you have a choice to determine how they shape you."
Another interlude of emphatic honks followed.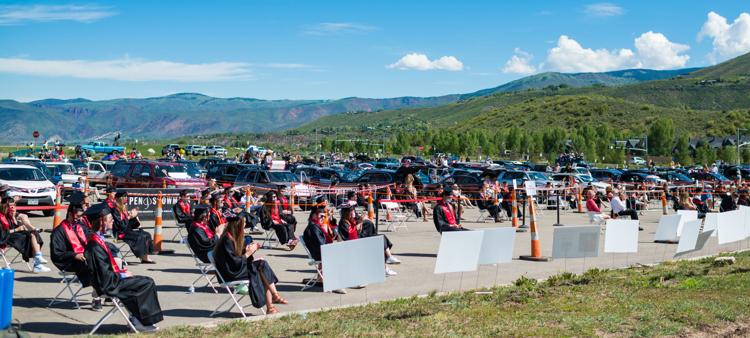 That concept of gratitude was also an underlying theme of valedictorian Quinn Ramberg's speech. While she offered a sense of levity throughout her presentation to her former classmates, Ramberg also took on a more serious tone when discussing the importance of perseverance — a lesson she learned early on both firsthand and through the example of her classroom colleagues, she noted.
"I'm not the only one in my class who knows how to persevere," she said after detailing an overnight experience nine miles away from medical help after a tree branch pierced her leg to the bone. "Evan Pearce has earned his pilot's license over the last four years. Jake Bozza is a state-ranked climber. Axel Livingston and Jake Bozza have held an art exhibition. Morgan Witt works hard to embody a new character every time she's on stage. Belle Kowar has won nationals for ice dancing. These accomplishments are true demonstrations of perseverance, and during this time, it's so important to recognize the undeniable value of perseverance."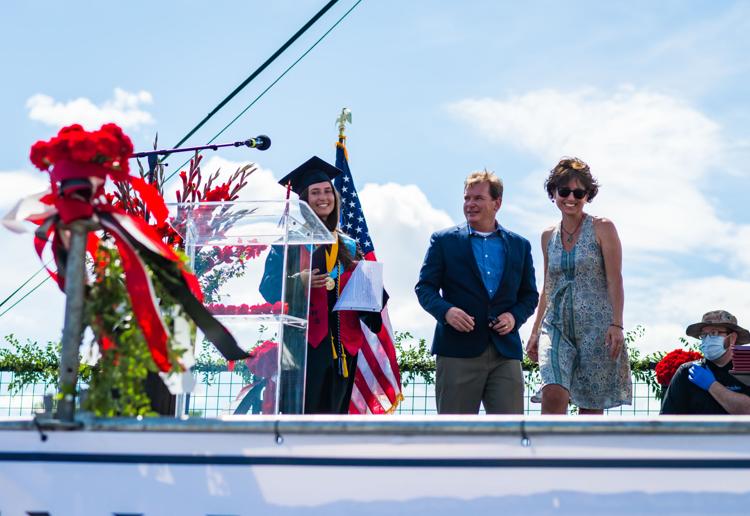 The co-salutatorians, Kat Goralka and Maxine Mellin, also reflected on their time in high school and how COVID-19 may have shifted the final days of that chapter and, inevitably, their futures, it wouldn't define their four-year career at the school.
"My most considerable period of considerable growth in high school were those when I took time to reflect and organize my thoughts," Goralka said. "We are graduating during a time that demands creative solutions to everyday activities. We have the chance to contribute while reining who we are and who we want to be."
Mulberry, imparting final words of wisdom indicative of the times, reflected that sentiment and suggested caution when wading through seemingly conflicting information about the state of affairs in the world.
"I, like all of you, have listened intently over the past few months of this crisis to an ever-rising torrent of what seems to be an unending stream of bad news. Students, you are definitely going to have to carefully wade through this and make sure you are thoughtfully critical of all the information being flung at you," he said.
Mellin, for her part, opted for a lighter touch when looking back on her time as a high schooler and the actions that led to her academic accomplishments. The younger sibling feeling the weight of her brother's shadow, Mellon said she spent her freshman and sophomore years attempting to live up to imagined expectations not reflective of her authentic desires.
But when it came to her "ah-ha" moment, as it were, she credited her brother and one of his favorite movies, the 1982 "classic," "Fast Times at Ridgemont High."
The quote, she recounted, that snapped her out of her seriousness was "Hey bud, let's party!"
"I'd spent two years of my high school basing my actions off others," she said, adding that when she learned of "staying unapologetically true to oneself and the rewards that could follow," she began to blossom.
Mulberry, too, was quick to offset his weightier comments with some playful self-deprecation.
"Trust me, adults can get it wrong — even when well-intentioned. Take me, for example. Just four months ago, I would have told students and even my own children that you won't be able to save the planet by playing video games and making TikToks in isolation in your parents' basement," he quipped. "Well, I stand corrected."