Six new designs were revealed last night for a new neighborhood of affordable housing units on city owned land east of the Aspen Airport Business Center. The city hopes to have concrete designs for the Lumberyard property — so known because it is currently home to the Builders First Source materials depot — by the end of 2020.
The six concepts are being shown to the public in a series of open houses that continue today at city hall from 11 a.m. to 1 p.m. and 3-6 p.m. The plans vary in where density is concentrated on the 10-acre property, the style of parking provided and the consideration of mixed use such as continuing to provide space for a lumberyard or adding a child care facility.
Carbondale-based DHM Design is the project lead on the development. Jason Jaynes, principal landscape architect with the company, was on hand Wednesday night at an open house at Roxy's Market meant to capture the opinion of project neighbors.
"They have something to say, and their opinion really matters," Jaynes said.
He said the team is grateful to Roxy's for hosting the event, and acknowledged that one of the conversations that has come up at this stage is the added stress a new neighborhood would bring to AABC residents and businesses. He said there is not public support for businesses on the Lumberyard site, outside of a building materials shop or a child care center.
"What we heard loud and clear from public outreach as well as the council, with some reservations, is the AABC provides significant commercial opportunities in places like where we are right now. We don't want to compete with existing business, and there are a lot of challenges both functionally and politically in subsidizing private commercial."
The current conceptual drawings calculate the number of units on the site based on an average of 800 to 1,000 square feet per unit. Some drawings show the residential density closer to the existing AABC and more conveniently located to public transportation. Other drawings move the mass of the housing to the center of the lot, which would allow for bigger buildings to be hidden from view behind the existing Mountain Rescue Aspen headquarters.
Option 3 provides for the highest amount of living and parking spaces by creating an underground parking facility to serve the new neighborhood. Other options have less housing and taller buildings by using the ground floor for covered parking. Each rendering shows what compromises would need to be made to achieve some of the requests the team heard from the first two rounds of public outreach, held prior to schematics being drawn up.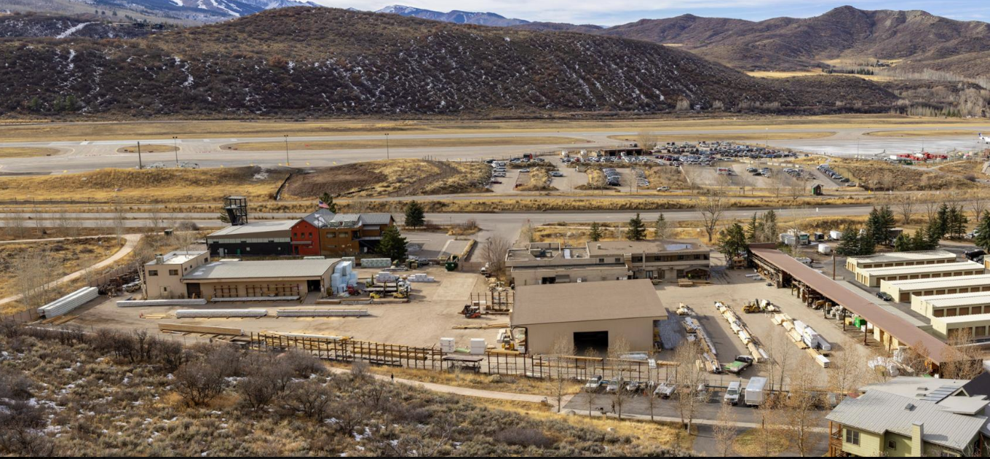 "Obviously there's significantly more building density on the site, but it would be just two-story buildings to mitigate the mass and scale of increased units," Jaynes said. "We wanted to illustrate the differences. We are still looking for values and priorities."
This round of public outreach is meant specifically to gather consensus around density and layout of the lot. The team has not worked out what size individual units will be, and if they will be part of APCHA's rental or ownership stock.
North 40 resident Paul Fowler attended the open house Wednesday night. Two other housing developments are being discussed nearby — firefighter housing at the North 40 fire station, and student housing at the Colorado Mountain College site — so Fowler has attended quite a few open houses lately.
"It's hard to know who makes the decisions, finally. We get to voice our opinion but it's hard to know who is listening and who isn't," Fowler said.
He was joined by other AABC neighbors in advocating to city staff that the new housing be made for year-round, permanent residents and not temporary workers.
"We want good housing. When it's got the right density, when it's got parks, when it's got green space around them," Fowler said. "We want happy people in Aspen. We don't want people in rabbit hutches."
Jim Kehoe, senior project architect for Charles Cunniffe Architects, another part of the design team, said the use of green space and natural lighting is important in the ultimate design of the new buildings.
All of the renderings include a neighborhood park, ranging in size from 7,000 to 62,000 square feet.
"Open space, green space, getting daylight into the units, I think it is an important element to creating a community for a healthy lifestyle," Kehoe said.
Along with the open houses, the public can comment on the six density options online at aspencommunityvoice.com/lumberyard. Jaynes said right now the team is working to make sure they are on track and staying in line with community values. The public process will continue to hone in on preferred options throughout the year.
"Generally speaking, what is the correct arrangement for the site, what is going to work the best, and what priorities and compromises are most palatable?" Jaynes said. "Because any plan that prioritizes one thing may fundamentally compromise something else."