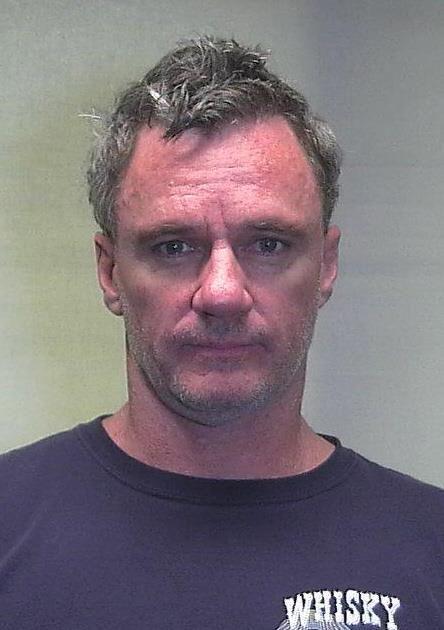 An Aspen man was arrested Saturday on felony charges related to child pornography after he allegedly told a friend via Facebook Messenger that he engaged in sexual activity with a young girl whom he had been babysitting on a regular basis.
Blair Gibsone, 48, was released from custody after posting a $7,500 cash bond. He currently faces two felony charges of sexual exploitation of a child, one of which relates to digital possession. Several of Gibsone's belongings — including a smartphone, laptop computer, computer tablet and flash drives — were seized when his home was searched on Saturday morning. 
Gibsone was not charged with sexual assault on a child upon his arrest, though the case remains under investigation by the Aspen Police Department, Pitkin County Sheriff's Office and the 9th Judicial District Attorney's Office. Search-warrant information relating to the investigation was made available to local media late Monday afternoon.
When interviewed Saturday by Aspen Police detective Adriano Minniti, Gibsone allegedly admitted to having sexual fantasies about children and said he had been actively looking at child pornography using a smartphone and computer tablet, according to a search-warrant request filed by district attorney's investigator Jeff Fain. 
However, Fain wrote, Gibsone said he has never done any babysitting. He also stated that he could not recall participating last Wednesday in a Facebook Messenger chat in which he allegedly told his friend that he engaged in sexual activity with the child, because he was highly intoxicated on the night of the chat. 
The social-media conversation was conducted by the friend — with assistance from Minniti — between 9 p.m. Wednesday and 3:30 a.m. Thursday, according to a statement by sheriff's investigator Bruce Benjamin. The friend had first contacted Aspen Police about Gibsone's potential activities on June 17.
During the chat, Gibsone shared disturbing details regarding his claimed encounters with the girl, according to the sheriff's office report. He told the friend that he had been taking care of the young girl for a couple of years, and allegedly stated, "Honestly, I'd rather she do it with me so she is safe. …I love them way more than adults."
He allegedly told the friend that he had previously cuddled with the youth and that she has touched him between his legs. The friend, aided by the detective, asked for more information, such as whether he had sex with the child and he allegedly replied "kinda, yeah," describing oral and digital contact. 
According to Benjamin's statement, the Facebook chat "also contained admissions from Gibsone that he had done similar things involving sexual contact to other children." He also sent pictures, via chat, that he claimed were of the young female whom he babysat. The pictures show a young female sitting at an Aspen restaurant table.
Benjamin wrote that Gibsone intermingled other still photographs with the chat texts. Among them, two were of female children in various stages of nudity and another was of a male child with his private area exposed.
The original search warrant for Gibsone listed an address in unincorporated Pitkin County. When authorities arrived there on Saturday morning, they learned it was incorrect. A relative then provided the location of Gibsone's actual residence in Aspen.