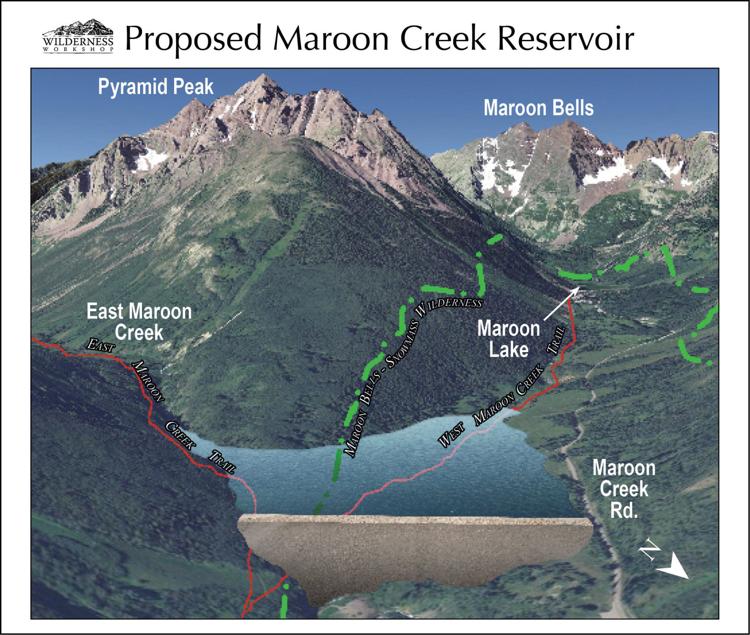 The city of Aspen has agreed to move its controversial water rights that would result in dams and reservoirs in the Castle and Maroon creek valleys, in settlements reached with five of 10 parties opposing its water court applications to extend those rights.
The settlement agreements are on Tuesday's city council meeting agenda. If approved, they will represent the beginning of the end for two controversial dam projects that have been on the city's books since the 1960s.
The city in October 2016 sought water court approval to extend the rights for a dam near Ashcroft on Castle Creek that would create a 9,000 acre-foot reservoir an another dam on Maroon Creek, within sight of the Maroon Bells, that would create a 4,500-acre-foot reservoir.
Council members at the time said they did not wish to ever see the dams built, but felt they would be negligent in abandoning the rights without developing other water-storage options. The council directed city staff to begin exploring other options, an effort that has resulted in the city acquiring a Woody Creek parcel that could someday be part of an 8,000-acre-foot water storage reservoir.
Wilderness Workshop and Western Resource Advocates, two environmental groups opposed to the dam plans, heralded the settlement agreements in a statement released Thursday.
"This collaborative agreement enables Aspen to preserve its region's unique environment, wildlife habitat and the iconic Maroon Bells, while also planning for its future water needs," Jon Goldin-Dubois, president of Western Resource Advocates, said in the statement. "By setting itself on a course to forgo the Maroon and Castle Creek dams, Aspen is showing once again that it is a global environmental leader willing to enact progressive policies that mutually benefit both Aspen residents and their unparalleled environment." 
Will Roush, conservation director for Wilderness Workshop, credited city of Aspen staff and council for their work through more than a year of negotiations.
"Free-flowing, healthy rivers and the wildlife and recreation they support are foundational to Aspen's economy, community and ecology," Roush said in the statement. "After numerous conversations with the folks at the city, I'm confident this is a win-win solution that protects both Castle and Maroon creeks and Aspen's long term water supply."
A memo in Tuesday's council packet from Margaret Medellin, the city's utilities portfolio manager, says that the upper valley can expect significant water supply challenges "as we experience changing precipitation and runoff patterns, and possible increased fire, drought, change in runoff timing and lower snowpack levels due to climate change." 
Currently, the city has a 9-acre-foot holding pond at its water treatment plant but otherwise draws all its water from the surface of Castle and Maroon creeks.
"Storage reservoirs, that can retain water from season to season and year to year, can provide water supplies even during times of shortage," Medellin's memo says. "Without water storage, the city will have no meaningful back up if surface supplies are greatly reduced. To mitigate this risk, the city has included future reservoir storage in its long-range plans."
The settlement agreements with the five parties will only take effect if the city comes to terms with the other opposers in the case. The agreements up for approval this week are with Wilderness Workshop, Western Resource Advocates, Asp Properties LLC, Double R Creek Ltd and Pitkin County.
"Staff continues to negotiate with the remaining opposers and hopes to reach stipulations with these parties as well," Medellin's memo says.
Assuming those agreements are reached, the city will file a change application in the water court to relocate the Castle and Maroon creek reservoir water rights to one or more specified new locations.
Aspen Mayor Steve Skadron, who also issued a statement in the Wilderness Workshop/Wester Resource Advocates press release, noted that the city has a long-term interest in securing a reliable water supply in an environmentally sensitive manner.
"We are pleased that we could achieve a solution with Wilderness Workshop and Western Resource Advocates, and hopefully all the parties invested in a mutually successful outcome, that protects pristine areas of wilderness while still prioritizing Aspen's water needs for the coming decades," Skadron said in the release. "It is important that government and interest groups continue to work cooperatively in order to reach solutions that serve our community to the best of our ability. We are grateful for the productive dialogue we've had over the last year and value the voices of all those in this process."
If built, the dams proposed for Maroon and Castle creeks would have significantly impacted the ecology of the two high mountain creeks and flooded important wildlife and recreation areas in and adjacent to the Maroon Bells-Snowmass Wilderness Area, "forever changing two of the most iconic valleys in Colorado," says the Wilderness Workshop/Western Resource Advocates press release, which also notes that the environmental groups are "collaborating with the city to increase Aspen's water supply and flexibility through alternative strategies."