During a most unusual Fourth of July holiday in Aspen — the first celebrated during a worldwide pandemic — some traditions, including the popular parade, have been canceled while others, like the Boogie's Buddy Race and the Aspen Music Festival & School's patriotic concert, are pivoting to virtual platforms.
Downtown Aspen businesses are contributing to the patriotic spirit by decorating their windows with festive Independence Day themes. In Snowmass Village, an "Ice Cream Anti-Social" will offer sweet treats offered in a drive-by format through local neighborhoods.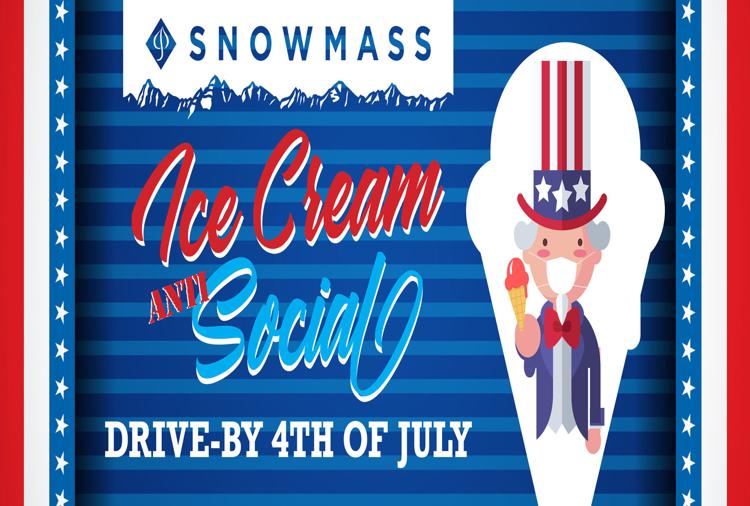 The Ice Cream Anti-Social sprung out of discussions about "how do we still do dessert for the community without people gathering?" said Rose Abello, director of Snowmass Tourism. A map of the delivery route that snakes through the village on Saturday between 11 a.m. and 3 p.m. may be viewed at gosnowmass.com.
Abello said this holiday activity was designed to comply with the letter of the law and the spirit of the public health order. Uncle Sam's helpers, who will wear masks and gloves, will hand out prepackaged ice cream from Clark's Market via a decorated truck.
Last year, the holiday fell on a Thursday and Independence Day was celebrated during Snowmass Village's free Thursday Night Concerts, the long-running summer series that was canceled this year due to COVID-19. Rather than forego any and all celebrations in Snowmass Village, "We want to take the party to the people," Abello said.
It's a blast
Aspen's Fourth of July parade also has been canceled for what is believed to be the first time in its history, according to the Aspen Chamber Resort Association.
Earlier this year, a city of Aspen spokeswoman said it would be "irresponsible" to plan activities which encourage large groups to gather and would have been impossible to manage.
The holiday has attracted up to 35,000 people in past years. That's been true even though dry weather has affected the ability to host fireworks shows since 2016. In 2018, a drone show was scheduled but because of adverse weather conditions caused by the Lake Christine Fire, it didn't take place. In 2019, ACRA hosted a community party with a laser light display and DJ music in Wagner Park.
Despite the extinguishment of the parade and fireworks, there's still much for guests and locals to enjoy this year, said Jennifer Albright, ACRA's vice president of event marketing.
"The Buddy Program is hosting the Boogie's Buddy Race, registration is now open to walk or run, and the Aspen Music Festival and School is hosting their traditional Fourth of July patriotic concert virtually, for free, at 4 p.m.," she said.
ACRA also is recommending that visitors and locals experience the great outdoors and enjoy the many local business offerings. "...Dine al fresco in the expanded outdoor seating, grab take-out and picnic in a park, stroll through shops and art galleries, and recreate responsibly on our trails, rivers, and mountains," Albright said in an email.
Information about activities and a visitor resource guide to Aspen in a COVID-19 world is available through the website aspenchamber.org.
Aspen Skiing Co. is anticipating a big weekend on its two mountains, Aspen and Snowmass, that are offering lift-served access to activities as well as easy access to Mother Nature.
"The mountains have been busy," said Jeff Hanle, SkiCo vice president of communications. "It's hard to know what the weekend will bring, but we do believe business levels will bump up for the holiday and as more people arrive in town."
Hanle observed that people have been able to adapt to "the new norm" and noted, "It's crazy how so many people are jumping into the outdoor pursuits we have all been enjoying for so many years here. It's like the shutdown and virus has opened some eyes to what we've known all along here in Aspen."
SkiCo has implemented new practices and protocols to align with current health regulations and restrictions. For example, unrelated parties won't be forced to ride together in the gondola.
"We will not ask or make anyone ride with someone they are not already connected to," Hanle said. So far, he said, guests have been "cooperative" about adapting their behaviors to the new operations and adhering to masks and social distancing.
The owner of a popular downtown Aspen restaurant, Jimmy Yeager, concurred. To date during the pandemic, "The general public has exceeded our expectations in their behavior," Yeager said. "Everyone is coming to the door mask-ready."
The staff at Jimmy's aren't treating the Fourth of July any differently from other days, though Yeager allowed that "the expectation is there will be more people than we have tables available."
A concern is that while people wait outside to be seated, they maintain social distancing: "We'll have to manage that," he said.
Restaurants in Pitkin County are only able to operate at 50% capacity and for Jimmy's that means only about 75 customers may be seated within the spacious dining room and the two outdoor patios. Small tables in the bar may be used by diners, but no seating is allowed at the bar proper.
Yeager said the vast majority of his sit-down business, about 80%, has come through reservations rather than walkups. Like many local eateries, Jimmy's has expanded its services to include takeout and delivery.
Treating it the same
In a normal, pre-COVID-19 world, the Aspen Police Department would "pretty much double our staffing from the average summer day for this weekend," said Assistant Police Chief Bill Linn.
Linn didn't expect the canceled parade or fireworks shows to have much of an impact on how police approached Saturday's holiday.
"Although there's not a special event attached to this weekend, we still treat it the same way because of the quantity of people on that day. We do know the hotels are allowed to be at full capacity and they are booked," he said.
The men and women in blue won't be stopping people for pandemic infractions such as failure to wear a mask or not maintaining adequate distancing. Those tasks will be left to what Linn called "consumer health specialists" who will be taking on an "ambassadorial kind of role" in their personal contacts.
"We expect it will be busy," he said. "Without a lot of distractions, we're unsure what they're going to do. We'll be responding to whatever is thrown at us."
In a year of altered traditions, one event that remains is the 6 a.m. cannon blast from thereabouts of the Smuggler Mine.
"Yes, it will be fired," said a person long involved in the renegade and totally Aspen tradition, who asked not to be identified for this article.