After being unexpectedly presented with a petition from teachers and support staff minutes before what became a contentious four-plus hour school board meeting Monday evening, Aspen School District Superintendent David Baugh is focusing on seeking solutions.
"My goal is to de-escalate, not escalate," Baugh said Tuesday, adding that the administration and Aspen Education Association leaders and stakeholders are meeting this afternoon to address the concerns raised in the petition.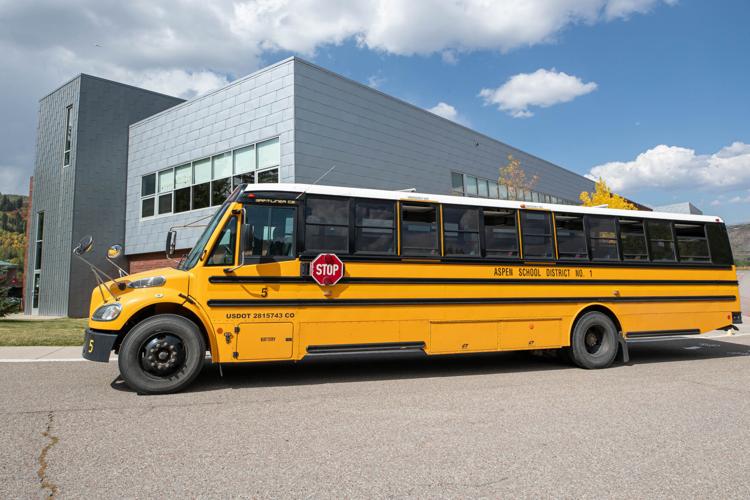 That petition included more than 160 signatories, including teachers from every school in the district — with the exception of Aspen Community School — as well as a number of staff from the transportation department and "concerned community members." 
Still, Baugh said the presentation caught administration off-guard, though teachers have used previous school board meetings to express their trepidation about returning to in-person learning.
"It just totally caught us by surprise — kind of a left-field thing, since we've been in countless conversations with AEA leadership, numerous teachers," he said. "We tried to get any teacher anything they requested. If it'll help them feel better, we want them to have it."
AEA Secretary Marnie White, who addressed board of education members on behalf of the petition signatories Monday evening, declined to comment for this story, saying that the entity that officially represents Aspen educators is instead giving the school board time to respond before going on the record with a statement. 
But if the comments written by some of the teachers who signed the petition are any indicator, there is disagreement with Baugh's assertion that the administration has accommodated their requests. 
"I want to say that the high school administration is incredible and supportive and I thank them for their hard work every day," wrote one teacher in signing the petition, which the Aspen Daily News obtained through an open records request Tuesday. "However, it feels as though the district as a whole is unwilling to be flexible in terms of what teachers need and are being pushed around by a small but vocal group who wants students in the buildings with no regards for safety."
One teacher expressed fear of having to return to in-person teaching even with a medical exception. 
"The district needs to have [a] clear understanding of the federal statutes that protect employees during COVID and beyond," that teacher wrote in describing the personal reasons behind signing the petition.
"The last thing I want to have to do is file a civil liberties suit, but that's what it will become if I am forced to return while on a medical accommodation," the comment continues. "I CAN teach from home. We ALL can if we need to."  
While legal action was not explicitly mentioned in the language of the petition itself, it did state that "if the response to this petition is not deemed adequate by membership, then we will be compelled to consider further action."
That could mean swaths of teachers leaving their careers. During Monday's school board meeting, White said that "45% of staff" is considering taking leave or resigning. One signatory self-identified as a teacher already on temporary leave.
"It seems huge to me," Baugh said Tuesday. "We've been told that people are thinking about quitting, but nobody's given us any numbers. Nobody's said, 'Steve, Mary, John and Susan are all thinking about giving it a day.' There haven't been any conversations around that."
There has, however, been broader examinations of the temptation to switch careers from the industry, he acknowledged, citing an August article in Education Week.
According to research in that piece, a National Association of Secondary School Principals survey showed that 45% of school leaders said that the conditions spawned by the coronavirus pandemic are forcing them to move up plans to leave the profession.
"I know across the nation that 25% to 35% of all teachers and administrators are thinking about changing their line of work," Baugh said. "It's a lot harder [in a pandemic]."
And the reasons for people considering other work are deeply personal in the midst of COVID-19, he continued.
"It's not an age thing — some of our younger teachers are concerned because their parents are medically compromised. We get it — my mom's 83, and I was extremely careful when I went to visit her. You have to be," he said. "Some of our greatest teachers are well north of 60, and they're awesome teachers, and they're showing no signs of not coming in or retiring. They're continuing to teach and teach well."
Should a large number of educators in fact leave their posts in the classroom, the consequences would be sad and dire, he said.
"If we lost 40, 45% of our staff, we'd have to go to remote. Which is — you want to talk about beyond irony — you've got a bunch of staff that want to teach remote, so then you go to open because it's the right thing to do, they quit, and it forces us to go remote, but we'd have to go remote with different people," he said. "It would certainly be a sad, sad day for our district if we had to do that."
Regardless, Baugh remains optimistic.
"My goal is to get students back in the classrooms with the teachers they love and respect. That's my goal, and I've been using science all along the way to get it done," he said. 
To that end, Baugh on Tuesday was eagerly anticipating today's meeting with AEA leadership to go over in more detail the demands outlined in the petition — which ranged from guarantees for six feet of consistent social distancing to assurances that all schools in the district will remain in a hybrid model until a written plan developed alongside AEA exists.
"We're asking for clarity around a lot of their demands," he said, adding that the district's plans for reopening — hopefully by a target date of Nov. 30, but that will depend entirely on the public health status of the area — follow the best-practices guidelines that exist. 
"It's based on the [Centers for Disease Control and Prevention], [Colorado Department of Public Health and Environment], [Colorado Department of Education] and consultation with Pitkin County Health," Baugh said. "There's nothing wildly cutting edge about it, except for our aggressive air quality work."
He was referencing the district's "bipolar ionization project," a roughly $300,000 upgrade to school facilities' HVAC systems, which Baugh said should be completed by Thursday.
"The cool thing about it is it's an active measure. When you filter air, that's passive — you're pulling air that people have already breathed. What we're doing is we're changing the air that people are breathing, roughly, through an electric charge," he said. "The ions bond with the COVID molecules and kill the COVID right there on the spot. Before you can breathe it, we've killed it."
And in addition to being a more cost-effective solution than he'd initially anticipated, the HVAC upgrades will be beneficial to more than just COVID-19 prevention.
"It kills influenza, too. Our clean air will settle on the dust and kill COVID and influenza and stuff like that. It's a pretty neat solution to an age-old problem in school," he said.