On Oct. 26, Aspenite Nikki Durrett went to a '90s cover band at the Belly Up with a group of friends. After dancing the night away, she walked the few blocks back home. Early season snow blanketed the Aspen pedestrian mall, and on one icy stretch at the corner of Hyman and Mill, she slipped and fell to the ground. Durrett may have passed out for a moment, and came-to with a pre-Halloween costumed reveler looking over her.
"I just remember awaking to this girl in a red catsuit and she asked if I was OK and I looked at my arm and I said well shoot, my elbow is not usually in that spot," Durrett recalled.
Durrett put herself in a cab to the hospital, where she thought she would be told that she had a sprain. Instead, she was released six days, 18 screws, three plates and one cadaver elbow later.
"It was a lot, just after a night out with friends," she said.
Durrett is about halfway done with physical therapy. She has learned to put contacts in with her left hand, but girlfriends still come over to help her blow dry her hair and get it into a ponytail. And they have all changed their approach to walking about Aspen.
"I am petrified," Durrett said. "It's changed everyone. All my friends are now really on the watch."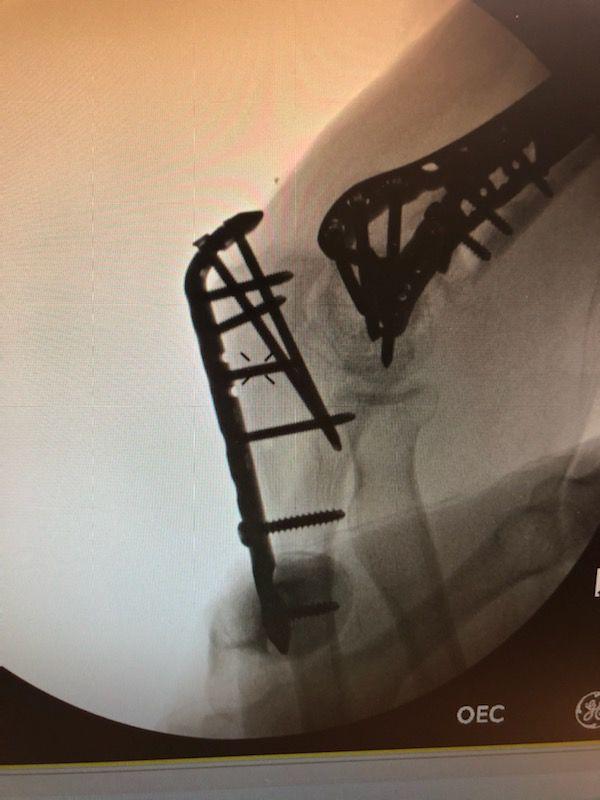 She now has a mental map of the worst icy areas in town. Behind the Hotel Jerome is awful. Beware the area near the parking garage. And of course, the pedestrian mall. When her arm was in a brace she heard repeatedly from strangers who told her tales of times they, too, took a trip to the emergency room after a slip and fall on Aspen's snowy streets.
Watch out for that first step
Gabe Muething is the director of the Aspen Ambulance District. He said the majority of falls that land someone in an ambulance can be attributed to poor footwear and poor footing.
"Fashion never trumps injury, for sure," Muething said.
The nature of a mountain resort, combined with Aspen's historic cobblestone walkways downtown and uneven curbs, mean a lot of turned ankles. Stairwells are also a stiletto trap. Many of Aspen's staircases use a perforated metal grating so that snow and ice do not build up, but those holes can easily trap a heel.
"I think if you look at most of the locals, you don't see as many high heels as you do with the tourists. I think we've all learned our lesson around here," he said.
Muething said that slip and falls for the most part result in bruises, or bruised egos, and don't result in a call to his team. The injuries that do come his way, though, run the gamut, from tweaked wrists when people try to catch themselves on the fall to soft tissue injuries.
"In our older population, we see more fractures. But in our younger population it does just as much damage," Muething said. "If you fall in the wrong way it's the same as skiing. You can tear tendons, you can tear muscle."
The Aspen Ambulance District does not have local injury statistics on slip and falls, because they do not separate accidents due to ice from other types of falls throughout the year. Data from the national group Snow and Ice Management Association, however, estimates 2.25 million people are hospitalized every year due to snow and ice accidents. That same report identifies parking lots as the most hazardous space for falls, followed by stairs and sidewalks.
Sidewalks and trails
In Aspen, private property owners are responsible for clearing the portion of sidewalk that abuts their property. City ordinance stipulates that a path at least five feet wide be shoveled to remove snow, sleet or freezing rain from walkways. But the snow removal does not have to occur until three hours after daylight of the day following the end of a storm. Violations are typically monitored by complaint only and a small fine can be assessed.
City staff, through the parks and recreation department, are responsible for clearing public sidewalks and trails, such as those on the perimeter of Rio Grande Park, or the Aspen Business Center trail that runs from the airport into town.
Matt Kuhn, the business services director for the parks department, said that, apart from perhaps the first few snowfalls of a season, most people are clear about their roles.
"In general, this town has a pretty good understanding of what is the property owner's responsibility and what is not," Kuhn said.
Kuhn has a team of 18 people clearing about 50 miles of trails and checking the system's 230 trash cans, seven days a week. They show up at 6 a.m. every day and have their hands full, snow or shine.
"Their job, whether it's snowing or not, is to make sure that these public amenities ... are safe for pedestrians and the public in general," Kuhn said.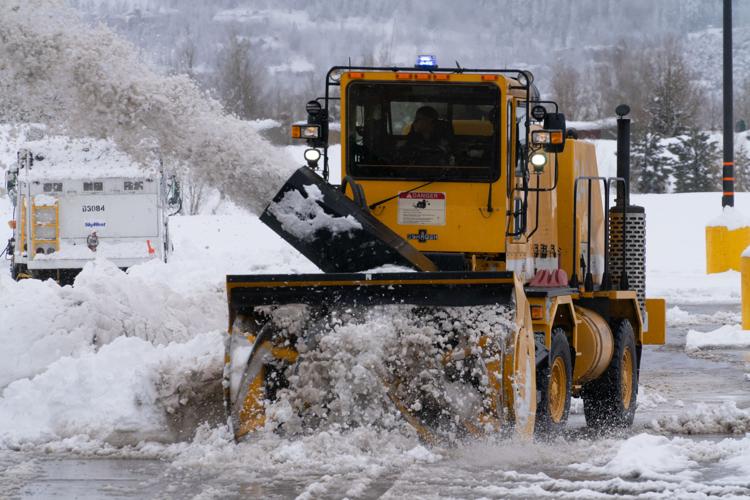 The parks department has a fleet of equipment, specific to the type of terrain and type of snowfall any given storm cycle may require. Different attachments for the machines can cost more than $200,000. During a strong, multiday cycle, the team does their best to clear snow off pedestrian and bicycle commuter routes, and the alleyways and walking malls downtown. It's not until the heavy snowfall subsides that they can then concentrate on removing the buildup of snow that they have pushed aside.
"Oftentimes we need to move piles that we've made and get ready for the next snowstorm," Kuhn said.
Before each season, a team sits down around a big map of the town and puts together a strategy to be as efficient as possible with the resources they have. As the locations of municipal offices change, such as the addition of the Aspen police building or the relocation of the engineering department to Mill Street, the team has to reorganize their routes. In the years to come, the new city hall and Aspen commons space will require staff attention, as will the public amenity space around the base of Lift 1A.
Time changes the natural landscape as well. Kuhn now has three staff members concentrated on the pedestrian walking mall everyday, a notoriously dark and unsteady path.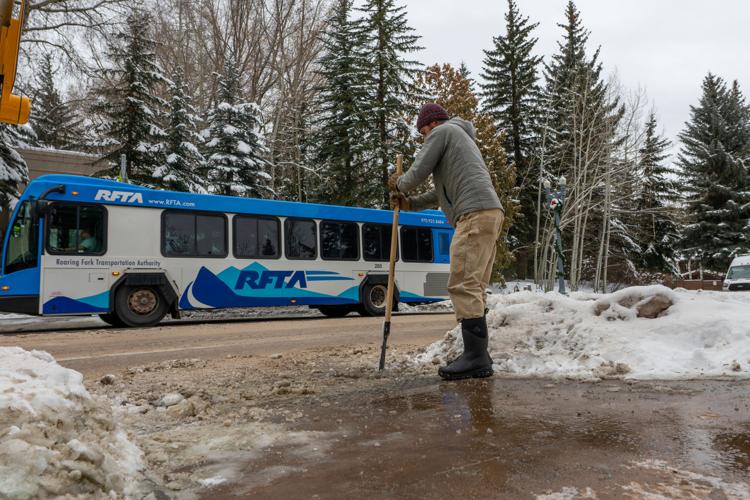 "One of the big challenges we have on the mall is, when that first was built the trees were 12 feet and now they are 40 feet, and it's fully shaded in the winter. We have to deal with a lot of ice on the mall," Kuhn said.
Outside of the walking malls, the downtown core is maintained by individual property owners, who each are responsible for the section in front of their storefronts. But as a path traverses an alleyway, that's back on the city to monitor. It becomes an inconsistent patchwork of quality.
"It's a really interesting mix of people who do snow removal and who is responsible," Kuhn said. "In an ideal world everything gets done to the same standard and we are maintaining a uniform surface. Obviously there is some variability out there."
As the season continues and daytime ­temperatures rise, ice becomes a primary hazard as the surplus of runoff refreezes each night. To mitigate, the team lays down ice melt for a few hours and then returns to remove the slush from the paths, ideally scooping up all the salt at that time as well. Kuhn said the philosophy of the department is to use the substance as little as possible, while still prioritizing safety.
"We do not use it as a traction tool. It's a tool that we use to remove hard, compacted snow and ice that we think is a hazard for pedestrians," Kuhn said.
The parks department uses gravel to help with traction, particularly on the steep trails under the Castle Creek Bridge and leading from the Red Brick building to the post office.
Would you like salt with that?
Clearing snow and ice off of Aspen's roads is an entirely different operation. Aspen's streets department, led by Jerry Nye, has someone working every hour of every day. When storms roll through, there can be as many as 18 trucks, making 13 trips a night from Aspen to the snow dump outside of town. From October to April, the crew is not allowed vacation days.
"That's part of the job — you don't leave. If there is snow removal you have to be here," Nye said. "On a bad storm, we can go three or four days straight, working 12 to 13 hours. They commute home and are back here at 11 o'clock. Until this town is cleaned up they are committed to that storm."
The team removes snowfall of three inches or more from bus routes and the downtown core. In residential areas, they move snow over to piles on the side and remove it when there is a chance between storms. Nye said they work hard not to plow anybody in and there is a program for senior citizens to list their address to make sure the snow piles don't block their driveways and mailboxes.
In 2000, Aspen City Council passed an ordinance banning de-icers from being used on city streets. Instead, the streets department uses three-eighths-of-an-inch gravel to help provide traction. Nye says the team uses about 500 tons of sand a year, about three times more product than when they used salt to melt the ice.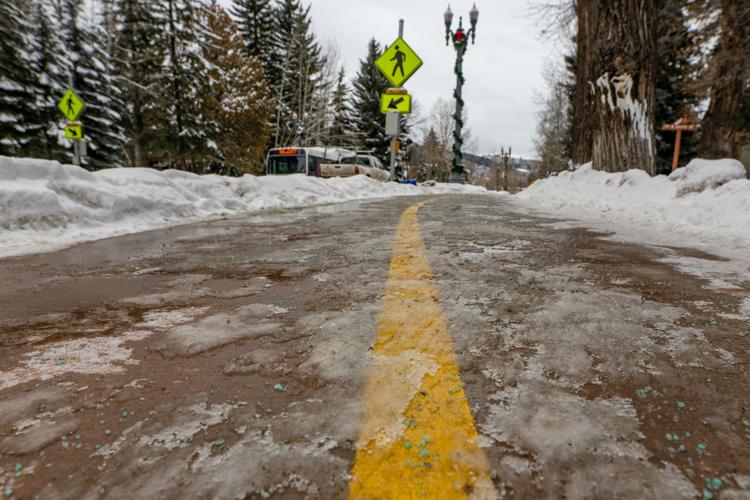 "I don't think everybody really weighed it out, the impact of how much rock would be used. It's time that we maybe look at that again, saying 'OK this is a lot of rock,'" Nye said.
Aspen Mayor Torre agrees. Along with a push for more diligence this winter, he said he is beginning to reopen the conversation about best practices when it comes to keeping streets safe in the winter.
"Are there new, greener de-icing solutions that we can be reengaging that solution with? We gave up on mag chloride in town and I don't see a big push to return to that but what other measures are out there and how could we get better at doing what we are doing?"
Aspen's parking director Mitch Osur is helping to lead that conversation. After a public-private push this fall to clean the alleyways of the downtown core, he said the streets department has been able to better plow through those areas. But actually melting snow creates problems for the city's ecosystem.
"All of our drains go directly to the rivers so management is tough," Osur said. "We can't treat the sidewalks with anything that would melt it, so we put ourselves in kind of an awkward position."
Neighbors helping neighbors
Citizens can always call the police department's community resource officers or use the Q Aspen app to pinpoint dangerous areas. Torre said in all, keeping walkways safe is an effort that requires neighbors to get in on the work, along with city staff.
"Back in the day people just attacked the snow together, neighbors helped neighbors. You used to always see jeeps and cars driving around with a brook and that's all about clearing cars and clearing ice and snow," Torre said. "As a community we need to rededicate ourselves to all pitch in."
After her icy walk home led to a separated humerus bone this fall, Nikki Durrett now walks around town with Yaktrax traction devices connected to the bottom of her shoes.
"It's definitely safety over sexy now," she laughs about her attire.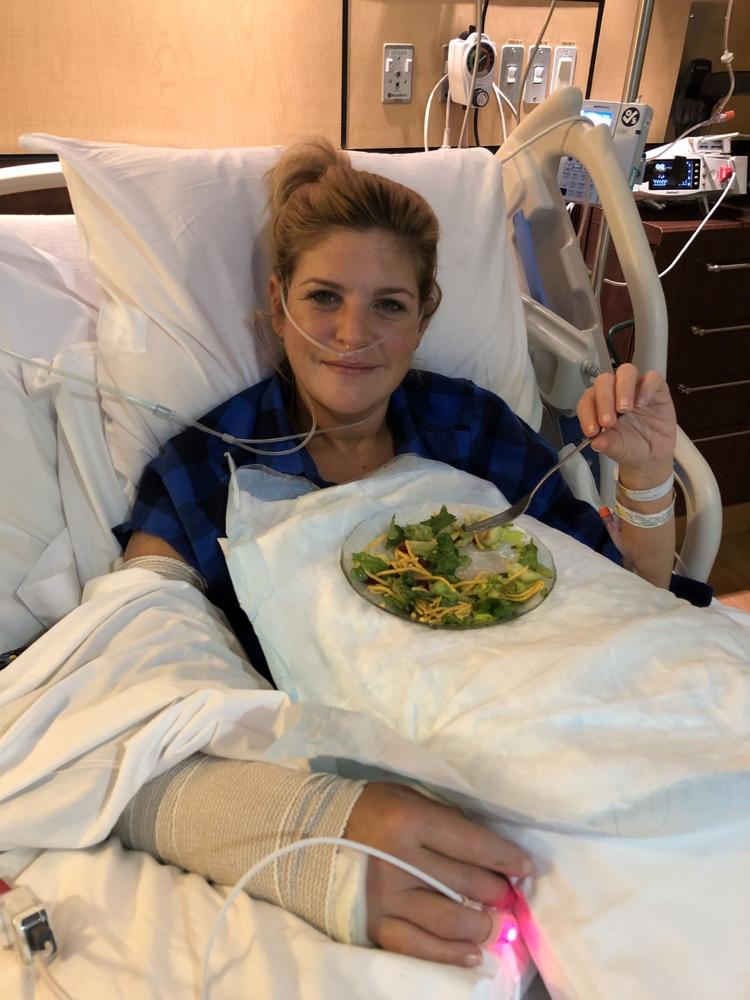 She understands the ongoing efforts by multiple city departments to clear Aspen as best they can.
"I know they can't do it all. I understand that it's ice and we live in a mountain town. And you don't want the chemicals sprayed everywhere. And the kitty litter gets all over my house, so I don't want that everywhere. I'm not really sure what else they could do," Durrett said. "If it was up to me all walkways would be heated."