Last year, Aspen Mountain's NASTAR course hosted more racers than any other ski area in the program's 102 resorts in the U.S. and Thredbo, Australia.
While the giant slalom racecourse on Silver Dip is popular with guests and kids, local skiers have been known to jump into the gates to tune their technical skills, fire up the competitive juices or just use it as a diversion. It's also a popular ski school teaching tool.
When the 39th season of the Aspen Town Race Series begins Jan. 18 on the North American run above Bonnie's Restaurant, it aspires to generate the kind of interest and participation that the Aspen Mountain NASTAR course draws. In 2019, that venue had more than 13,500 starts, according to NASTAR director Bill Madsen.
Meanwhile, for the second consecutive season, there's a new element to what is touted as the country's longest-running town race series. Last year, it was the addition of a Sunday Snowmass series. This year there's a free race clinic on Jan. 11, one week before the first event in the Aspen series.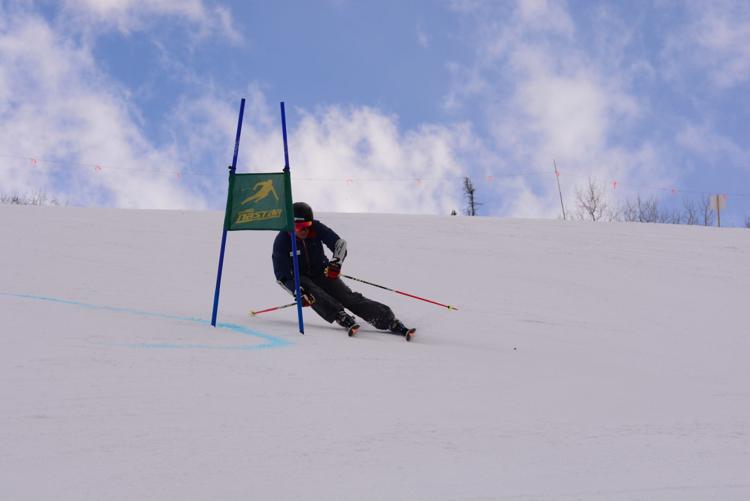 The series moves back and forth between Aspen Mountain and Highlands with two races in January (Jan. 18 and 25), two in February (Feb. 15 and 22) and two in March (March 7 and 14). The series finishes with the Hansi Brenninger Memorial top to bottom race on Golden Horn and Thunderbowl, at Highlands, on March 14.
For those enamored with the thrill of speed, there are additional events — the BOOTech super combined on Feb. 9 and a quartet of Masters Series races (two downhills and two super-G's).
At Snowmass, the Sunday races will run the same week as the Aspen races and will be only giant slaloms.
According to Aspen Skiing Co. race director Scott Nichols, "It's never too late for somebody to come out and work on their efficiency of skiing."
Nichols said the Jan. 11 clinic, which is complimentary, will offer coaching from PSIA demo team member Jonathan Ballou, and pros Chip Chilson, Scott Strickland and Austin Nevins, the latter who most recently worked with Aspen Valley Ski and Snowboard Club.
The Jan. 11 clinic runs from 11 a.m. — 2:30 p.m. on North American with sign up from 9:15 -10:15 a.m. at Bonnie's Restaurant. It will be followed at 3 p.m. with a sign-up party for the Town Race Series at Bonnie's that features pizza, soda and beer.
For people who want additional practice, on the Tuesday and Thursday prior to each week's races will be training on the mountain and in whatever discipline is featured on that Saturday. There is an extra fee for training.
Snowmass Sunday races more casual
In trying to grow participation, the Aspen Town Race Series has a myriad of different race categories, including a family category.
This year the Saturday series will see a new 30-plus and a 20-plus division, which supplants the men's B division. At the top end of the age scale is men's 70-plus.
The creme de la creme is Men's A, which has been the domain of former NCAA skiers and even the occasional World Cup skier or two.
Scott Nichols points with pride that Marc Girardelli, five-time World Cup overall champion, raced in the league some years back. Jake Zamansky, former U.S. Ski Team member and Olympian, also competes in the Aspen Town Race Series as does his dad, David. Nichols said he'd like to get some members of the Freaks ski gang to race as a way of showing camaraderie for the late Sam Coffey, who often brought pizzazz to the racecourses.
There are also categories in the Aspen Town Race Series for young adults, kids, disabled and women.
The Snowmass series, by contrast, is less regimented and offers an easier point of entry. It was well received in its first season, drawing "regulars" from the Aspen series as well as some new racers. Après parties are held at the Limelight Snowmass.
"I think Snowmass complements the Aspen races as well as we have a more laid back approach," according to Jason Roy, guest services supervisor for SkiCo who runs the Snowmass series.
"At this point, we allow racers to do as many runs as they want in the timeframe, taking their best two times as official results. We don't have a start list or start order so racers can show up and go when they are ready, a very relaxed starting area. Our race course is also less intimidating, however still challenging," he said of the Spider Sabich Race Arena, located near the Coney Glade lift.
Participation in the Snowmass Sunday series grew steadily last season. An array of raffle prizes different from what were offered at the Aspen post-event parties — including a night at the Limelight Snowmass, Helly Hansen apparel and ski gear — didn't hurt interest either.
"We also get a good turnout from the ski school as in the past this was a ski instructor race," Roy said. "Running with Aspen helped grow numbers and give us a better platform to grow and highlight Snowmass as a race venue."
Roy thinks that Snowmass' hosting of the 2020 Liberty Mutual Insurance NASTAR National Championships, March 24-28, will increase interest.
"It is a great opportunity for racers to train at the venue," he said.
Following the NASTAR championships, the Snowmass venue hosts the first event in the 2020 U.S. Alpine Tech National Championships, a parallel slalom on March 28.
The nation's top amateurs then move to Aspen Highlands for men's and women's slaloms on Thunderbowl (the same racecourse used earlier in the month for the Aspen Town Race Series) on March 29, the women's giant slalom on March 30 and then the U.S. Championships men's giant slalom on March 31.
Entry fees for the Aspen Town Race Series are $35 per race for adults and $10 for juniors or $175 for the six-race series for adults and $60 for juniors. Team entry fees for the whole season are $850 per team of six and $125 for each additional team racer. Registration is either at the Highlands Taqueria or Bonnie's.
For the Snowmass Town Race Series, the pricing is $20 for one race, $45 for both weekends' races, $250 for a series of six weekends and an additional $200 for teams that race in both series. The Snowmass schedule is January 19 and 26, Feb. 16 and 23 and March 8 and 15. Registration is at the top of the course.
For more on the Aspen series, call 970-544-3005. For Snowmass the number is 970-923-0460.