Deep winter snow has finally melted off Aspen's municipal golf course, allowing a $700,000 sand-bunker project to swing into high gear.
Steve Aitken, director of golf at Aspen Golf Club, said the course had knee- and waist-level snow a little over two weeks ago. Some of that snow was removed manually by the city to accommodate Marengo, Illinois-based Golf Creations, the company that has a contract to relocate or rebuild the course's 34 sand traps as well as expand tee boxes on holes 8 and 14.
"We lost a lot of snow in a hurry, which is great," Aitken said Monday. "The project is right on schedule. We haven't missed a beat."
Aitken and his staff are hoping to have at least nine holes open for play by May 10. For that to happen, the bunker project will need to be finished on holes 1 through 6, and 15 through 18. That would make 10 holes available for early season golfers, which primarily consist of local passholders. Opening the first half of the front nine and the last half of the back nine will allow players to loop back to the clubhouse.
The driving range will be open for business Friday, Aitken said. While May 10 is the goal to open the golfing facility for nine-hole play — or 10, depending on whether a bonus hole is part of the early configuration — the target period for making all 18 holes available is early June, in time for the summer high season.
For now, discounts for non-passholders are not being planned for that first month, even though only half of the course will be playable. Aitken said that could change, but for now the current schedule for greens and cart fees will remain in place.
"Are we going to reduce the rates? I don't know. We'll have to see how they do," he said, referring to the construction pace. "We've never had a bunker renovation before."
In light of the early season project, the course's regular players were given a break with the decision not to increase passholder fees from last year's rates as long as the passes were purchased in March, Aitkin said.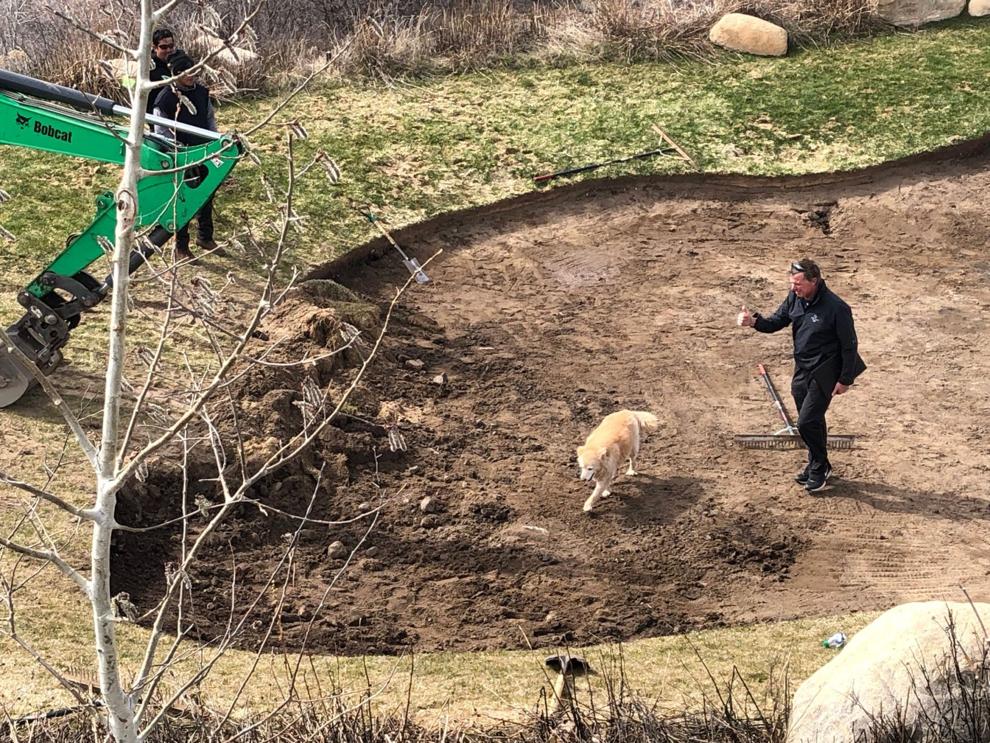 The project involves all 34 sand traps, including the practice bunker adjacent to the driving range. Fairway bunkers are being relocated farther along the fairways to reflect the fact that most players are hitting their drives longer than they were when the traps were originally built, thanks to technological advances in club design.
Green-side bunkers will remain in place, but are being rehabilitated under the "Better Billy Bunker" system, a new trend in golf-course design and construction. The new fairway bunkers also will be built using the same method.
According to Golf Creations website, golfcreations.com, the system involves laying down two inches of gravel across the entire bunker floor. "A spray polymer is applied; it seeps down amidst the gravel profile and hardens into a strong-but-flexible bond, holding the gravel together."
The layer "effectively holds sand on the steepest of bunker faces and manages to move water through it at a rate up to 350 inches an hour," Golf Creations says.
Aitken said the new traps will drain better and last longer; they also will be more aesthetically pleasing. A golfer's round should be a little easier as the design will bring shots that hit the bunker face back toward the middle, flatter portion of the trap.
"Balls will always roll back from the top face to the flat of the bunker," he said. "This will allow more consistency of play."
Aspen Golf Club's season generally runs from May to October. The course averages about 28,000 rounds over six months, a figure that has remained consistent in recent years, Aitken said.
"Our golf course is a community gem," said Aitken, who has served as director of the recreational facility for 26 years. He turned 55 last week.
"People really enjoy our course," he said. "We just like to keep improving it. I think this is really going to make our golf course current with today's standards and technology in the game."
Another springtime project at the course is being handled by the city's parks and recreation department. The work concerns the creation of a new water feature on hole 7, a par 5. The new feature was planned for reasons involving safety, playability and aesthetics, Aitken added.