The weather forecasters at aspenweather.net are predicting a slowish start to the 2019-20 ski season because of warm and dry conditions through most of the fall. Overall, the season's snowfall totals should be about average, they say.
The founders of the local forecasting service, Cory Gates and Ryan Boudreau, held their annual Winter Outlook gathering at Mi Chola restaurant on Thursday evening. Boudreau spoke with the Aspen Daily News earlier in the day about Gates' predictions. Gates delivers a technical presentation, while Boudreau tends to explain the forecast from a layman's perspective.
Boudreau stressed that whatever happens in terms of the abundance — or the lack thereof — of powdery white stuff, the important thing for locals and visitors to remember is to get out on the slopes and have fun.
"No matter if it snows here or not, it's always better than an East Coast day," he said. "Go out, enjoy yourself, and just send it."
Unlike ski resorts, aspenweather.net measures snowfall during the seven snowiest months, from Oct. 1 through early May. The forecast calls for 285 to 321 inches of snow at Aspen Mountain, 310 to 346 inches at Snowmass and 305 inches to 341 inches at Highlands, excluding the bowl, which gets much more snow than the ski area. Buttermilk was not included in the report.
Those figures fall in line with what's considered the norm at the three ski areas over the seven-month period, which is 285 to 320 inches.
"I think there will be a later winter and an average snow," Gates said at Mi Chola. In the PowerPoint presentation, he said his gut tells him that if the forecast goes awry, Aspen-Snowmass will end up with better snowfall than he predicts.
"I wanted to go bonkers with the snowfall totals, but I leaned toward normal because of some of the other factors involved," he said.
On the positive side, Gates explained that a pattern known as the "solar minimum" came into play last year. It's basically a period with low solar activity, long stretches of days without sunspots or flares.
The presentation notes that the last solar minimum lasted five years, from 2007 to 2011. Globally, snowfall was enhanced during those years. In Aspen-Snowmass, the 2007-08 ski season was one of the greatest in local history. The current solar minimum is expected to last until 2025, and perhaps until 2030, Gates said.
"I think almost the whole country is going to have a snowy winter, it's just going to be a slower start," he said. "The low solar points to the heart of the winter, December to February, not the early part of it."
"Remember back in 2007, we were bone dry until the very end of November, and then the snow came and just crushed it," Boudreau said.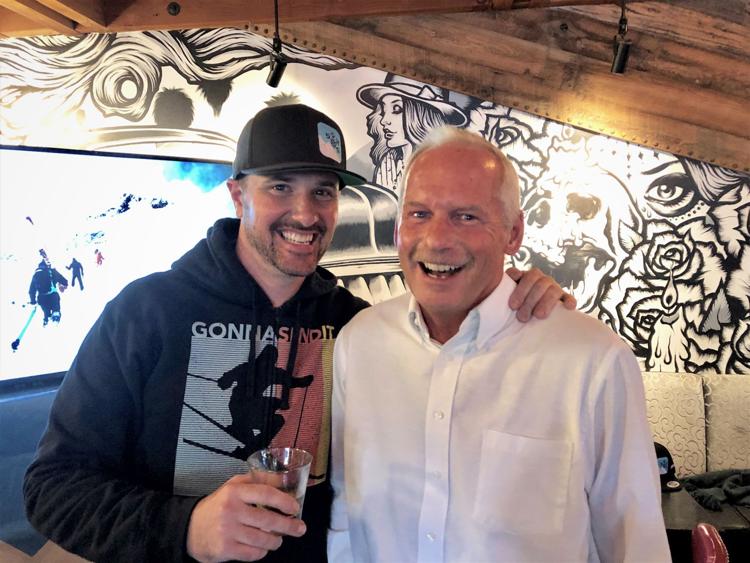 Aside from the solar minimum, other factors influence local snowfall, including Pacific Ocean temperatures and jet stream movement. Last year, Gates and other forecasters called for a winter influenced by a weak El Niño weather pattern. El Niño is a climate cycle that begins when warm water in the western tropical Pacific Ocean shifts eastward along the equator toward South America. In the past, strong El Niño patterns have resulted in exceptional snowfall locally, such as in 1997 and 2015.
Gates' forecast for the upcoming winter calls for a neutral cycle, or perhaps an extremely weak El Niño. It should be noted that a weak El Niño was the pattern last winter and snowfall was considered well above average. 
"The forecast says neutral, or La Nada," Gates said in the presentation. "It would be better for us if we were a bit cooler than this projection. More than likely, we are on the warm side of normal (a very weak El Nino?)."
Another technical aspect of the presentation involved "analog years," when patterns involving sea-surface temperatures and atmospheric conditions are similar to what they were in a previous year. Gates said this year's conditions are similar to the 2013-14 and 2014-15 winter seasons, which were considered good snow years, marred only by a big lull in January 2015.
Gates said there could be a dry spell of two or three weeks, most likely in late January or February. He predicted it last year, but it never came about.
"You have to expect a little dry period, and hopefully we don't get a long one. Two weeks is fine," Boudreau added.
Lastly, Gates said the snowmaking conditions won't be as great as in fall 2018, when abundant natural snowfall in October and November aided man-made efforts. November temperatures should be low enough at night to assist snowmaking, but there will be some nights that are too warm for solid production.
Coupled with the lack of natural snowfall in October and early November, that's why Boudreau said there's a slight chance that the traditional late November start to the local ski season may not happen. Last year, Colorado's ski areas were able to open early.
"The snow's not coming early like last year, but it's not going to be terribly late either," Boudreau said.