By about 10:15 Saturday night, more than 75 relieved-looking people socialized at Scarlett's bar area, and another 50 or so spilled out onto the second-story patio.
Nearly nobody was wearing a mask. And while the bartender behind the outdoor bar did pull up the bandana around his neck before serving a hopefully unironic Corona directly ordered from said bar, it was one of otherwise seemingly sporadic moments of use. 
When a couple, around 10:45 p.m., left their outdoor corner table, an empty rocks glass and beer bottle remained. A little more than 10 minutes later, a staff member did come by — sans mask — to clear the glassware, but the table was never wiped or otherwise sanitized.
It was the first weekend restaurants were allowed open under the latest public health order, which became effective May 27. Under the affiliated guidelines aimed directly at restaurant owners, as outlined on Pitkin County's website, "establishments that are not allowed to open are bars whose food service is limited to light snacks (like bar nuts) or things that are commercially prepared somewhere else."
But Andrew Sandler, proprietor of Bootsy Bellows downstairs and who also oversees the Scarlett's upstairs space when it's not being used by Over Easy Aspen during breakfast and brunch hours, maintains that his operation over the weekend was completely above board. He even reached out to the Aspen Police Department to ensure open communication about his plans, he said. And while it was the Scarlett's space upstairs actually being utilized Saturday, social media promotions boasted the Bootsy Bellows logo. That downstairs nightclub has yet to open, but Sandler said he plans to invite the public back on Tuesday.
"It is a restaurant license that covers the entire building," Sandler said, distinguishing the difference between a restaurant and tavern business license. "All the tables are washed down; everyone's got a mask on."
When asked about firsthand experience Saturday that would suggest otherwise, however, he acknowledged that, when what he described as logistical challenges arise in understanding patrons in an otherwise night-time bar scene, he's more lax about enforcement.
"You're absolutely right: I'm not going to come down on my employees or come down on myself to remove my mask to have words," he said.
When asked about the discrepancy between operating under a restaurant license and functionally as a dine-in, table-served restaurant, Sandler assured he was technically staying compliant under that aspect of the health order, too.
"Just remember, looks can be deceiving. Just because the lights aren't on, that doesn't mean there isn't [kitchen staff]," he said, adding that he keeps a chef on payroll until 2 a.m., just in case a patron chooses to order food, despite no visible menus on the bars or tables.
"If anyone is looking to get something to eat at night, we're happy to serve them," he continued. "But there has been no one that has asked for any type of food, even though I have my chef sitting there, going back home to Silt at 2 a.m."
Aspen Police Assistant Chief Bill Linn confirmed that he and Sandler had two exchanges — one before Saturday's operations and one afterward — that gave him reason to believe Scarlett's weekend opening would be within the public health constraints, even if the execution likely wasn't exactly what Pitkin County Board of Health members and Aspen Valley Hospital consulting physicians had in mind when recommending this phase of the economic reopening.
"It's my understanding that everything that was open was open as a restaurant. So Scarlett's, it is licensed as a restaurant," he said, adding that Scarlett's is not the only establishment that may not seem to operate as a standard eatery to the average onlooker. 
"Is it explicitly what we were thinking — what I was thinking of — when I heard they were opening restaurants? No, it's not really that," Linn said. "It also appears, at least generally, [everything] seems to comply with the strict reading of the order."
Linn noted that a group of on-the-streets police officers made rounds to open businesses Saturday night to "take notes" and "make observations." And by those accounts, the scene at Scarlett's seemed controlled and within guidelines, he said.
"When I heard that Andrew had opened up, I did reach out to him just to ask him what was going on and how he was running things — just asked him exactly what he was up to," Linn recounted. "And when he explained it, I said, 'OK, good. Just make sure you're sticking with the social distancing and all that stuff.'"
"That stuff" references the public health order, which describes acceptable indoor capacity as "limited by physical distancing, maintaining a minimum of six feet between groups (additional spacing may be needed between tables) or 50% of your posted occupancy limit, whichever is more restrictive."
While it's fair to say that the Scarlett's indoor space was contained within 50% of its capacity, it was impossible to discern specific groups clustered around the bars. 
Linn emphasized that any Saturday, before or after the COVID-19 public health orders, can be aptly described as "fluid," and that one snapshot from his reporting officers may not have been reflective of later in the night.
"If I'm driving a marked police car, people's driving is remarkably polite," he mused. "In an unmarked car, it's a radically different situation. I can totally accept that that might have gone on as well. That is kind of the cards we're dealt with, walking in uniform."
Pitkin County Public Health Director Karen Koenemann on Saturday said that she agrees with the police department's current approach being more educational than punitive. Still, hearing stories of large gatherings in public spaces is cause for concern.
"You may think that is your privilege, but you're putting those employees at risk that don't have that choice," she said. "That's my biggest frustration."
Sandler maintains that he hasn't heard any concerns from either staff or patrons about health.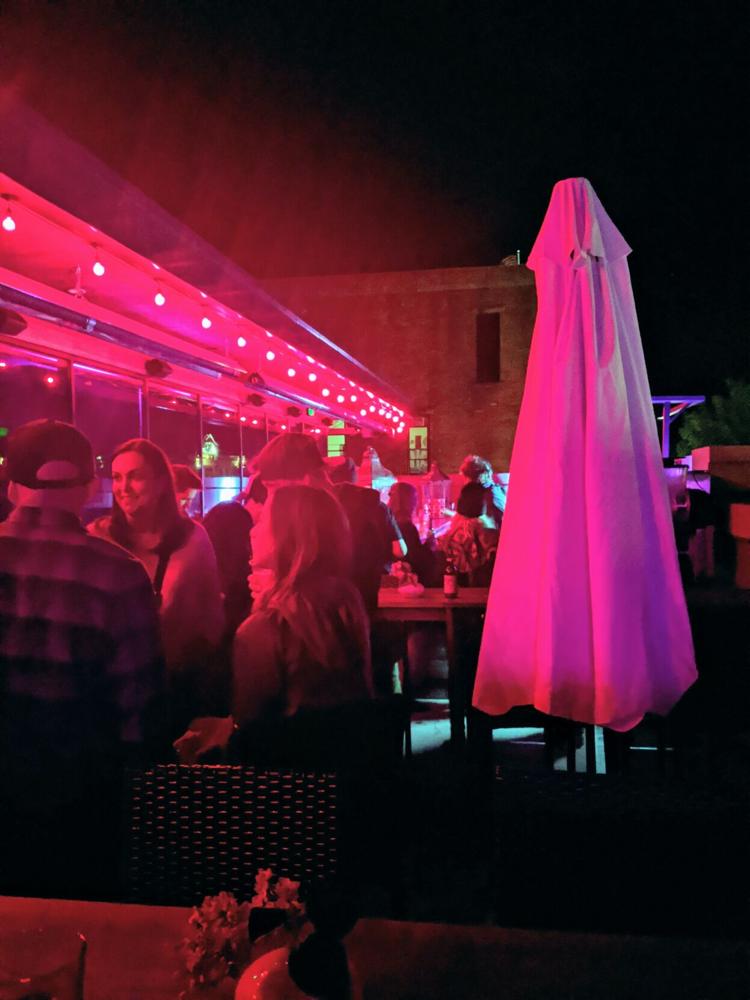 Differing philosophies
Chris Lanter, operating partner at Home Team BBQ and proprietor and chef at Cache Cache, takes a different tack when reopening his eateries amidst the pandemic. 
"Pitkin County made this decision based on the Board of Health and Aspen Valley Hospital. This decision for allowing us to open at limited capacity is heavily influenced by doctors who are studying real data. We are going to respect that and follow the rules and the law that's set before us," he said. "It says 'require customers to wear cloth face coverings in order to enter the business and to keep their face coverings in place until they reach their table.' Look, I might agree 100% with all of Andrew's personal thoughts — it's irrelevant."
Instead, he's had recently rehired employees fill out surveys about their health and lifestyles and checks temperatures of his staff. And as his patrons — many of whom he considers family-level friends — adjust to "this new normal, for now," he routinely finds himself reminding people to wear masks when not immediately at their tables. Or, in one case, having to refuse a friend's wife a ninth chair at a table, since the public health order restricts parties to those of eight.
"Can't do it. I went up and said, 'Guys, I love you. I want to be honest with you, I want to communicate with you,'" he said, adding that the group understood completely. "People don't do it on purpose. This is so serious to me, and to Home Team BBQ — it's so serious that we want to do it the right way."
It's not just serious from a safety concern, though that's certainly the most pressing, Lanter continued. It's also an economic one.
"If you're in a situation where risking your business license is something you want to stand up for, hey, man. This is America. Go for it," he said. "But if we want to continue the restaurants to remain open with whatever restrictions are put before us and to move forward and have those restrictions stripped, we all have to follow those rules."
Aspen Mayor Torre, who sits on the county health board, was delicate in his comments on the situation but stressed the importance of community unity.
"I think that we have a lot of restaurants that are trying to do their best, and we have some other restaurants that are pushing the boundaries of the rules a little bit. I think we need clearer guidance and better cooperation from our community," he said. "My biggest fear is that if the proper protocols and five commitments of containment are not followed, we may be finding ourselves in a position of shutting down again, and I think that's a situation nobody wants to have happen. I'm really falling on my community to do everything they can in their power to follow the guidance and keep public safety as priority No. 1."
For Sandler's part, he said personal experience has taught him to take the novel coronavirus very seriously, despite light-hearted social media posts that may suggest the contrary. 
"My brother almost died — for about six weeks, he was here on an oxygen machine at the house," he said. Both he and his brother tested negative for COVID-19, but echoed local medical professionals when he noted that many tests claim false negative rates upwards of 40%. 
"Justin went to the hospital, they sent him home, and two hours later, he was on an oxygen machine," he continued, noting that the episode started mid-March. "He was sick until I drove him, on his oxygen machine, down to Arizona on May 7."
On Friday, Sandler posted to his Facebook account his intentions of reopening.
"We want you choking on your mask at Bootsy's! Might be Scarlett's. Could be both, could be neither. Who knows," he wrote. "Either way, we're partying, while obeying all necessary steps and protocols to not die. But if we're dying, let's die together, suffocating in our masks pouring whiskey all over each other, while 6 feet apart."
And on Tuesday, he announced that Bootsy Bellows — protected by his restaurant license, he said via phone interview Monday — would be open for Latin night.
"Bootsy Bellows stands with the Latin community tomorrow night, at Latin Night, with Latin shaded emoticons and Latin masks. If you've never seen the sweatiest dance party in town, come see it tomorrow."