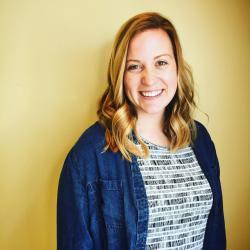 Basalt High School choir director Brittany von Stein was arrested Wednesday afternoon and charged with sexual assault on a child by a person in authority, following an investigation that involved multiple agencies in the Roaring Fork Valley. She was booked into Garfield County Jail and released Wednesday evening after posting bond.
The 9th Judicial District, which covers Pitkin, Garfield and Rio Blanco counties, is involved because the alleged criminal conduct is suspected to have occurred in Garfield County, according to Steve Mallory of the district attorney's office. Von Stein lives in Carbondale.
Mallory was unable to provide any additional details in the ongoing investigation, which has shaken the local community at the start of the 2019-20 school year. Basalt Police Chief Greg Knott, who referred inquiries to the DA's office, also could not comment.
As Basalt High School continues to "cooperate with law enforcement" on the ongoing investigation of von Stein's alleged relationship with a student, the school is suggesting that other students avail themselves of existing counseling resources.
"Though we are talking about allegations and not confirmed activities at this point, we recognize that our community, especially students, will be feeling a range of emotions," wrote BHS Principal Peter Mueller, in a letter to families. 
"Some of those feelings might include anger, disappointment, betrayal, sadness, and confusion. If your student is having difficulty processing their emotions, please contact the school and one of our counseling staff members will meet with your child. There is additional community support available through Mind Springs Health at 970-945-2583 or the Aspen Hope Center at 970-925-5858," his letter to students and parents continued.
The Hope Center already has a full-time clinician embedded in Basalt High School, according to clinical supervisor Andrea Pazdera. 
"That's a resource available from Tuesday through Friday every week," she said. "We also respond with crisis support for the whole school district," Pazdera added.
In Principal Mueller's letter he references "substantive allegations of a sexual relationship between a student and Basalt High School's music teacher and choir director" and noted that the staff member (von Stein) had been on leave since the district learned of the allegations.
Last week the Aspen Daily News — the sister paper to the Roaring Fork Weekly Journal — received an anonymous letter from a "very concerned parent" alleging the improprieties. The school and police also were alerted of the accusations.
While the school year started with substitute teachers filling von Stein's role, the school will proceed to hire a permanent replacement, according to Mueller, who thanked students and families for their "patience as we work towards resolution."
A 2015 graduate of Ohio State University who holds a bachelor's degree in music education, von Stein has been credited with growing the choir program at both the middle and high schools. She was also well immersed in programs outside the school, including the Maroon Bel Canto Children's Choir with the Aspen Music Festival. The Colorado Music Educators Association bestowed upon her its annual Outstanding Young Music Educator Award in 2018.
Too close to home
The incident has been the talk of Basalt since the accusations broke late last week. Owing to the sensitivity of the subject, finding someone to speak on the record has been a challenge.
 Yet there was no shortage of opinions flying about the Sunday Market on Sept. 1. One woman commented, "She's so young and accomplished. I would hate to think she would jeopardize her already successful career for a student. My understanding is she's very well-loved at the school and it would be a sad loss for the school if results of the investigation caused her to resign."
"I don't know why it's anyone's business really," another community member opined. "Until the investigation closes, everyone talking about it is only going to impact the lives of those involved even more. Even if they're in the all clear, the fact this has come up and been gossiped about will still affect that kid and teacher for the rest of their lives. It says more about how society has a flair for drama than anything."
District: Safety is first
While the school district can't respond to specific questions about personnel situations, spokeswoman Kelsy Been said this week that the safety and well-being of the students and the ability to provide quality instruction and stability in the music program are high priorities.
"Our third priority is to continue to cooperate with law enforcement on this ongoing investigation until there's a resolution," Been wrote in an email. "We can say that whenever we hear of allegations of criminal activity, we inform law enforcement and cooperate with their investigation."
In response to whether the district was considering new methods of either vetting employees or imposing additional background checks, Been wrote that "All employees and even volunteers who meet with students four or more times are required to get a background check." She also referenced a policy in place that addresses professional boundaries with students inside and outside of the classroom. Staff also are required to annually sign a notice and adhere to a policy about sexual harassment and misconduct.