While the Pitkin Library reopens today to in-person browsing on a limited basis, plans to reopen the main section of the Basalt Regional Library are still on hold.
Basalt Library Director Susan Kiley said Friday that she's keeping an eye on developments in the Roaring Fork School District and its timeline for returning to in-person learning. Library patrons will continue to be served in the lobby area, which contains a display area, two computer stations, a quiet work area for only one user and a help desk where library staff will assist in locating materials for anyone who drops by.
"We're working on our own plan for the larger part of the library," Kiley said. "We already are providing some walk-up service. Our lobby is open and we have it staffed Monday through Saturday, and we allow one person or household in at a time."
Computer use and the quiet area are available by appointment, she said.
The library is open Monday through Thursday from noon to 6 p.m., and Friday and Saturday from noon to 4 p.m.
Curbside pickup service for library materials is available Monday through Saturday during those same hours. The library is closed on Sundays.
Kiley said the district is "following the metrics" relating to Pitkin County and Eagle County COVID-19 cases, and also those relating to the Roaring Fork School District. The library district includes both counties, although the facility is physically located in Eagle County.
"We're aiming for the time when the school district returns to in-person learning," she said. "That's when we will follow suit."
The district recently announced that it remains in virtual-learning mode until at least Oct. 5, Kiley said, adding that district officials are discussing an earlier return for grades K-3. Should that happen, some sections of the library could reopen sometime in the last week of September, albeit on a limited basis, she said.
The library's lobby system has been in place since July 15. Prior to that, curbside pickup was the facility's primary service.
"The response from the community has been great," Kiley said. "Everyone using the lobby walk-up service has been positive. It's been a challenge for staff and patrons, but we are rallying together to come up with creative solutions."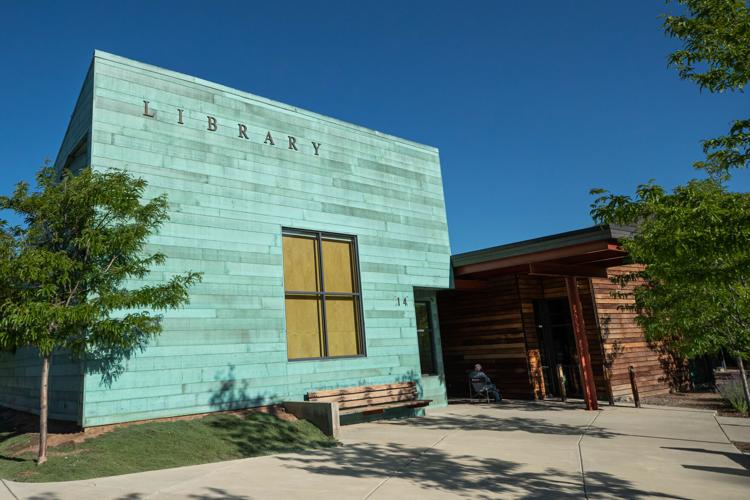 Numerous questions remain, such as how to reopen the small study rooms given their ventilation systems, and how to implement social distancing measures in the children's area, she added.
At the Pitkin County Library, Director Kathy Chandler said the facility is switching from its emphasis on online services to a "retail model" that has been approved by the county's public health department.
The library already has been using its Dunaway meeting room as a computer lab, an area that's continually monitored by staff to ensure sanitary user practices.
Starting today, no more than 50 members of the public will be allowed inside the library at any given time. A maximum of nine patrons will be allowed in the computer lab, which will remain in the Dunaway room, and no more than 10 can be in the children's area, Chandler said.
Users may peruse the shelves for materials to be checked out, but chairs have been removed and study rooms will remain closed.
"This is the 'next step' in our reopening process," she said. "We're asking people to make their business brief. Think of it like going to the grocery store. There will be no sitting down."
Chandler said the library continues to offer a "foyer service" (similar to Basalt's "curbside") for those who are uncomfortable with coming into the library. She said, during the summer, staff has been quarantining materials after they are returned before the items are offered up again. That practice is ending, she said.
"The likelihood of catching the coronavirus from paper is extremely low," she said. "But we have been quarantining materials, and if people want to quarantine items themselves — like waiting a few days at home before they open a book — they can certainly do that.
"We're advising people that we're not quarantining materials anymore," Chandler said.
Like Kiley, Chandler asks that customers continue to be patient as the library moves through its reopening phases.
"We don't like this any more than anybody else, but this is a pandemic," she added.
Hours at the Pitkin County Library are 9 a.m. to 6 p.m. Monday through Saturday and noon to 6 p.m. on Sunday.