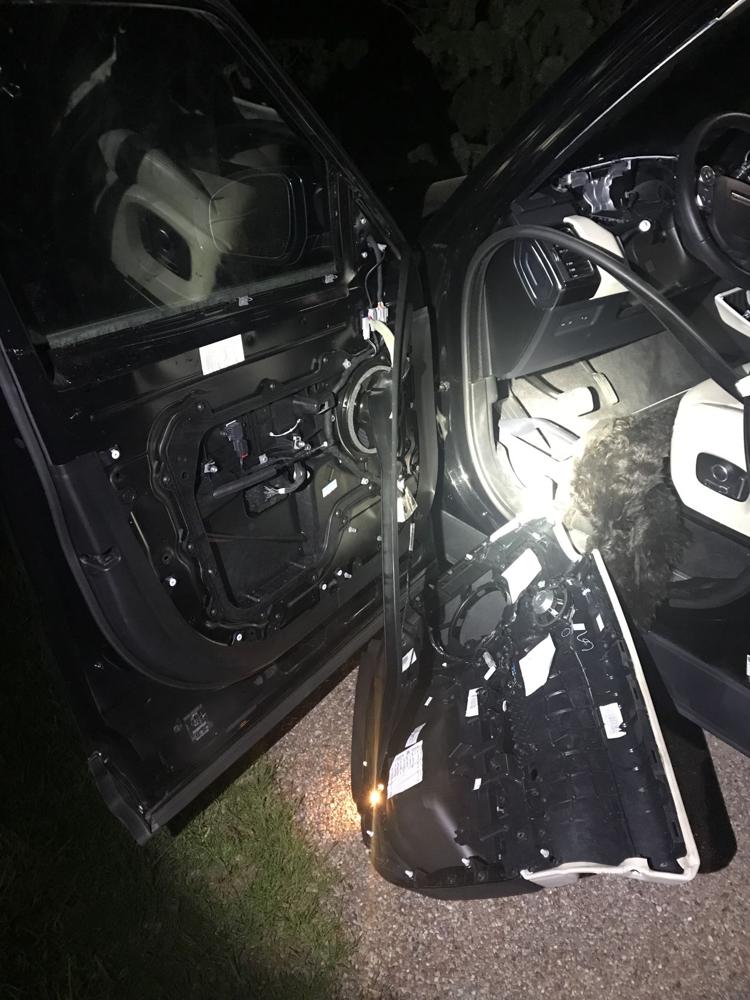 A bear did considerable damage to a Range Rover after getting stuck inside last week near Cozy Point, another was shot with a pellet gun in an attempt to drive it away from the Water View neighborhood, and authorities are warning that, amid near-drought conditions, bruin-related encounters this summer may again be numerous.
Aspen police in May responded to 16 bear calls, up from nine in the same month in 2017, a year that saw a total of 615 such reports — nearly three times the number in 2016. Aspen City Council last month boosted fines for people harassing the animals after a debacle on the Hyman Avenue mall in September. That involved a mother bear and two cubs who became separated after throngs of tourists hung out photographing them, a situation that devolved into attempted selfies and a chase of the older bear.
The most recent incidents, however, happened in the midvalley, where residents on Monday and Tuesday made three 911 calls about the recently awoken animals, said Mike Porras, Colorado Parks and Wildlife public information officer, on Wednesday. One involved someone reporting that a drunk person was screaming at the top of their lungs at a bear, presumably trying to haze it away.
"The bears are out, and we're just getting going," Porras said of the summer season.
At the peak of last summer, emergency dispatchers were getting 15 to 17 bear calls a night — those are just the ones reported to CPW, so the number is undoubtedly higher — and at least one of those involved an animal in the home, he said.
So it's past time to put away bird feeders, secure pet food and trash cans, and lock the windows of vehicles and homes, particularly those on the first floor. Residents are urged to remove food and other attractants from vehicles as well, something that likely led to the Range Rover incident near Juniper Hill Road, said Kurtis Tesch, CPW district wildlife manager. He added the SUV's doors were unlocked.
On Monday in the Water View neighborhood, on the east end of Snowmass Canyon, a person used bear spray on a bruin in a parking lot and then shot it with a pellet gun, causing it to scurry up a tree. CPW does not recommend the latter method, but firearms can be used if a person feels their or their livestock's safety is in jeopardy. Tesch said the use of a pellet gun against a bear is legal if it is done to try to haze the animal into leaving the area, and not simply for the person's amusement. CPW also provides rubber bullets for shotgun owners, he said.
"If it's being used as negative reinforcement, it's allowed," Tesch said.
Porras said the other recent 911 calls involved people concerned about a cub hanging around in the same area, a bruin regularly passing through an Emma neighborhood, and a bear that seemed unafraid of people (it was unknown if the calls were about a single bear).
On Tuesday, a person called authorities after a bear or bears broke into several trash containers. Porras said the person wanted the county wildlife ordinance enforced.
"It boils down to education," he said.
In a given neighborhood, 99 out of 100 homes may be wildlife-compliant, but "it takes just one person to leave their first-floor window open," Porras said. "Bears learn there's food inside and will then start going from house to house."
In recent years, CPW has become aware that people are refusing to call the agency about the animals, even those known to be breaking into homes and vehicles, believing that officers "just come and kill the bear. That's not the case," he said. "It's really critical that people call us right away, especially if the bear's aggressive or getting into food."
Not calling CPW or local law enforcement "is just making it more difficult for us to successfully relocate that bear," Porras said. Not every bear sighting warrants a call to authorities, as many happen to be wandering or sprinting through and don't return. It's the bears that linger that CPW worries about and wants to relocate, he said, emphasizing that his agency doesn't simply kill every problem bear. 
Pellet guns aside, CPW recommends banging pots and pans, yelling and similar actions to scare bears away.
For a wealth of information on how to be "bear aware," visit http://cpw.state.co.us/learn/Pages/LivingwithWildlifeWildBears.aspx.