It's been one year since Bob Beattie passed away at age 85, and friends of the legendary coach and broadcaster have announced a stepped-up initiative to honor the sometimes irascible, always passionate Woody Creeker.
The Bob Beattie Ski Foundation, bobbeattie.org, founded in 2011 by some of Beattie's disciples, who include former ski racers, broadcasters and other race-loving colleagues, recently announced it would promote dual racing through partnerships with ski areas and by using horse-race style start gates, of which prototypes have been developed.
"[Dual racing] is just more fun. You want to do it again and again and again," said Mike Hundert, a 43-year resident of Snowmass Village.
Hundert is also the former race director and voice of Beattie's World Pro Skiing Tour from 1977 to 1981 and chairman of the Bob Beattie Ski Foundation.
"Head to head ski racing is the future if not the present," Hundert added during a conversation Thursday.
Dual ski racing's inclusion in the 2018 Winter Olympics in PyeongChang, South Korea, and the restart of a pro skiing series that visited Beaver Creek this season, provide some evidence of the growing acceptance of a format that Beattie championed decades ago.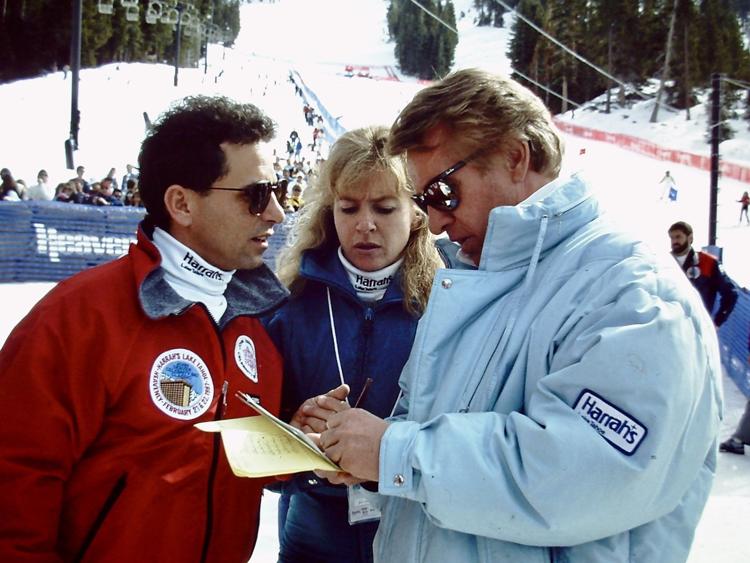 After coaching at the University of Colorado, Beattie went on to a successful stint with the U.S. Ski Team. He would later start the World Pro Skiing series, races that brought glamour, sponsors and thrilling head-to-head action to what previously had been a rigid, less-spectator-friendly sport.
As part of this current initiative, the Bob Beattie Foundation is accepting applications for the horse race-style gates.
"Ski clubs across the country can come to us with their ideas for how to promote dual racing at their resort. We will help supply those starting gates, in full or in part," Hundert said.
The gates of which he speaks are manufactured in Ludlow, Vt., and were used March 10 for an impromptu ski race organized by Robbie and Tim Kelley at nearby Cochran's Ski Area.
Cochran's 1st Annual Redneck Racing Slalom Showdown is seen as a blueprint for what Hundert and the board say they believe could offer future fun in the gates. The race attracted about 75 people, including NCAA champions, former World Cup competitors and 6-year-old kids alike who were able to take multiple race runs via a rope tow.
Those were the days
Terry Palmer was still a teenager when he quit the U.S. Ski Team and joined the pro racing ranks. Palmer and his brother Tyler would stay with Beattie on his Woody Creek ranch during winters from 1973 to 1979, and were able to make a living as professional ski racers.
"He taught my brother and me a lot. It was like going to graduate school," said Palmer, who now lives in Sun Valley, Idaho. "Pro racing was so much fun. You were making money; you would succeed or fail by your own efforts."
Palmer, who, like Beattie hails from New Hampshire, was hands-on in last month's race using the dual gates at Cochran's. His role included contacting the local manufacturer who fabricated the gates. Palmer also signed on some sponsors.
"The Coach," as Beattie was referred to, left some directives for the board members of his foundation.
"[Those include] affordability for any kid and the push for dual to become more mainstream. Those are two goals he kept hammering on," Palmer said.
The foundation is also advocating that race courses on ski areas be free to use. Hundert pointed out that resorts make it "free to use terrain parks. And we've developed some fantastic competitors."
Christin Cooper, an Olympic silver medalist, board member and part-time Aspenite said, "We're stoked about BBSF's commitment to address access and affordability in this sport we love. It's a real challenge, but one we think we can effectively tackle, one club, one ski area at a time."