If you hear a loud boom on Wednesday around 3 p.m., it's not the Air Force buzzing the midvalley on a training run. It's local Basalt High School students breaking the sound barrier with their hand-built rockets.
The blast-off comes courtesy of the new Basalt High School Aerospace Club, founded this year by Isaac Musselman, a junior. Last year, Musselman received a $1,500 scholarship from the 5Point Adventure Film Festival's Dream Project to start the after-school club. The fruits of those labors begin when the club's inaugural nine members light the fuses on each of their hand-built rockets. The club's ambitions began with rockets but may ultimately have a much more far-reaching impact for the school by year's end.
"Right off the bat we started working on a project where every student got a rocket kit," said Musselman, who credits his younger brother for finding the Colorado-made rocket kits in a Popular Science magazine. "These are the largest rockets you can build without needing special certification. We did check on that and alert the Carbondale Fire Department, though."
According to Musselman, the group will showcase two types of Apogee Aspire rocket engines. One will take a rocket one mile high and the other is built to break the sound barrier and go Mach 1.
"Each rocket is about two feet tall," he said. "The most crucial part is getting the fins on strong enough so that they stay on when the rocket is going past Mach 1. That's what I'm most concerned about."
In theory, the rockets are reusable, but because they don't use parachutes they'll come down hard.
"Even the ones that go high will come down fast, which will increase our chances of finding them, which would be fun," Musselman said. "The reflective streamers help. The snow will help too."
Musselman has thoughtfully led the group through the rocket-building process by ensuring that each meeting includes new and creative elements to consider for the rockets. Most of the members of the group, which includes one young woman, have had prior STEM engineering experience either through robotics, the solar rollers club, or a class.
Even so, the group learned as they went.
"We talked about the principles as we went along," Musselman said. "Every time a new piece of rocket was introduced, we'd talk about why it was important to the rocket, what would happen to the rocket if it wasn't put on right, and why it's important to do certain things like sand down the fins, for instance."
The process of building a rocket has helped teach the members about patience as well as organization. The club's advisor, teacher Karen Ross, says that watching the group coalesce, work together and bond has been great to witness as well. 
"It's all very nerdy and reminds me of 'The Big Bang Theory,'" she said. "The club really has provided these students with the opportunity to connect with other kids with similar interests."
They haven't limited themselves to rockets, either. In October, the group traveled to a Vail Symposium event that featured astronauts Susan Helms and Roy D. Bridges Jr. and Chief Engineer of the Space Shuttle Frank Buzzard, all of whom were thrilled to see the younger generation take interest in their work.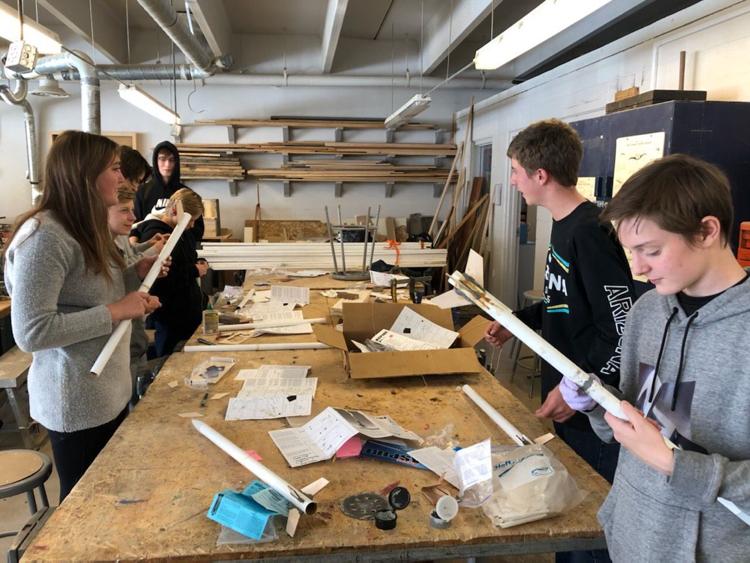 "Most of the people there were older," Ross said. "Then they announced that there was a group from Basalt High School and the astronauts and audience members stood up and applauded. Days later, kids would come up to me and say, 'remember when he said that.' They were really excited."
Next up for the group is construction of a weather balloon with a GoPro that can stream footage of the valley back to a cellphone during the winter. There's also interest in building one large rocket as a group, but that project is more ambitious and entails both finding a proper place to launch and receiving certification to do so.
Musselman also hopes to collaborate with a local astronomer and Basalt Regional Library for a community astronomy night in the spring, partner up with the Aspen Science Center, and share the club's work through videos and school visits to inspire younger students to join the group, which he'd like to expand. Ross would like to see more young women as well.
Ultimately the club needs to find a way to make itself sustainable when the $1,500 grant runs out and Musselman heads off to college. He hopes to write some grants to local organizations like the Elks Club and the Aspen Thrift Shop, but donations to the club are also more than welcome.
Musselman's efforts have had more far-reaching effects as well. When contacted for an interview, Ross was at an aviation symposium in Denver learning about a new aerospace curriculum that she could bring back to teach at Basalt High School next year. The person who had suggested the conference? Musselman.
"Isaac is quite the leader. I could work for Isaac," Ross joked while expressing deep admiration for his leadership skills. "It's the easiest club to sponsor when you have a student leader doing so much of the work."
Ross hopes the program will ultimately bring in broader community participation and support. "That's the whole point, to involve the community and get everyone doing a little bit for kids to have this opportunity."
The Aircraft Owners and Pilots Association high school STEM curriculum is free, covers grades 9-12, and down the road would give students enough training in four years to be prepared to test for their pilot license or an unmanned aircraft systems license. That's critical because AOPA estimates that 790,000 new pilots will be needed worldwide by 2037.
Musselman is eyeing dates well beyond that time as well.
"It's important for people to learn about the world of aerospace especially now," he said. "Elon Musk [of SpaceX] believes that we have to leave Earth in order to survive. Jeff Bezos [of Blue Origin] thinks we need to leave to protect our planet. I think it's the best of both philosophies, so it's important for people to learn more about it, especially as we're trying to go to Mars in the upcoming decades."
The public is invited to the club's debut rocket launch on Wednesday around 3 p.m. in the Spring Gulch area. Musselman advises those interested to dress warmly and drive up the road to Spring Gulch from Carbondale to a little past where the road turns to dirt. Keep an eye out for the yellow school bus parked on the side of the road. He welcomes phone calls; for more information, call (970) 456-5918.