A snow day for parents — yes, parents — in upper-valley schools, delayed openings at local ski areas, avalanches too numerous to count and slushy roads, filled in places with standing water were among the impacts wrought by the latest storm to inundate the valley.
Aspen Highlands received nearly 2 feet of snow in 24 hours from the storm, which hit Tuesday and lasted through most of Thursday. Nearly 33 inches have already fallen so far in March, the year's heaviest month for snowfall on average, according to the city of Aspen water department. That puts total snowfall this winter at 154 inches — 8 feet of which has fallen since January — already exceeding last year's dry winter with most of March and April still to go. The Roaring Fork Conservancy on Thursday, citing federal SnoTel measuring sites, reported that the snowpack in the Roaring Fork watershed was at 139 percent of normal, an increase from 116 percent last week.
The heavy, wet snow from the latest storm led Holy Cross Energy to warn of power outages in Pitkin County and canceled flights at the Aspen-Pitkin County Airport.
And combined with a forecasted high today of 41, the storm could have a catastrophic effect on the backcountry snowpack, said Spencer Logan, an avalanche forecaster with the Colorado Avalanche Information Center.
The slide danger Thursday was rated as extreme, the highest possible classification and one that is used sparingly, Logan said.
"This is first time in 12 years that we have had extreme danger in four of our zones on the same day," he said. "It's just been a series of big storms … on a snowpack that was already producing avalanches, making them bigger and more widespread.
"We haven't had this much snow so close together in quite a few years."
The center warned that, amid "exceptionally dangerous" backcountry avalanche conditions, slides could run to valley floors and exceed historic extents.
"Avoid all avalanche terrain today, including the run-outs and bottoms of avalanche paths," the center said on its website Thursday. "Typical trails and routes may not account for the potential size of avalanches today. Avalanches have gone farther than they have in years. This is a sobering illustration of the potential size and consequence of avalanches today.
"You are unlikely to survive a brush with one of these avalanches."
The danger stems from such heavy snow sitting on snow that may be weaker, making the snowpack top heavy. Logan said there is weak snow near the ground, so when avalanches break, some are "taking out the entire season of snow." The high water content of the latest snow can mean "the snowpack changes very rapidly, and that's never a good thing when avalanches are concerned," he said.
Statewide, CAIC hasn't been able to tally every slide in recent days because they have been so numerous: "It seems every slope that's steep enough to avalanche has," Logan said.
The Aspen School District nixed parent-teacher conferences Thursday, with students already having been scheduled to have that day and today off from classes. Had it been a regular school day, the snow day would have marked the third such cancellation of classes, said Superintendent John Maloy. Should that happen — March is, again, Aspen's snowiest month — school administrators will convene to adjust students' and teachers' daily routines in order to meet state-mandated requirements for minutes in certain subjects. That could also happen if parent-teacher conferences are rescheduled for a regular school day.
Maloy said the classroom adjustments would allow the district to avoid having to add a day at the end of the school year for grades 7 through 12. A fourth snow day may involve "a different conversation," he said. "As we get closer to the end of the school year, we can't always capture the minutes needed."
But administrators and faculty have yet to "push the pencil" on those calculations, Maloy said.
SkiCo patrollers, lift ops have hands full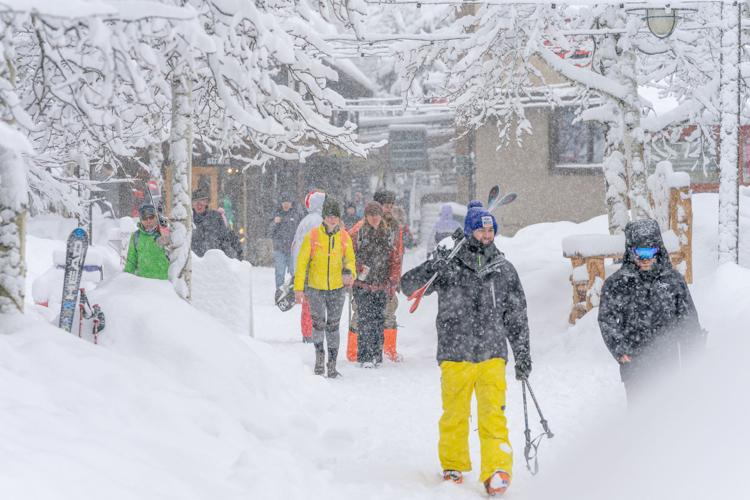 Aspen Mountain, Snowmass and Buttermilk saw openings of certain lifts and terrain delayed by about 30 minutes, said Jeff Hanle, Aspen Skiing Co.'s vice president of communications.
"There's a lot of heavy, wet snow to deal with," he said, adding that such delays are not uncommon when so much powder falls so suddenly. "We come in early, but it takes time."
That includes ski patrol avalanche-control work and lift maintenance workers clearing snow around loading stations and from chairs, gondolas and cables.
"It's one of the challenges of being blessed by big snowstorms," Hanle said.
Highland Bowl at Aspen Highlands opened around 11:40 a.m., with Hanle saying it was "nice work by that crew" to ready the terrain.
Skiers and boarders on the local hills were lucky: Arapahoe Basin shuttered for the entire day because of avalanche danger, and a slide near Copper Mountain ruptured a gas line, the Summit Daily News reported. At one point, CDOT closed Interstate 70 between Frisco and Copper Mountain because of "safety concerns" Thursday afternoon. The agency did the same for McClure Pass on Wednesday night.
Closer to home, T Lazy 7 Ranch has suspended snowmobile tours to the Maroon Bells and up Independence Pass because of the avalanche danger, said a person answering the phone there. The company continues to offer snowmobiling tours to other areas.
In Aspen, the streets department had removed from town 2,224 dump-truck loads of this winter as of Thursday, said Jerry Nye, head of the department. That compares to 1,273 loads during the entirety of the 2017-18 winter. And that only includes cleanups of the downtown core, Cemetery Lane and Main Street. More has been pulled from alleys, he said.
But Nye said his staff "loves this stuff."
"They love playing in the snow," he said. "It keeps them busy."
Warnings were also issued about standing water in Snowmass Canyon, an element that is wreaking havoc on area roads in the form of potholes.
Idle hands seem unlikely in the next couple of days, as well, with another winter storm warning issued that says 8 to 16 inches could fall by Saturday morning.