It would have been reasonable to assume that, based on its participants, the demonstration of nearly 90 young people gathered at the Gondola Plaza Wednesday morning was organized by Aspen High School students.
But the reality is that nobody seemed to know definitively.
"I saw a post yesterday in the afternoon about it, and then it disappeared pretty quickly," said Adriano Minniti, detective with the Aspen Police Department, Wednesday at the plaza. "I haven't been able to find it, and then we got a message about 8 o'clock this morning saying there was one going to be organized by some — students, I believe? Don't have much more information than that. We showed up to support what we could."
Bella Hoffman, who graduated last weekend as part of the Class of 2020, speculated that a four-year tenured dancer with Aspen Santa Fe Ballet had continued her recent local activism to coordinate Wednesday's demonstration.
"I believe Janelle Figgins, of Aspen Santa Fe Ballet, was the one who organized it, but I don't see her here today," Hoffman said, noting that Figgins had overseen early marches in town in the wake of the May 25 death of George Floyd.
"But I did share it on Facebook and everywhere like social media, getting the word out, having people share it. So I did have that happen, so I think most of these students might be from my post or their friends sharing their post," she said. "I'm really excited that all these people came out — though I wasn't expecting this many people, honestly! It's good that we have this many people in our community that care."
Floyd, 46, died by homicide via mechanical asphyxia, according to an autopsy medical examination commissioned by his family. Since those findings were made public Monday, three now-former Minneapolis police officers were charged with aiding and abetting murder — and Derek Chauvin, 44, as of Wednesday faced an upgraded charge of second-degree murder from the intial third-degree allegation.
'Say his name!'
"George Floyd!" the crowd responded as they marched throughout the downtown core. As they made their route, escorted by Aspen police, the gathering grew, sprawling at least a block and a half. At one point, in fact, the front and back of the parade of demonstrators were chanting different names.
Not that there's any dearth of them. Breonna Taylor's was another routinely shouted in a similar call and response. Taylor died as a 26-year-old emergency medical technician, or EMT, in her apartment in Louisville, Ky., when police engaging in what's known as a "no-knock warrant" around 12:40 a.m. on March 13 fatally struck the woman eight times. The police, according to law enforcement records, believed drugs were being kept in the home. No such drugs were found.
There's also Ahmaud Arbery, Tamir Rice, Trayvon Martin, Oscar Grant, Eric Garner, Philando Castile, Samuel Dubose, Sandra Bland, Walter Scott and Terrence Crutcher, to name a few of those who died in police interactions that are also commemorated in similar protests around the nation.
Hoffman found herself in a sort of default leadership position Wednesday — she wasn't even sure whose microphone she'd been using, she said with good-natured laughter at the conclusion of the demonstration — in the absence of designated oversight.
Still, the event was completely egalitarian; Hoffman even took a vote as to whether the second phase of activity should be another march around the downtown core or to take time passing the aforementioned mic to her cohorts to speak about how the cause of the recent civil unrest across the country has affected them personally.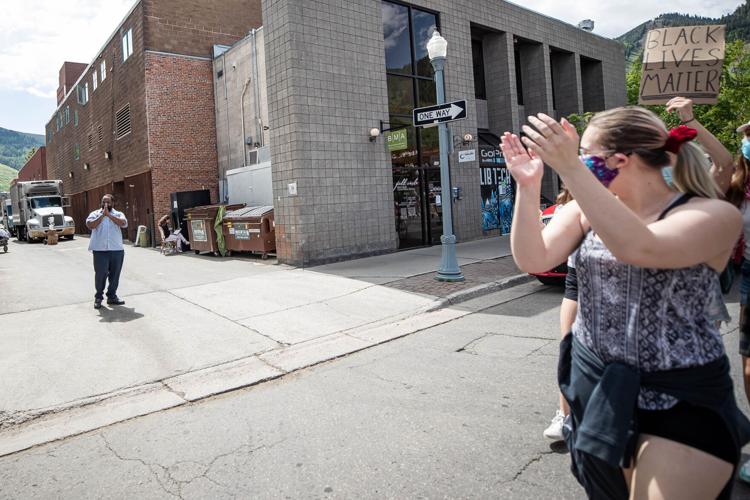 The overwhelming majority opted to take a second lap through downtown. The decision was rewarding for several parties — far from a feeling of inconvenience, multiple cars honked in support of the mostly late teenagers' and early 20-somethings' public message.
But when a few black and Latino men stepped out to the street from their work behind Mi Chola to show their appreciation, the cheers from the march grew noticeably more heartfelt. One man in particular lingered, hands held in gratitude in front of his heart, in a slight bow.
"I just got goosebumps," one of the young protesters said to a neighboring friend. "I'm going to cry."
That presence underscored one of Hoffman's messages spoken at the conclusion of the event, back in Wagner Park.
"I think in Aspen, we fail to acknowledge that there are people of color in our community. Even though we have a majority white population, we still need to appreciate and recognize the people of color in our community and understand them. Black lives matter!" she said to cheers from her fellow protesters.
And while demonstrating on a sunny Wednesday morning in Aspen is incredibly important for the community, it's only the beginning of actions necessary to enact real change, student Sarah Miller told her classmates.
"I believe that fighting systemic racism begins in the classroom, in education. It is important for all of our fellow students to fight for our rights to learn about other people and inclusive history than just white male history. I believe that you need to stand up when you hear people in the classroom say things that are wrong," she said. "When you hear sexist comments, when you hear racist comments, you need to stand up and say, 'No, you're wrong.' It begins with all of you here, and I am so glad that you're all here right now."
One marked difference during Wednesday's Aspen event from many protests in cities across the country? The local police chief spoke in support of the movement.
"I always appreciated working here; it's the only police department I would ever work for, and that's because I feel as though we're able to listen to you, interact with you, appreciate you, hear you and hopefully respond to you in the way that you should really demand," Aspen Police Chief Richard Pryor told the crowd, which had grown to almost 120 at that point. "I hope the messages can start to transition into ones of change: how can we bring real equality to people? Not just me speaking it or you speaking it; how do we actually transfer that into actions for all of us, whether it's at a local level, a state level or a national level?"
While the day's messaging was mostly uplifting, there were somber moments, particularly the eight minutes and 46 seconds during which participants lied on the park's grass, hands behind their back to re-enact being handcuffed, and shouting "I can't breathe" in an exercise of symbolism and empathy to Floyd's final moments.
Then there was Berta Rivera's experience. The recent college graduate, albeit only four or five years older than most of her fellow protesters, raised the average age at least a bit. That doesn't mean she didn't try to invite the rest of the community to the demonstration, but her efforts were thwarted, she said Wednesday.
"I tried to post about this protest yesterday; it was reported and taken down, and this is a peaceful protest here in Aspen by our own community," she said. "I think most of it comes from misconceptions about what the Black Lives Matter movement actually is — it is not saying that black lives are the only lives that matter, but it's saying that black lives and their communities have been the people who have been oppressed the most, and addressing their problems and their oppressions will help make all lives matter."
In fact, if it hadn't been for her younger sister, Rivera wouldn't have known about the demonstration at all, she said.
"I posted it on the Roaring Fork Valley Swap page on Facebook because I wanted to spread it to the community, because I feel like things like this isn't stuff that is known through the community," she said. "And I wish that everybody else in the community would have the same access to this information, especially if they want to show their support, because it's everybody's right to do so."
Ray Alexander, one of the administrators for the Roaring Fork Swap Facebook page, said the decision to censor political posts was a difficult one for the entire group.
"It has nothing to do with our beliefs as individuals but everything to do with trying to keep the Swap free from hatefulness and fighting," he said Wednesday via Facebook Message. "We have 33,000 members and not everyone believes and feels the same as everyone else."
The decision has not always been a popular one. Alexander relayed that he has been dubbed a racist on other social media pages, much to his horror.
"We've been at this for several days trying to figure out the best approach to handle this," he continued, adding that the administrative team posted a public explanation of its decision Wednesday.
"We need to talk," the post starts. "As an admin team, we have tried to steer clear of politics and keep the Swap clear from all the ugliness in the world. … And lastly, this private Facebook page is firmly anti-racist and has a zero-tolerance policy for any racist or hateful comments. They will be deleted and the person will be blocked from this page."
Even without that messaging outlet, though, Bella Hoffman encouraged her peers to continue exercising their First Amendment rights and said there would likely be opportunities to do so throughout the weekend locally.
"There might be more these this week or this weekend. Don't stop now. Obviously, it's amazing that you guys came out to support, but keep donating. Keep signing petitions. Recognize your white privilege; use it to your advantage to speak out against those who won't listen. Use it," she said. "Black lives matter!"