Picture yourself biking down a familiar stretch of trail near Basalt. A paved path connecting Old Town to Willits, you've biked it many times before, but this time you notice something different. Trees you'd passed off as "probably some sort of cottonwood" are suddenly bursting with round, ripe apples just there for the picking.
Or imagine you're walking along a favorite trail near the Roaring Fork River in the midvalley. You look up and there's a tree with red apples intertwining its branches with a green-apple tree. You look closer and see that there's a tree bearing yellow apples, as well. You decide to do some sampling, and in one short walk, you come away with four different kinds of apple.
What gives? After a hot, dry, smoky summer, paradoxically, fruit trees and berry bushes have produced a bumper crop after producing next to nothing last year. It doesn't seem to make sense, but that's because the fruit isn't a response to this summer's conditions. To find the cause you have to go back to May 2017 and a hard freeze that decimated flora after an unseasonably warm three-week stretch in March and April.
"We had this wild warm period, and then, of course, nature came in and dropped the temperature into the 20s every night for four more weeks, and that was the end of all fruit in the valley," said Michael Thompson, a local architect who works with the Heritage Fruit Tree Project. "When that happens, all the fruit trees enter a summer where instead of putting their energy into inflating fruit, they produce huge fruiting buds, so the following year is like bumper city."
That accounts for the amount of fruit and the virtually unprecedented serviceberry crop that graced much of the area's public lands this summer (though the berries rapidly shriveled in the heat to become seedy service-grapes). But what accounts for the random assortment of feral apple trees to be found here and there throughout the valley? Apples aren't native to North America, so someone must have planted those trees way back when.
That's where the Heritage Fruit Tree Project and Basalt's Central Rocky Mountain Permaculture Institute come in. The HFTP seeks to catalog the wild-growing fruit trees in the valley, some of which are nearly 135 years old, and learn their origins. About 20 distinct varieties have been recorded, and CRMPI, with its nursery and forest garden, is where the genetic information from those varieties, as well as roughly 180 other plant species, is kept.
Most of the valley's heritage fruit trees are apple trees planted by settlers in the late 1800s, but there are apricot, plum, pear and cherry trees out there, as well. And there's a definite possibility that more varieties exist, which is what drives Thompson and people like Jerome Osentowski, who founded both HFTP and CRMPI. It's like a treasure hunt, and the greatest treasure of all might still be out there.
"The Montezuma Orchard Restoration Project in southwest Colorado recently did genetic testing of all their different apples," said Vanessa Harmony, the owner and operator of CRMPI's edible landscape nursery. "They thought they had rediscovered the Colorado Orange, and people were very excited, but when it got tested it turned out to be a different kind of heirloom apple."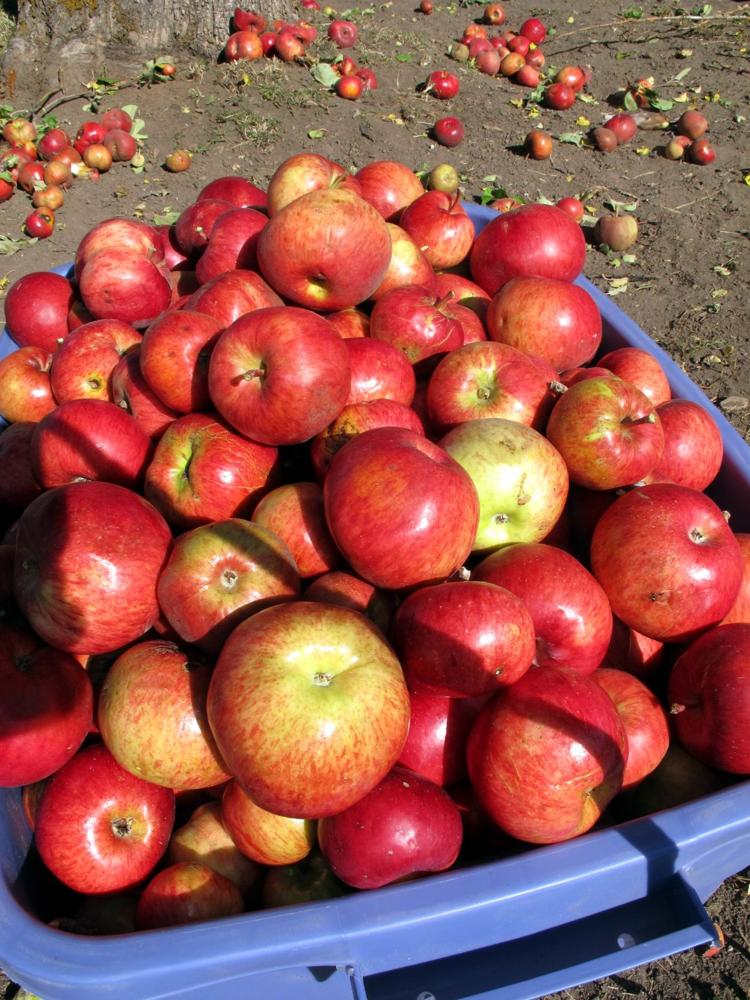 Much of the valley's known heritage fruit trees are on private property, but there are plenty that are on public land and available to anyone who knows where to find them. And soon, there'll be a whole bunch more at one of the valley's most visible orchards, the one along the bike path in Basalt, near the Emma Store.
"Pitkin County Open Space and Trails is funding a project to plant more trees there," said Harmony. "So we're going to plant a bunch of heritage fruit trees from my nursery. It depends on the budget, but I feel like we'll plant at least 50."
It'll take a few years, but once those trees grow in and start bearing fruit, the plan is to have no fences and let bikers and anyone else who happens to be hungry grab an apple for a healthy snack on the go. In the meantime, there's plenty of free fruit out there — maybe even the Colorado Orange — if you look for it. This is the year to do it, too, with trees you might have thought were cottonwoods unexpectedly bursting with apples.
"The trees didn't know it was going to be a hot, dry summer," said Harmony. "They'd already planned their fruit."
With more apples than there are people to eat them this fall, you might even say the trees overplanned.