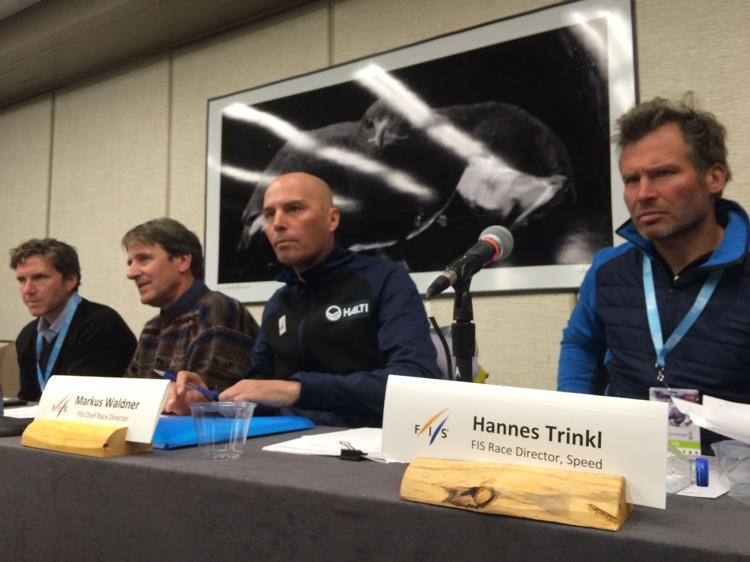 Markus Waldner, chief of the FIS men's World Cup alpine tour, knew the question before it left the reporter's mouth.
"Will we come back to Aspen?" Waldner asked last week, during the trio of races staged on the Birds of Prey course at Beaver Creek.
The races concluded Dec. 2 with a giant slalom won by Germany's Stefan Luitz. He beat reigning Olympic champion Marcel Hirscher by .14 seconds for a two-run time of 2:36.38. Ted Ligety was the top American, finishing in eighth place.
This will be the second consecutive season the alpine World Cup tour has skipped Aspen due to the organizer's failure to satisfy "technical requirements," as outlined by FIS, ski racing's governing body.
Those mandates, announced as early as 2010, centered around a newer, higher capacity Lift 1A chairlift, for which Aspen Skiing Co. has received U.S. Forest Service approval, but the installation has been complicated by neighborhood development applications and land-use issues involving public and private parcels in the South Aspen Street neighborhood (see "Lift One," page 1).
Still, the FIS representative appeared encouraged by the neighborhood plan's forward motion, which includes bringing the chairlift, approved as a gondola-chairlift mix, closer to downtown Aspen.
Waldner said Thursday, after the team captain's meeting, that even though his responsibility is to the men's tour, he was aware of how the Aspen venue, which for years hosted women's giant slalom and slalom races over Thanksgiving weekend, was progressing.
In March 2017, Aspen hosted the FIS World Cup Finals, having won the competitive bid nearly two years prior in what many saw as a surprise decision.
The success by the Aspen organizers, and the community's enthusiasm, in hosting 10 events over five days, March 15-19, surprised even FIS and cast Aspen in an improved light, compared to the impression FIS Secretary General Sarah Lewis was left with after consecutive Thanksgiving races, when the Lift 1A neighborhood was seen as unkempt and in transition.
Since then, both free market and deed-restricted housing has been completed on the west side of South Aspen Street, and there's no longer a gaping hole and open construction site. In concert has been the removal of much of the on-street parking, to the dismay of locals who enjoyed easy ski area access.
Waldner, who was a competitor for Austria before he became a FIS official, said, "I saw A1 and it's a big plan." He would go on to reiterate that, "The requirements have to be fulfilled, which is clear. Once they fulfill the requirements, we come back for the discussions."
He added that the FIS draft calendar is prepared four years in advance and "it's not Killington forever, but they are doing a great job" hosting the early-season women's World Cup giant slalom and slalom. "Nothing is forever," he added.
Killington has replaced Aspen on the women's calendar for the past three Thanksgiving weekends, though the initial weekend was awarded in conjunction with Aspen hosting the finals in March of that season.
Aspen Skiing Co. senior vice president John Rigney said this week by email that, "We still keep in touch with FIS folks, maybe just a little less regularly. But we have long standing relationships and we like maintaining a level of dialogue. You never know what the future holds."
Rigney added that SkiCo's more frequent interactions are with U.S. Skiing, which is the third partner in determining host sites for World Cup events. While during the 2017 FIS World Cup Finals season there were stops at Beaver Creek, Killington, Squaw Valley and Aspen, during a typical race year, the men have just one U.S. stop, Beaver Creek and the women have raced in either Killington or Aspen.
Lake Louise, Alberta, traditionally hosts World Cup men's and women's races in the early season and represent the only other North American dates on this year's alpine World Cup tour.
Pat Callahan, an esteemed alpine coach and the chief of course for the 2017 World Cup Finals, was on site Friday at the men's World Cup downhill which was won by Beat Feuz of Switzerland.
Callahan said he heard repeatedly after the conclusion of the races in March 2017 how excited people were about how they were run. Despite scorching spring temperatures and a dearth of snow, course preparation was deemed superior and there were no race cancellations.
Last week in Beaver Creek, Callahan continued to hear a similar refrain from course workers and volunteers who worked both the Beaver Creek and Aspen events, as well as friends in FIS.
What does Callahan tell them about Aspen ever hosting a World Cup event again?
"Obviously we're waiting until we get a new chairlift," he said.
Home field advantage
From food differences, to sleeping in one's own bed, to the high cost of traveling with many pairs of skis, athletes say there's a home snow advantage during the long competition season. The season started Oct. 27 in Soelden, Austria and continued Nov. 17-18 in Levi, Finland before shifting to North America.
Some athletes like Wiley Maple of Aspen, have performed best on tracks other than Beaver Creek and Lake Louise, however. Maple said he is looking ahead to December races in Val Gardena, Italy, Dec. 14-15, followed by Bormio, Italy, Dec. 28-29.
Maple's had his career best results in Saalbach, Austria where he finished 17th in a downhill in 2015. Over the weekend in Beaver Creek, he was 41st in super-G and 51st in downhill.
During a Nov. 29 press conference in the Vilar Performing Arts Center, a trio of U.S. skiers were asked what they thought of the prospects for a 2030 domestic Olympics. Both Salt Lake City, host of the 2002 Olympics and the city of Denver, whose voters turned down the 1976 Olympics, are believed to be interested in a bid.
"I think they should get a trend of using sites that exist," said Steven Nyman, the veteran athlete and Utah native who tied for ninth on Friday in downhill and has been skiing solidly this season. "Hopefully we get the Games, either Salt Lake or Denver," though at age 36, Nyman has no illusions about competing in those Olympics.
River Radamus, the 20-year-old Vail native and U.S. Ski Team up-and-comer, shared a bit of wisdom beyond his relative youth: "If it makes sense financially, everyone would like to see the Olympics in the U.S."