It is an understatement to say that the past few years have been an exercise in frustration for Norm Clasen, a professional photographer perhaps best known for his series of images that anchored the iconic "Marlboro Man" advertising campaign in the 1960s and '70s.
Clasen, who has lived in the Roaring Fork Valley for almost 60 years, spent about 10 months — from spring 2016 to late winter 2017 — attempting to convince the Basalt Town Council to arrive at a decision that would essentially allow for the retail sale of recreational marijuana along Midland Avenue. At issue was a requirement that set buffers between any proposed recreational pot shops and town parks at 500 feet. Given the location of Lion's Park, which surrounds Basalt Town Hall, that 500-foot buffer requirement essentially put the kibosh of the establishment of any recreational dispensaries downtown.
Clasen argued that the town should lower that buffer to 200 feet, which, he argued, was in keeping with buffer requirements set in most Colorado towns.
His arguments were not entirely altruistic, as Clasen and his wife Laura own the Three Bears Building, located on Midland Avenue in the heart of downtown Basalt. Clasen had already entered into negotiations with Boulder-based pot magnate Jack Pease to open a recreational dispensary in the Three Bears Building. But that deal hinged on the Basalt Town Council agreeing to lower the 500-foot buffer.
Amendment 64 — which legalized the recreational use of marijuana in Colorado in 2012 — went into effect in 2014. It gave city and county governments broad latitude when it came to implementation and licensing within their jurisdictions.
At that time, Basalt made provisions to allow two medical marijuana licenses and two recreational marijuana licenses within the town limits. RootsRX grabbed the first recreational license and opened a dispensary on Southside Drive, well outside that 500-foot buffer.
That left but one recreational dispensary license for the potentially lucrative and untapped downtown market.
Clasen doggedly pursued that one remaining recreational license, while simultaneously applying for one of the two medical marijuana licenses. But he needed to get the buffer reduced to 200 feet.
It was tough sledding.
"There was opposition by parents worried about the effect of having a pot shop downtown on young people," Clasen said last week. "There was some opposition from local religious people, and there was opposition from some business owners worried about the town's image."
Pease became exasperated at what he considered the glacial pace of the process and pulled out of his relationship with Clasen in late fall 2016.
Pease was a Colorado marijuana pioneer. He had been in the pot business since 2011, when he opened a medical marijuana outlet called The Med Shed. He came to own two dispensaries in Boulder, as well as an 80,000-square-foot grow operation in Denver.
As Clasen was trying to persuade the Basalt Town Council to lower its buffer zone requirements, Pease was in the process of opening new dispensaries in Rocky Ford, Pueblo and Boulder.
Pease had hoped to expand his budding ­empire to Midland Avenue, but, after a protracted process he described as "nightmarish," he pulled the plug, famously saying he wouldn't "host a dog-leashing contest in Basalt."
Pease had first approached Mike Scanlon, who, until August 2016, was Basalt's town manager, in search of an appropriate location for his proposed dispensary.
After two or three false starts, Pease said Scanlon hooked him up with Clasen, who, before then, had never entertained the notion of becoming a marijuana entrepreneur.
"Jack approached me in April 2016 with the idea of buying my building so he could open up a dispensary," Clasen said in early 2017. "We were in constant contact with Mike Scanlon, who ended up writing a 40-page report in favor of the proposal. That report was presented to the town council. Jack and I were both operating under the assumption that things were going well."
According to Clasen, things started going south when Scanlon and Basalt parted ways, leaving him and Pease without the man who had been their most enthusiastic advocate until that point.
"I have spent a lot of time and money on this already," Pease said shortly after he backed out of his relationship with Clasen. "I mostly feel bad for Norm. I figured that, with his local connections, this would work. I was already going to pay more for the building than it was worth. I planned to invest [over] $1 million in the operation. It just seems that there are several members of the town council who have their own agenda and were not willing to listen."
Despite Pease's change of heart, Clasen persevered and his tenacity, augmented by well-reasoned arguments, eventually prevailed.
On Feb. 14, 2017, the Basalt Town Council voted 5-1 to lower the buffer to 200 feet. That decision surprised many people, including Clasen.
Not long thereafter, Clasen reignited his business relationship with Pease. The road before them seemed at that juncture paved with gold. Or at least, paved with bud.
Little could they have known.
Today, the Three Bears Building once again sits vacant, and Clasen is left to wonder how it all went downhill so fast.
Red tape, no problem
Getting the buffer reduced was merely the first step in a protracted and expensive permitting process.
The ink on the resolution reducing the buffer zone to 200 feet was hardly dry before Clasen was at Basalt Town Hall, checkbook in hand, filling out an application that would allow him to open both a recreational and medical marijuana operation in his Three Bears Building.
In addition to affixing his John Hancock to the application, Clasen had to pull out his checkbook. The fee for applying for a recreational marijuana operation was $5,000 — non-refundable. The fee to apply for a medical marijuana license was an additional $2,500.
At the time, town officials admitted they had no policy in place for determining how to go about issuing Basalt's one remaining recreational marijuana license — a real concern if more than more person or entity applied. There was no code saying it was first come, first served, or whether, if more than one person applied, there would be a drawing. There was no plan if multiple people applied.
That added to Clasen's stress ­factor because he feared that someone with deep pockets might come in and nab the recreational license he had fought so hard for. But he plopped down $7,500 and crossed his fingers.
On April 4, 2017, Clasen went before the Basalt Planning & Zoning Commission to get "special review approval" for the medical marijuana component of his proposed operation.
According to P&Z documents, a recreational marijuana store is a permitted use under Basalt's C-2 Zone district, but, for inexplicable reasons, a medical marijuana center requires special review approval, which lengthens the process.
The gist of the P&Z scrutiny centered upon things like making sure that "marijuana and accessories shall not be visible from adjacent public sidewalks and pedestrian alley."
And this: "All medical marijuana dispensing and retail product sales shall be conducted indoors within approved premises."
Matter of fact, the facility "may not include areas for testing or using the product within the facility."
P&Z stipulated that Clasen would be allowed only one sign of less than six square feet. Clasen would not be allowed to use any sandwich board signage.
In the end, Clasen placed his hand across his chest and solemnly promised to adhere to both the letter and the spirit of the relevant rules, regulations, stipulations, ordinances, covenants and declarations.
The P&Z commission unanimously approved what it termed a "land use application" for Clasen's proposed operation.
"There is a separate process for licensing through the Town that includes various other restrictions which much be satisfied by the Applicant," the P&Z document stated.
"I had to go again to P&Z to get their approvals for the building in regards to zoning," Clasen said. "It passed unanimously. Then I had to go to two more town council meetings to get licenses and zoning approved."
He also had to meet with Basalt Police Chief Greg Knott to address the camera locations and other safety requirements.
All that was before Clasen could even begin the process of applying for a required state license to the Colorado Marijuana Enforcement Division, which requires an upfront application fee that can exceed $20,000, depending on the size of the operation.
Fortunately for Clasen, with Pease back on board, the process went somewhat smoothly. Clasen, who never wanted to own and operate a marijuana business of his own accord, leased the Three Bears Building to Pease, to whom Clasen transferred the various licenses, with town council approval.
Pease renovated the building and, in May 2018, opened The Station — downtown Basalt's very first recreational marijuana facility.
Clasen was tickled pink. Though he had originally hoped to sell the Three Bears Building outright, his lease with Pease seemed to ensure a comfortable retirement income funded by one of the fastest-growing industries in the country. It should have been a gold mine.
Troubles all around
By all accounts, The Station was well received.
At first.
It wasn't long before problems arose.
"They had problems getting inventory, trouble with the grow operation, they were having trouble getting employees and on top of that, Jack was having personal problems," Clasen said. "He is getting up in years and his wife had passed away. He never really was able to put the effort into it."
Less than a year after it opened, The Station drastically cut its hours of operation.
It spiraled down from there.
About three months ago, Clasen was forced to take the Three Bears Building back because The Station had fallen irrevocably behind on its lease payments. In less time than it took to open, The Station was summarily shuttered.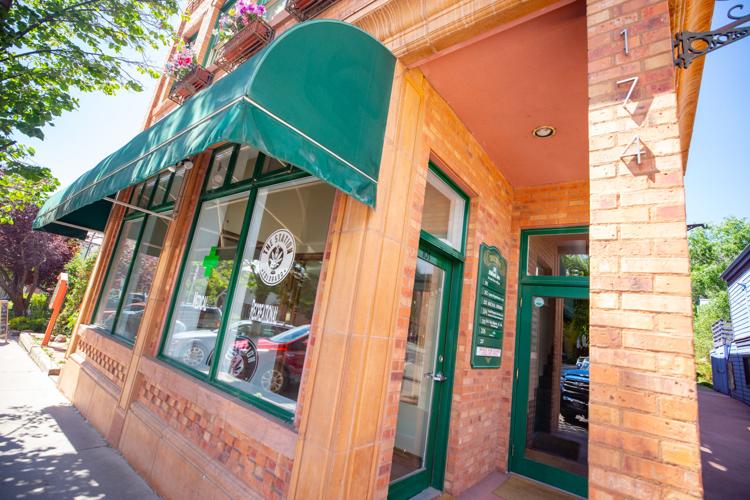 Clasen is understandably disinclined to delve too deeply into the sordid fiscal details.
"It was painful," Clasen said. "It's a shame because Jack had put a couple hundred thousand dollars into remodeling the building."
According to Clasen, Pease had let his various licenses lapse.
"He's getting up in years, and his wife had died," he said. "He was not able to give it the attention it needed."
Pease's recreational license eventually reverted to the town of Basalt, according to Clasen.
"He's a hell of a nice guy," Clasen said of Pease. "But nice guys don't necessarily pay the mortgage."
Beaten by a neck
At that point, Kale Lacroux and his business partner Justin Streeb, who had already been issued a license from the town of Basalt to open a medical marijuana dispensary almost directly across the street from the Three Bears Building, pounced.
"It became available, so anybody could pick it up," Clasen said. "They were smart enough to get it. They're nice folks, sharp and on top of it. When they found out the license was vacated, they went through the process with town. It took them about one-tenth the time it took me. That's what you get for pioneering things, right?"
Though that last point might sound flippant, it's clear that the situation galls Clasen more than a little bit. After all, it was he who got the town of Basalt to eliminate that once-prohibitive 500-foot buffer requirement.
"Believe me, I think about that nightly," he said. "It was a lot of time, a lot of expense, a lot of energy and to have it end up like this is really sad state of affairs."
And all the more so because, once Pease's recreational marijuana license reverted to the town, Clasen was contacted by someone who not only wanted to get his hands on that license, but wanted to lease the Three Bears Building to open a new recreational dispensary.
"I heard from a guy who lives in Edwards who desperately wanted to pick up the license and to open a store in our space," Clasen said. "But [Lacroux and Streeb] beat him by about five minutes. They walked into Basalt Town Hall five minutes apart. My guy was walking into town hall to fill out the paperwork as [Lacroux and Streeb] were walking out.
Five minutes can make a world of difference after a two-year battle.
"I don't think I've been that depressed in years," he continued. "But it's business and it's life and you can't sit around and worry about it. You've got to move forward. The dilemma is what we do with the Three Bears Building. We've rented some space in the back. We've had some interest in the building.
"But we have to tear out all the stuff that was put in for a marijuana-related business. That will be my expense. I'll rip all that stuff out and hope someone wants to lease it or buy it to open a restaurant or store."
The supposed 'gateway'
On the bright side, Clasen hopes he has played a role in dispelling some of the misinformation that was being bandied about back when he was working to get that 500-foot buffer issue resolved.
"It was very stressful," he remembered. "You had mothers claiming children were going to become drug addicts if we opened a pot shop in downtown Basalt. You had religious people saying it's against God's wishes. The thing is, studies show that, when pot is legalized, youth use goes down. When you look at the clientele of dispensaries now, you've got a lot of bankers, attorneys and doctors.
"It's not the image a lot of people think of when they think about marijuana use," he continued. "That's a lot of what we tried to bring to the Basalt Town Council."
In the meantime, Lacroux and Streeb opened the doors of their medical marijuana dispensary, Goodpeople, on July 1, after a protracted application process. Later this year, the twosome plan to take advantage of their newly procured license by opening a recreational dispensary upstairs from Goodpeople.
Meanwhile, Clasen — the man who paved the way for recreational marijuana in downtown Basalt — will be figuring out what to do with the Three Bears Building.
Attempts to reach Pease for comment, via the internet and the Aspen attorney who represented him before the Basalt Town Council, were not successful by press time.