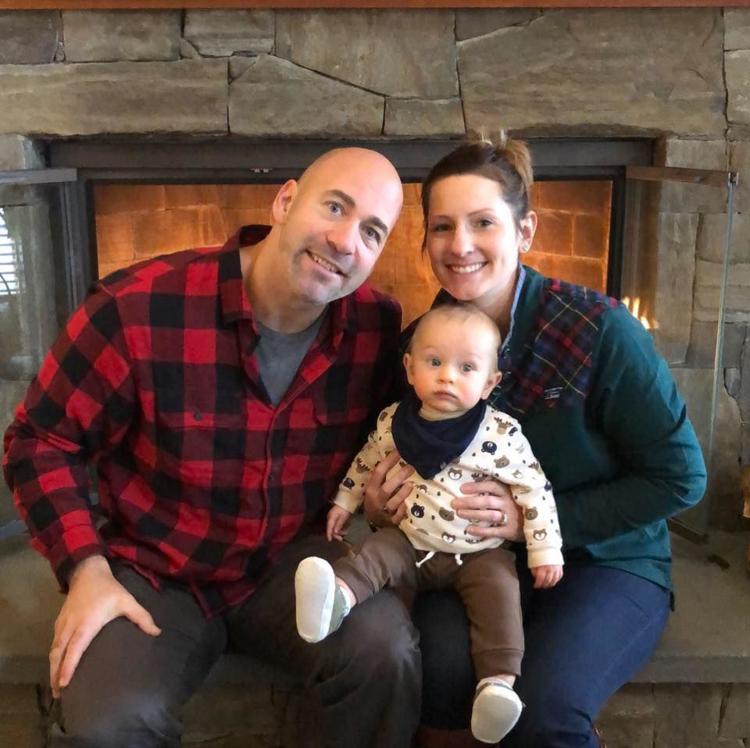 On Christmas Day, former Buttermilk ski patroller Jaime (McCauley) Tudryn passed away after being admitted to Baystate Medical Center in Springfield, Mass., 24 hours earlier with a suspected brain injury of unknown cause. She was surrounded by family, including her husband, Matt Tudryn, also a former Buttermilk patroller, and their 11-month-old son, Bode. Tudryn was 33.
On Feb. 6, 1985, she was born to parents Brent and Marianne McCauley during a three-day blizzard in Springfield, Mass., an apt beginning to a life story that would unfold through a pursuit of skiing and the outdoors.
During her time at East Longmeadow High School near Springfield, Jaime became an accomplished athlete as a ski racer and two-time Massachusetts state soccer champion, a career punctuated by induction into the school's athletic hall of fame.
After high school, Jaime attended the University of Massachusetts Amherst and in 2007 earned her bachelor's degree in kinesiology, a field that dovetailed with her athleticism and passion for fitness. The avid skier continued her competitive career as a member of the University of Massachusetts ski team.
In the fall after graduation, Jaime followed her passion for skiing and moved to Aspen with her then-boyfriend, Matt Tudryn, and the two began working at Buttermilk Ski Area. Their first year, Jaime worked as a lift operator, Matt in guest services.
"She was a conscientious and wonderful lift operator," said Marianne Barrett, Buttermilk lift operations manager. "Everyone liked her. Customers and employees."
After their first year, Jaime and Matt both took jobs on patrol. In addition to working at Buttermilk, Jaime could be found wearing her hallmark smile at her job at the Gap. In whatever roles they played, the inseparable pair brightened the Aspen landscape.
Jaime's degree in kinesiology served her well on patrol, according to Robin Perry, the former director of Buttermilk Ski Patrol who hired Jaime and Matt.
"She was a great addition to the Buttermilk patrol. With her medical background, she was always very interested and good at helping our guests," Perry said. "Jaime was a great skier and could keep up with John Beezer," he added, alluding to the need to impress Beezer, the assistant patrol director, to land the job.
Paramedic Scott Arthur worked with Jaime and Matt during their entire tenure on patrol.
"It might sound cliché, but the biggest thing I remember was her smile," Arthur said. "It wasn't just lips and teeth. It was her whole face, eyes — everything would just light up."
Arthur credits Jaime for elevating the role of women on patrol, noting that she was proud to be part of an expanding group of women at Buttermilk.
"That group of women really set the bar for all of Aspen patrol, and I would say patrols around the state, for how women can get things done," he said.
In 2011, Jaime and Matt returned to Massachusetts to be close to family and to pursue careers in the medical field.
"Her goals, I believe, led her to continue to do this line of work back east after leaving the patrol," Perry said.
Upon her return to the East Coast, Jaime earned an associate's degree in science from Holyoke Community College, focusing on radiologic technology. Afterward, she began work as an X-ray technician at Mercy Medical Center in Springfield, Mass., where her compassionate nature lent itself easily to caring for patients.
Jaime and Matt married on Aug. 2, 2014, at Stratton Mountain Club in Stratton Mountain, Vermont. On Jan. 26, 2018, Jaime gave birth to their son, Bode, who offered her a new outlet for her passions, and she began sharing her love of the outdoors with him from the start.
Just shy of a year later, Matt contacted longtime Buttermilk patroller Liz Bergdahl on Christmas morning to tell her Jaime was in the hospital and not likely to pull through. He wanted their friends to know that the years they spent on patrol were some of the best of their lives.
Bergdahl met the news with disbelief. She has since been invaluable in consoling others who knew Jaime and is helping spearhead an effort to find a permanent remembrance for her at Buttermilk. Ideas include planting a tree in Jaime's name after the 2018-19 season, pending approval from the Forest Service, and bringing Matt and Bode to Colorado for a dedication, as well as creating a memorial for her in patrol headquarters.
Other friends were also hit hard by the news. Matt's cousin Jenny Bombardier called Nancy and Uwe Bobrow Christmas morning with the same news. They took the loss as they would that of their own child.
"They are like kids to us," said Nancy Bobrow, who teaches skiing at the Hideout at Buttermilk. "I can still hear her voice."
During his first year in Aspen, Matt worked with Uwe Bobrow in guest services at Buttermilk. Sharing a hard work ethic and wry sense of humor, the two became fast friends. The Bobrows adopted Matt and Jaime into their surrogate family, playing host to them at holiday parties and other family events. When the couple married, the Bobrows traveled to Vermont to attend the ceremony.
Nancy recalled Jaime's vibrancy and radiant smile ("even in goggles, she was so beautiful"), how she was so in love with Matt and that the two were inseparable.
"They were Jaime and Matt," she said. "They were an entity."
Since their return to Massachusetts, Jaime and Matt continued their love for fitness as active members of Pioneer Valley CrossFit in Northampton. As a tribute to Jaime, CrossFit gyms around the world have been performing a special WOD (workout of the day) called "Jaime" in her honor, according to Bergdahl, a member of Aspen CrossFit, and Jaime's brother Shaun.
Matt, a native of Hadley, Mass., is now a firefighter and paramedic for Northampton/Florence Fire Departments in Massachusetts. The Daily Hampshire Gazette reports an outpouring of support from local firefighters and departments. A Northampton deputy fire chief stayed at the hospital well into the night after Jaime died, and Ari Kasal, an Amherst firefighter and close family friend and college classmate of Jaime's, set up a GoFundMe page with another friend, Dan Miller, to accept donations to help with medical costs and contribute to Bode's college fund. Fire departments throughout the region, as well as CrossFit gyms, have given generously to support Matt and Bode in the days since Jaime's death. In the first week, the fund received nearly $75,000 toward its $90,000 goal.
Donations can be made at:
www.gofundme.com/jaime-tudryn-memorial-fund
A Jan. 1 wake for Jaime in East Longmeadow saw such a huge turnout that friends waited several hours in near-freezing temperatures to pay their respects. The Jan. 2 funeral service saw another huge turnout, and the procession included an escort with three East Longmeadow Police Department cruisers and two Hadley fire trucks.
Shortly after Jaime passed on Dec. 25, Matt posted a message on Facebook about his wife:
"She made me happy. She made me laugh. She turned me into a better person. Most importantly she gave me the perfect son that I will cherish every single day. She was an incredible wife, an absolutely amazing mother, and had friends on almost every continent. The world lost a true gem today and I lost a huge part of my heart. I know she will be looking down on me to guide me with turning our son into a man, and I know she will watch over all of our family. I miss her terribly already and cherish the time we had together. I love you Jaime Tudryn."
Jaime is survived by her husband, Matt, her son, Bode, parents Brent and Marianne McCauley, brothers Shaun and Chris McCauley, Matt's cousin Jenny Bombardier and her husband, former Buttermilk patroller Mark Bombardier, both formerly of Aspen, and a trove of loving friends in the Roaring Fork Valley and beyond. She will be laid to rest in Holy Rosary Cemetery in Hadley.